"Playces" – the 'misspelled' word says it all. Orijit Sen's installation at the third edition of Kochi-Muziris Biennale is all about places and playing.
The master craftsman from Kolkata recreates three diverse landscapes in his highly interactive artwork installed in three rooms of Aspinwall House, the main venue. The work features Mapusa Market of Goa, the busy Hyderabad city and the sprawling villages of Rajasthan in three customized games designed like a quiz and jigsaw puzzle.
The work has three parts featuring the three different landscapes. While the first portion featuring Mapusa market is designed as a mind game, provoking the visitors to use their cognitive skills to find answers to some questions from within the work, the second part is a giant jigsaw puzzle, which you can win by recreating the Hyderabad city in a painting using the wooden pieces offered. The third part of the work challenges the visitors to fill the gaps in the pictorial representation of the Rajasthani villages displayed in an entire room. The portions left out are kept on a table at the center of the room and you just need to find the proper place and fix them.
Places and people are two oft-repeated motifs in Sen's works. With immense detailing, his works mark the geographical and cultural maps of the places he has drawn. They depict the people and the socio-cultural structures of a land in all its diversity. Sen's keen interest in history and sociology is evident from the notes that are part of the works.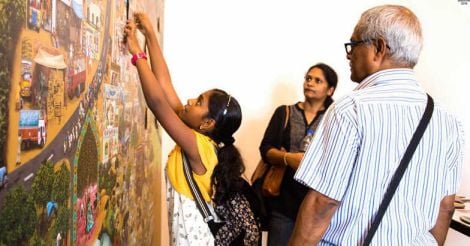 Visitors play with Orijit Sen's installation titled "Going Playces". Credit: KBF
They are as realistic as possible, and what makes them contemporary is the way they call for the audiences' participation to complete them. "Going Playces' is undoubtedly the most interactive and engaging work on display at the Biennale curated by Sudarshan Shetty.
They communicate with all sorts of viewers and provoke them to renew their ideas of creation and interpretation of art.
Finally, if there is someone who thinks that this Sen and his works are just playful, they are wrong. They just need to look at some of his previous works to find out that how he uses his medium as a political tool. His fearless expressions attacking the all-powerful and divisive forces say that loud and clear – art is no child's play for this old man.