They say what goes around comes around. Businesses are often associated with profit and loss. But some choose to play the game differently. At Corporate 360, businesses do come full-circle. You not only gather resources from the society, but also provide those who have helped you fulfil your dreams and ignite a light of hope among the young and ambitious.
Corporate 360 was a vision of a motivated a football-loving yet energetic young lad from Pathanapuram, a village situated in Kerala's Pathanamthitta District. To him, the company is a sign of hope to all those children hailing from his village, an opportunity to grow and have a better life. Varun Chandran, the Chief Executive Officer (CEO) of the company describes his entrepreneurial journey as inspirational and wonderful.
Globe-trotting: The best teacher
A man of many experiences, Varun said that it was travelling that taught him some of the most valuable lessons in life. Moreover, he had learnt how to survive.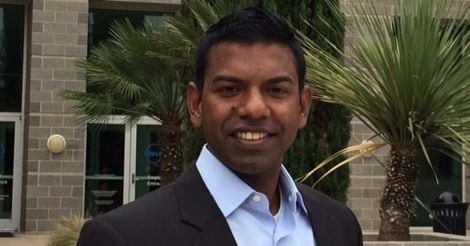 Varun Chandran, CEO, Corporate 360. File photo
Varun spent his childhood in Pathanapuram. He is the son of a log-picker and a passionate footballer. As a child, Varun lived a rather poverty stricken life. But his love for football had earned him a scholarship that enabled him to pursue his high school education and his Bachelor's in Commerce. Unfortunately, he was unable to pursue the game after injuring his leg and was thus, compelled to leave the educational institution in his final of college.
Determined to live a better life and help his family, he began travelling around the country. He attended a spoken English course at a tutorial in Bengaluru. After that, he went on to pursue an executive leadership programe at the Berkley, US. Eventually, he built a good circle of associates. It wasn't long before he knew what was in-store for him.
SaaS – the Corporate 360 story
Corporate 360 is a marketing data software company. The firm provides a system that is built around a model called SaaS (Software as a Service) that helps store data which can be automatically updated at regular intervals. "We (Varun and his team) noticed that many companies spent a lot of money buying data regularly from various sources. We wanted to provide a solution to their problem and thus, we decided to create a single platform for the same," explains Varun.
"We were trying to create a product on these lines since 2008. However, the digital economy in that year was not great." Interestingly, the firm uses another specialised programme to create the platform.
Business spread across the globe
Corporate 360 had started out as a firm that had only five employees. Today, there are over 40 people, including interns, spread across San Francisco, London, Singapore, Cebu (Philippines) and Pathanapuram (India). Moreover, the firm has a rather wide clientèle' and deals with many multi-million dollar projects.
So how did Corporate 360 make its presence felt in the global scenario? To begin with, Varun lived in each of these centres for over three months each. During this period, he had spotted talent and took the initiative to train them. In fact, managers of the various divisions of the firm are trained at the head office situated at Singapore. The decision to employee people from different places was also determined on the basis of the cost and efficiency of running operations.
A job that brings him back home
Varun was always keen on 'giving back' to the village hails from. "I wanted to make my family and friends proud. But moreover I wanted to visit my family as often as I could. So, it was decided that Corporate 360 would establish an office at Pathanapuram.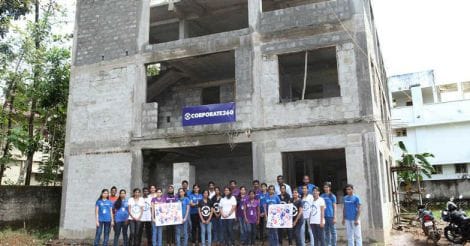 Work in progress - The Corporate 360 office at Pathanapuram, Pathanamthitta
In doing so, I wanted to create an environment that would motivate children from my village to dream big and have a better life. There is a lot of talent. But many students are still unemployed. This is an opportunity for those kids to fulfil their dreams," he explained. The firm at present has employed five students to be part of its various operations.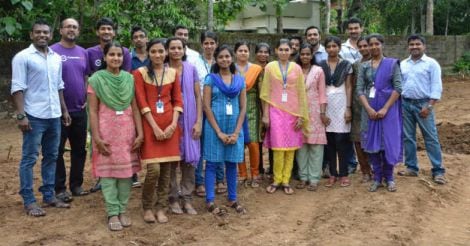 Team Corporate 360 after laying the foundation stone of the Private IT park
At first many were sceptical about joining Corporate 360. The firm, as a matter of fact, functioned out of a tourist home that was hired on rent. However, over a period of time, the views had indeed changed for better. In the initial days, the firm. Today, Corporate 360 has its own office space and is also going to be setting up India's first private IT park.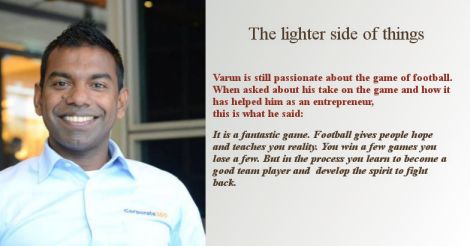 A wise man's words
"I am no expert and thus I would not want to advice anybody," said Corporate 360's CEO. However Varun does believe that the key to the success of any business is identify a problem and producing products or offering services to solve them. But most of all it is important for everybody to learn something new at all times and strive towards helping others as well. "Revenue, profitablity and repeatable business – theses are the three elements that are crucial to run an enterprise.