Thiruvananthapuram: A city-based startup entrepreneur has been shortlisted for the prestigious British Council Alumni awards this year.
Aardra Chandra Mouli, co-founder and managing director of Aeka Biochemicals, the first fully women-owned bio-tech and biochemical startup in the state, has been short-listed for the award in the Entrepreneurial Category from India.
The awards will be announced and presented at a function in New Delhi on March 24.
Aardra did her M.Sc. Management from Warwick Business School in the United Kingdom in 2012-13 and emerged first with a distinction.
She was also chosen for the Bristih Council and UK government's jubilee scholarship, which is a fully funded one, in 2012.
Prior to that, Aardra had done Biotech and Bio-chemical engineering from Sri Chitra Thirunal College of Engineering in 2007-11.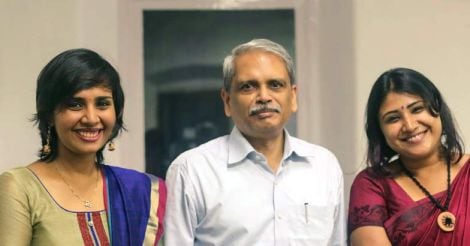 (From L to R) Aardra Chandra Mouli, Infosys Co-Founder, Kris Gopalakrishnan, and Gayathri Thankachi
In 2014, when she was 24, Aardra founded Aeka Biochemicals in Thiruvananthapuram along with Gayatri Thankachi, who also shared a biotech and bio-mechanical engineering background like her.
Aeka Biochemicals is involved in the manufacturing of biotechnological, biochemical and enzymatic products as well as extraction of biochemicals.
The Thiruvananthapuram-based startup's Sasya range of microbial plant growth promoters, launched in 2015 by Infosys co-founder Kris Gopalakrishnan, are tailored to meet the demands of different types and scales of farming.
All-women R&D and production team at Aeka
Aeka Biochemicals, which also boasts of an all-woman scientific team, has a solar-powered laboratory at Vazhuthacaud.
Aardra, an alumna of Carmel GHSS, Thiruvananthapuram, is also a trained classical dancer and a member of CII Indian Women's Network (IWN).
The British Council's Alumni Awards, instituted in partnership with UK higher education institutions, are given to outstanding performers selected from graduates of British universities.
Top alumni have been selected from a global pool nominated by their host UK universities.