Kochi: Team Madlabs won the first Media Hackathon organized by Manorama Online.
Madlabs introduced Ava, a concept, which integrates a news app via Facebook messenger.
The winning team members, who will take home a cash prize of Rs 2 lakh, are Ajo John Mathai, Aravind K.P, Arun Varghese and Joel Varghese Sunny.
Phoenix, the first runner-up, who won a cash prize of Rs 1.5 lakh, introduced a concept, which would predict the virality of a news story.
Fantacode, the second runner-up, came up with the concept of Hey News, which provides news based on social media interests through chat. The team got a cash prize of Rs 1 lakh.
The winners were selected from 200 applicants out of which 30 teams were shortlisted.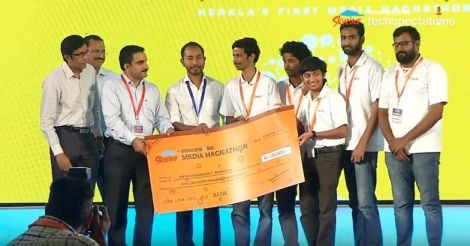 Phoenix, the first runner-up, won a cash prize of Rs 1.5 lakh.
The three finalists then pitched their products to a three-member jury comprising Prabhakar Reddy of Accel Partners, Mohan Thomas, co-founder of HiFX IT and Media Services and Siji Joseph, senior general manager of Malayala Manorama.
Manorama Onilne and the South Indian Bank on Saturday announced the launch of Business Idea Contest, Season I.
The grand finale will be held by mid-February and preliminary registrations will close on December 20.
The announcement was made by Thomas Joseph, executive vice president of South Indian Bank, in the presence of Mariam M. Mathew, chief operating officer of Manorama Online, during Techspectations 2016, the digital summit organized to commemorate 20 years of Manorama Online.
The winners will get prizes worth more than Rs 4 lakh.
A special mini site manoramaonline.com/bideas will also be launched to facilitate registrations, Bobby Paul, deputy general manager of Marketing, Manorama Online, said.
A hotline will also be functional to respond to queries regarding the contest.