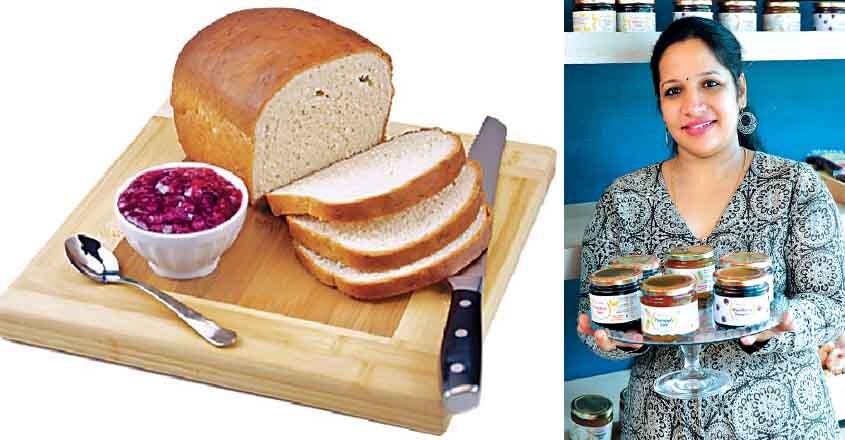 If you want no-chemicals, no-preservatives jams, head straight to Roshni Mathen's joint in Pala where home-made jams make merry.

There, in her kitchen, bubbles the goodness of garden-fresh plantain and sugar in a bronze vessel. Stirring it to the right thick consistency and keeping the aroma fresh is Roshni Mathen Kuruvinakkunnel, with a platter of home-made goodies.
"Right from childhood I've seen jam made only at home and it's my grandma's ingredients I use to this day. With absolutely no preservatives used, our jam will keep up to a year. That's guaranteed. We have the backing and assurance of three generations on this," she says.
It's the home-made tag that follows all her goodies right from cakes, bread, cookies, brownies, jams, juices, savouries, pickles, and to ready-to-eat frozen items.
Her culinary innings began in 2014. Husband Mathen is manager of a private bank and Roshni herself once worked in a bank. With the birth of her daughter, the lady decided to call it a day. With a lot of spare time on hand, she turned to cooking… and a lot of experimentation. Roshni loves to trace how she made a name for herself in home-made food products.
Within a short time of her cooking experiments, she set up cooking classes and took part in food exhibitions. In this she had the full backing of her family. It was this encouragement which egged her on to take up a catering job. "What more backing do you need to start a business, asks Roshni whose venture today fetches her a profit of Rs 20,000 a month.
There was a time when like all new brides, Roshni stepped into her new kitchen with trepidation. "Even though I loved to cook, my lack of experience was a bit of a stumbling block. My first-time biryani soon after my marriage turned into a gooey mess and looked more like soup. It was my mother-in-law Kathrikutty who taught me the nuances of cooking. To this day, nothing goes to the market unless she clears it with a double OK," says Roshni.
Though there are six people to help her out, Roshni does the cooking. Work starts by 4.30 am and by 10 am the items are ready to be packed off to the respective shops. Later on, there's more cooking done to replenish the stocks that have been sold out.
Jams are made only once or twice a week. It's quite a time-consuming process. Plantain, pineapple, and blueberry are the raw material. The jams are special in that they are made only with pesticides-free fruits. The plantain comes from her garden, the blueberry from her cousin's farm in Wandanmedu and pineapple from a friend's farm.
As special as her jams are, the juices that Roshni makes change colour according to the season. It was mango juice in all its splendour last summer, with the mangoes coming right from the trees in her garden. More than 40 bottles of juice were sold.
Her catering unit takes orders and makes delivery on time. "What matters the most is excellent time-management. But with business expansion, I find little time for my standard two kid Catherine and two-year-old Matthew," says Roshni. That evidently should be the flip side of entrepreneurship!