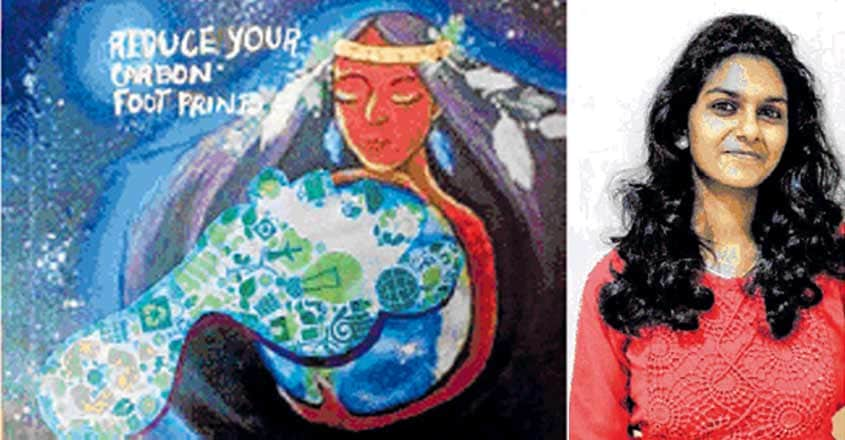 An Electrical Engineering student at the Cochin University of Science and Technology has a unique way of pledging her commitment to the cause of environmental protection. She writes soulful poems and paints amazing pictures to spread the message of environmental conservation and also to protest against the exploitation of nature.

Nimi's determination and genuine passion for the environmental cause reflects in her lines.This helped her secure the second place in the intentional poetry writing competition organised as part of the World Green Building Week – 2019.
Nimi's prize- winning poem exposes how nature is exploited for selfish means and also instructs about the ill-effects of using plastic.
Hundreds of young poets, from around the globe, had participated in the competition held by the World Green Building Council.
Nimi is an active member of the CUSAT's unit of Indian Green Building Council. Hailing from Vembayam in Thiruvananthapuram, she is the daughter of S Sathyan and MS Sheela.
She has won many prizes for poetry writing in the state school youth festivals as well.
Hopes for a better tomorrow
Through her poems, Nimi speaks up for Mother Earth which suffocates under the growing mountains of plastic and other waste. In her poem, Nimi portrays an optimistic Earth which longs for a savior who would give back her mesmerising beauty and youthful charm.
Her works denounce the atrocious exploitation of the Earth by humans and mourn how such wanton acts have weakened her body and mind. Nimi has presented the theme of her poem through a stunning painting as well.
Green campaigns
Nimi actively participates in all the events conducted by the Green Building Council unit at the CUSAT. She is also an executive member of the unit. As part of their various environmental protection drives, Nimi and her friends conduct awareness classes and international seminars. The unit also involves in various charitable activities like providing food for the poor or distributing books and other study materials for children.
She is a student at the School of Engineering at the CUSAT.
Green Building Council
The World Green Building Council is an international organisation which promotes environmental friendly lifestyles and construction methods. It functions in many countries, motivating youngsters to be part of nature conservation. This year its the global-level competitions were conducted based on the theme #building life. Besides poetry writing, competitions in poster designing and short essays too were held.
Nimi had sent her poem to the council's headquarters in the US through email.