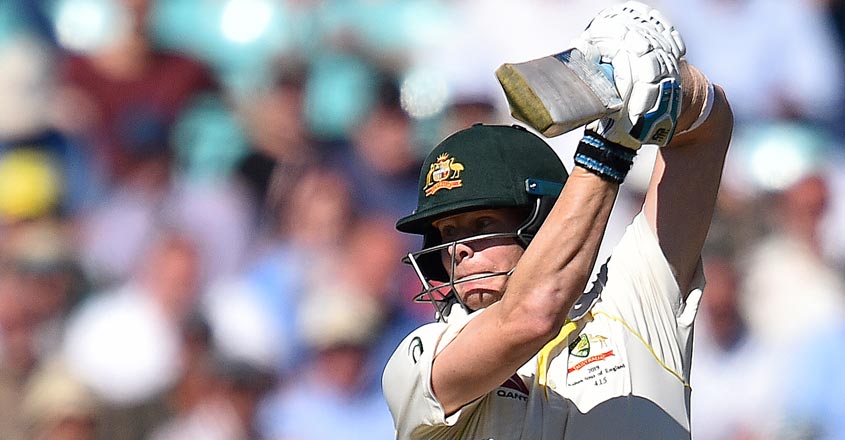 How would it feel to walk back to an arena where you had suffered a serious physical injury and take on that same opponent who inflicted the damage on you? This is a question that had preyed my mind ever since I started following sporting events in my childhood. Of the various sports related activities that I took an active interest in, only cricket and boxing bore the potential for causing bodily harm to the person involved, on account of coming second best.
It is true that there exists greater possibilities for sprains and fractures in games like football and basketball but they are invariably caused by physical tackles. Boxing is a sport where number and nature of body blows that opponents rain on each other decide the winner. This leaves cricket as the sole sporting duel where a contest between a bat and a hard ball could result in serious damage to body of the willow wielder on account of a chink in technique or momentary lapse of concentration.
What would Steve Smith have felt when he walked out to bat in the recent fourth Test against England at Old Trafford, Manchester? England had drawn level by coming back to win from a near impossible position in the third Test to square the series. Smith himself had sat out after the second Test to recover from a concussion that he suffered when he was struck in the neck by a bouncer delivered by Jofra Archer. And England had seized the initiative by dismissing the Aussie openers with only 28 runs on the board when Smith walked out to the crease and took guard.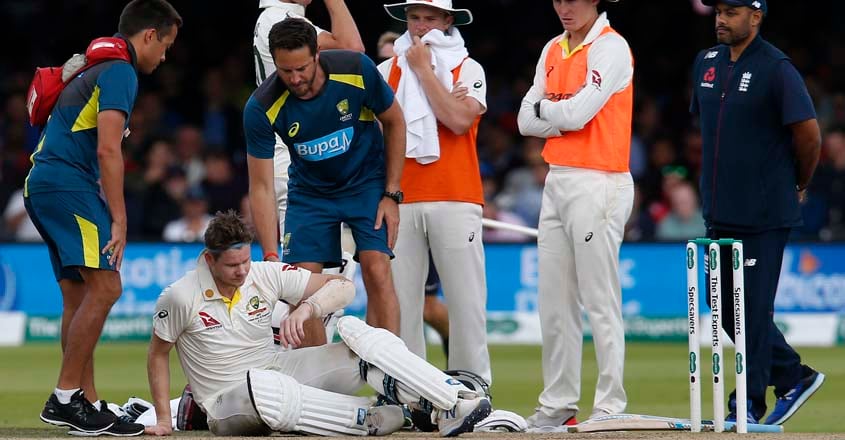 For the record, Smith scored a magnificent double century, which won him the player-of-the-match award and helped his side to win the match by a comfortable margin of 185 runs. This would show that he was able to put the past behind him and focus solely on the present when he put on his gloves and left the dressing room with the bat in his hand. It is said that what separates the good from the great is plenty of hard work. However, greatness in sporting events also requires a tremendous ability to stay in the present when action commences so that the mind does not carry either the baggages of the past nor expectations about the future.
Narrow escape
Smith would have known that the injury he suffered was brought about by his own mistake in taking his eyes off the ball while ducking to avoid a bouncer. The ball did not rise as much as he expected with the result that it struck him on his neck, an area that was not covered by any protective equipment. Former Australian batsman Phil Hughes had committed a similar mistake in one of the Sheffield Shield matches in 2014 and the ball hit on the back of his head, severing Vertebral artery which supplies blood to the brain, leading to his death. Incidentally, Hughes was a close friend of Smith and the latter was man enough to confess that fears about what happened to his friend crossed his mind when he took the blow.

Success in sports requires a unique fearlessness in addition to tremendous self confidence. Only a person with absolute faith in his abilities would trump the odds and come out on top each time he is challenged. The needs to be backed by a lack of fear regarding failures, injury and pain so that psyche is in sync with the body when the action starts. There would be no sportsperson who has not tasted defeat or suffered injury or felt pain but successful ones are able to get over their fear about these demons. It is this mindset that saw Smith getting back to the nets within a fortnight of suffering concussion and bat like a champion at Old Trafford.
When Griffith fell Contractor

This episode also brings to mind some of the instances when Indian batsmen suffered serious injuries while turning out for the country. When India toured the West Indies in 1962, they played a first class game against Barbados, who had in their ranks a tearaway fast bowler named Charlie Griffith. Frank Worrell, skipper of West Indies side, had warned the Indian players to be careful while facing Griffith as he was really fast and had a wicked bouncer. When India started batting, skipper Nari Contractor took strike and played out the first over from Griffith without any difficulty. In those days, sight screens were not mandatory for first class matches and while Griffith was bowling his second over, someone opened the window behind the bowler's arm, which temporarily distracted Contractor. Griffith bowled a short pitched delivery which Contractor tried to avoid after attempting to come in line, but the ball rose quicker and higher then he expected and crashed into his head with a sickening sound. Contractor staggered a bit by the impact of the blow and then went down like a poleaxed dancer, with blood coming out of his nose and ears. By the time he was taken to dressing room he was in agony and was rushed to the hospital. Two emergency surgeries were performed to remove the collection of blood that happened inside his skull due to rupture of blood vessels brought about by cricket ball at high speed striking the head.

Though his life hung in the balance for a couple of days, Contractor survived but he did not take any further part in the series. He could not stay away from the game for long and made a comeback to first class cricket in the next season. He scored a gritty century during the Duleep Trophy matches that preceded India's tour of Australia in 1967, making him one of the front-runners for a place in the side. However, he did not find favour with the selectors, who were probably worried about the consequences were he to suffer another injury while playing. Contractor continued playing the game he loved till the 1970-71 season after which he announced his retirement.
Sandeep Patil was hit on his head by Len Pascoe during the first Test of the series against Australia at Sydney in 1981. Helmets were just becoming popular during that period and Patil had thought long and hard about wearing one prior to the match but decided against it as he was in good form. He was batting on 65 when the injury happened and he was forced to retire hurt. He recovered fast enough and played the next Test at Adelaide, where he batted with a helmet, to score a brilliant 174, which is rated among the best knocks played by an Indian in Test cricket.

Similarly, Mohinder Amarnath was struck on his chin during the second innings of the fourth Test of the series against the West Indies in 1982-83 at Barbados. West Indies team of the 80s had in their ranks the best and the fastest quartet of pace bowlers to grace the game in Andy Roberts, Michael Holding, Joel Garner and Malcolm Marshall. After top scoring with 91 in India's first innings total of 209, Amarnath was batting on 18 in the second, when he was hit on his chin and forced to retire. The wound required six stitches, but Amarnath, who had spent the night washing his blood stained shirt, returned the next day to score a valiant 80, showing scant respect for the bouncers sent by the fast bowlers, which he despatched to the fence by employing the hook shot. It is no wonder that crowds in the Caribbean remember Amarnath as the only visiting batsman who stood tall and took on the fast bowlers nonchalantly, without ducking or cowering.

Before concluding, mention needs to made of two sidelights to the Contractor injury episode which show the spirit with which game used to be played during those days. The batsman who took guard after Contractor was carried off the pitch was Vijay Manjrekar. Soon enough, he received a bouncer which, besides flattening his nose also injured the hands of the fielder in the slip cordon to where it ricocheted. Manjrekar, who was forced to retire to have his nose fixed, said that the ball came at such speed that he did not even see it. However, he was made of sterner stuff and returned to bat in the second innings to hit a century, which is ranked by those who witnessed it as one of the bravest displays on a cricket field.

Contractor's wife flew to Barbados on hearing about the injury. When Contractor recovered consciousness after six days, Griffith went to see him in the hospital. Before Griffith entered the room, Contractor told his wife, "Charlie is not to blame for what happened…. it was all my fault".
(The author is a former international umpire and a senior bureaucrat)