New Delhi: Wrestlers Sakshi Malik and Bajrang Punia, amongst the sportspersons protesting against the delay in the arrest of  BJP MP and Wrestling Federation of India chief Brij Bhushan Sharan Singh, have decided to resume their duties with Railways.
Singh is accused of sexually harassing several female grapplers, including a minor.
Malik, meantime, denied rumours that she was withdrawing from the agitation.
"This news is completely wrong. In the fight for justice, none of us has backed down, nor will we. Along with Satyagraha, I am fulfilling my responsibility in Railways. Our fight continues till justice is served. Please don't spread any wrong news," Sakshi tweeted.
The grappler decided to resume her duties with Railways, two days after meeting Union Home Minister Amit Shah.
Even Bajrang tweeted in the same vein as his national teammate and termed reports of withdrawing the FIR as "completely false".
"The news of withdrawing the movement is just a rumour. These news are being spread to harm us. We have neither retreated nor have we withdrawn the movement. The news of women wrestlers taking back the FIR is also false. The fight will continue till justice is served," said Bajrang.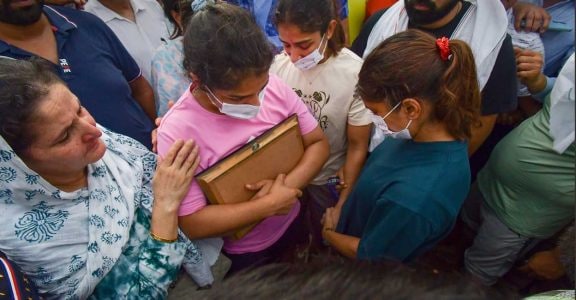 Meet with Amit Shah
Olympian wrestlers Bajrang Punia, Sakshi Malik and Vinesh Phogat met Home Minister Amit Shah at his residence to discuss the matter related to their protest against the WFI chief. 
All three India internationals, have returned to work as Office on Special Duty (Northern Railways) since last week.
"They shared their concern with the Home Minister. The meeting was long and he listened to everything. But koi decision nhi hua abhi tak (no decision has been reached so far)," a source close to the wrestlers told IANS.
Bajrang, Sakshi and Vinesh were leading the protest by the wrestlers at Jantar Mantar in Delhi since April accusing the sidelined president of the WFI.
The protesting wrestlers were manhandled and detained by Delhi Police and their arrangements at the protest site were dismantled.
The wrestlers had gone to Haridwar claiming that they want to drop their medals in the river Ganga. With many people requesting them, they decided to hand over the medals to the farmers' leaders to take a call.