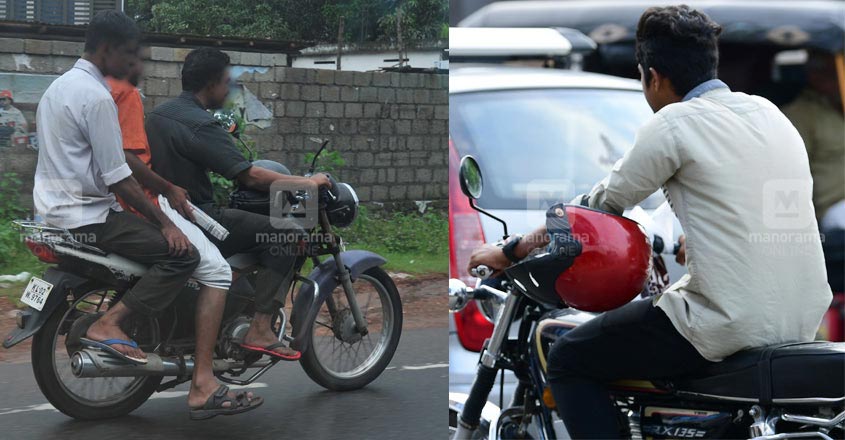 New Delhi: Hefty penalties and even unprecedented punishments like community serving await motorists who violate rules with the implementation of the Motor Vehicles (Amendment) Act 2019. Riders without helmets will not only pay Rs 1,000 fine but also end up losing driving licence for three months, the Union transport ministry has said. Helmets are a must for pillion riders too.
Car owners and drivers should be wary of the traffic cops as passengers below age 14 should not sit next to the driver and small children require special baby seats. Violation of both rules attract Rs 1,000 fine. These are minimum fines, and states can levy anything up to 10 times the amounts listed, the ministry said.
Key rules, including new ones:
• Driving without registration: Rs 2,000-5,000 fine. Second offence attracts jail term up to a year or Rs 500–10,000 fine.
• Failure to register vehicle (owner): Five times annual vehicle tax or one-third lifetime tax (whichever is higher) in fines.
• Failure to register vehicle (dealer): 15 times annual or lifetime vehicle tax (whichever is higher).
• If goods jut out from the sides or back of vehicle, Rs 20,000 and cost of unloading extra load will be levied.
• Blocking ambulance or other emergency services invite Rs 10,000 fine or six-month prison.
• Up to Rs 1 lakh if poor road construction causes death.
• Manufacturing defect or unauthorised remodeling and sale attracts a 1-year jail or Rs 1 lakh fine (for manufacturers).
• Illegal remodeling of vehicle invites Rs 5,000 fine or 6-month jail.
• Rs 5,000 fine for vehicles bigger than designated size.
• Rs 500 fine for disobeying traffic regulations.
No renewal window any more
The one-month renewal period for expired licence has been scrapped. Late renewals attract Rs 1,000 fine. The window for renewal has been slashed from 5 years to 1 year.
Driving tests have to be taken again after 1 year delay. This will impact non-residents most.
However, licence can now be renewed 1 year before expiry. It was a month until now. Licence now expires at age 40, not 50. Transport vehicle licences will now be valid for 5 years, not 3. Online transactions will be make renewals easy, says the ministry.
Scene on roads
The new law came into effect on September 1. Odisha topped the list of fines – Rs 88,90,107 – on the first day, followed by Haryana – Rs 52,32,650. One person in Bhubaneswar was fined Rs 47,500 for driving a second-hand autorickshaw bought for Rs 25,000 under the influence of alcohol and without proper documents.
A bike rider in Haryana was fined Rs 23,000 for riding a Rs 15,000 vehicle without documents and helmet. An autorickshaw driver was fined Rs 37,000 for jumping signal and possessing improper documents.
Six states stay off
Six states – Punjab, Rajasthan, Madhya Pradesh, Tamil Nadu, Telangana and West Bengal – will not implement the new rules for now. Though the Centre has passed the law, states have to issue orders individually to implement new rules.