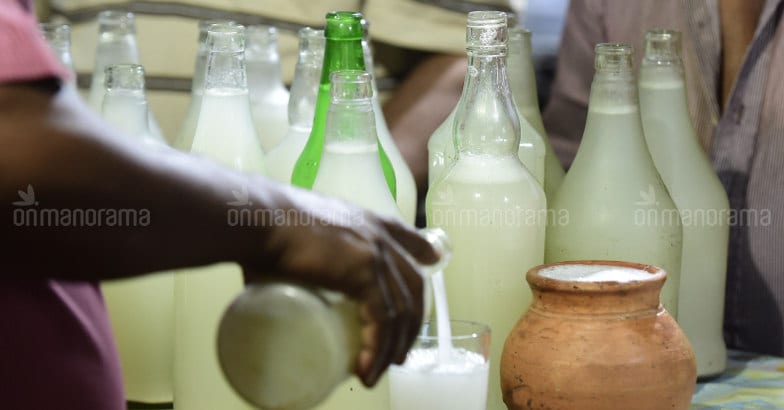 Alappuzha: Liquor flows in Kerala and no one knows for sure the exact quantity that is ferried across the state. A row in the excise department revealed that it is yet to come up with a system to accurately measure toddy that is being brought to outlets across the state. For years the excise sleuths have been just guessing the toddy quantity by swirling the barrels or peering through the opening on barrels. Or else they note down the quantity that the contractors who bring in toddy from Palakkad mentioned and conduct a namesake check on the barrel.
Protests have been brewing in the Kerala excise department after an officer was transferred for not accurately measuring toddy. However, the staff alleged that the excise department does not have the required equipment to scientifically measure toddy.
A special squad of the excise had found a difference of 120 litres in the toddy that was brought to a shop at Nooranad last month, exposing the unscientific methods used by the personnel.
The excise commissioner then issued an order, transferring the officer who recorded the wrong quantity on the permit. The staff alleged that the department has not come up with a solution to address the issue. The excise staff association leaders said that until the issue is resolved they would only check the toddy and will not note down the quantity.
The members of the Excise Staff Association said they had asked the authorities to ensure that toddy be transported only in specific barrels that have been checked and approved by the legal metrology department. However, no decision has been made regarding this.
"As there is no scientific means to check the toddy quantity, the officers can only give an estimate looking at the barrel's size. Without accurate methods to measure, officers cannot be taken to task by stating that the quantity was wrongly marked. Till this is resolved, we have decided to stay away measuring and noting down the quantity," said P D Kalesh, the district secretary of the Excise Staff Association .
However, the deputy excise commissioner said that the testing has not been currently affected and a new scale would be provided.