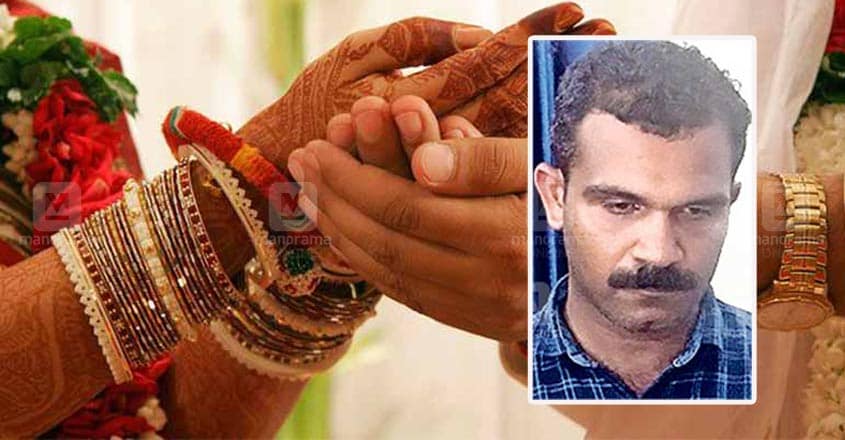 Charummoodu (Alappuzha): When Kerala Police arrested a man for allegedly swindling lakhs of rupees from a woman and her family, little did they knew that they would be unravelling a crime with a concoction of lies, deceit and impersonation.
It all started with a matrimonial advertisement placed by the woman's family, hailing from Kurathikadu, in a newspaper and Edathua-native Sumesh, 35, responding to it.
He called up the family over phone and told them that the marriage alliance was for his brother Vishnu who was working in a foreign country, and also informed them that he was working at the Chengannur sub-registrar office.
Sumesh, later, met the woman's family members in person and fixed the marriage.
After that, Sumesh, masquerading as Vishnu, started texting the woman and developed a relationship with her. Sumesh started to swindle money from the woman's family after cooking up a story that Vishnu was suffering from Malaria and undergoing treatment at a private hospital in Ernakulam.
The family has transferred close to Rs 5 lakh in instalments to an account, which, Sumesh said, was the bank account of Vishnu's brother-in-law. Sumesh gave this bank account saying that Vishnu's bank account was blocked.
Later, Sumesh said that Vishnu had to be taken to a hospital in Vellore in Tamil Nadu for further treatment, and he took Rs 2.7 lakh from the woman's family. But after a while, he informed the family that Vishnu passed away while undergoing treatment in Vellore.
The family, later, got a message, now from a person claiming to be Vishnu's sister, that Sumesh also died in an accident while the body of Vishnu was being brought to his hometown, and a fake news, along with pictures of the accused and his friend, with a headline 'Edathua mourns the death of brothers' was also attached.
Later, Vishnu's sister started to accuse the woman for the death of her brothers and started sending threatening messages to the woman and her family. Pamphlets demeaning the woman were also distributed in her neighbourhood, and hard copies of the pictures that were forwarded on phone were also sent to the woman's family by post.
The family also got a message that they should close the matter otherwise everything will be disclosed through media.
Following a complaint from the woman's father, a police team led by Kurathikadu SI A C Vipin, with the help of cyber police, conducted a search and nabbed Sumesh, and he was produced before the Mavelikkara court.
Police said that Sumesh cooked up his and brother Vishnu's death after the woman's father requested him to return the money that was transferred for treating Vishnu.