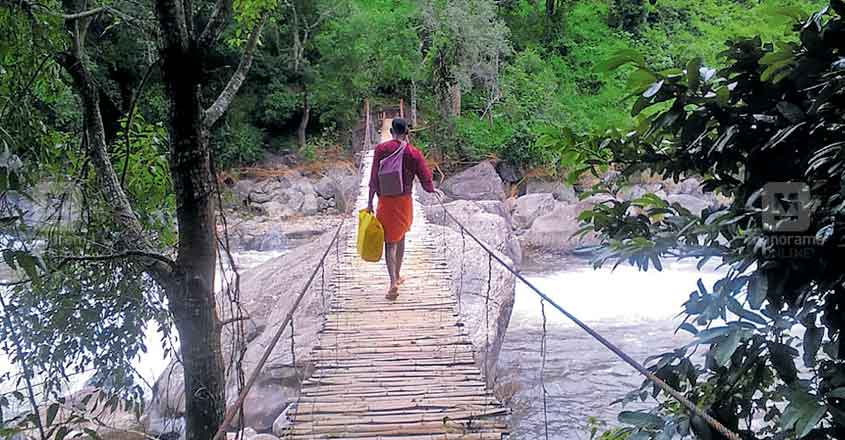 Agali: The recent floods and landslides had swept away buildings and bridges in Kerala that were constructed by shelling out lakhs and crores of rupees. However, a hanging bridge at Attappadi in Palakkad district that was made using the indigenous methods of the tribespeople survived the nature's fury, proving to be a model for the modern civilisation to learn from.
The eco-friendly, wooden bridge at Thudukki in Puthur panchayat survived the deluge that washed away concrete bridges at Moochikadavu, Sabarkode and Vannanthara.
The Integrated Tribal Development Programme (ITDP) had constructed the hanging bridge across River Bhavani for the Upper Thudukki, Lower Thudukki, and Galassi tribespeople. The tribal hamlets are situated in the forest region near to where the river originates.
The swollen river had submerged the bridge as incessant rain pounded the region. Authorities feared that the bridge would be completely washed away.
However, apart from the loss of some bamboo planks along the 10-metre stretch, the bridge survived the floods. Two days after the deluge, the tribespeople used the same bridge to cross over to the main land.
About 70 families live at the settlement. They have to walk for 26km through the forest to reach the main road. The hamlets get isolated during the monsoon season. The 96-metre bridge was constructed at a cost of Rs 9.6 lakh using bamboo and iron.
A concrete pillar was also constructed at the middle of the river on a rock. A private company had estimated the expenditure to be as high as Rs 2 crore. However, Attappadi co-operative farming society completed the construction at a far lesser cost. Though external help was taken for engineering works, the rest of the works were carried out as per the indigenous know-how of the tribespeople.