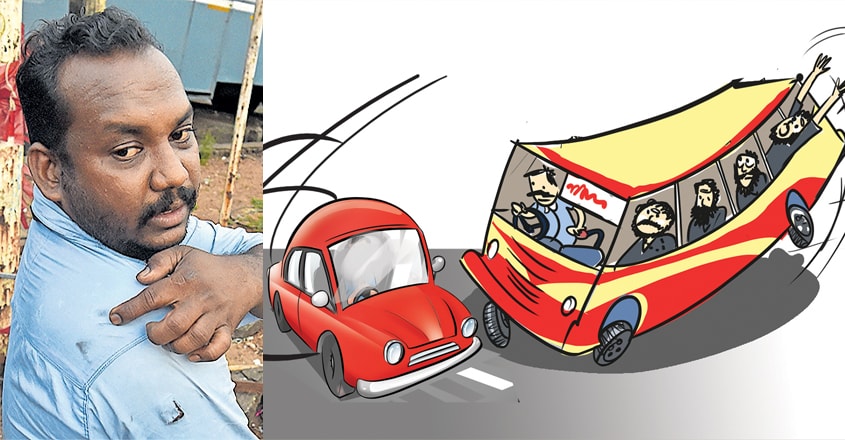 Thrissur: In an untoward incident reported from here a KSRTC bus driver was targeted by a young man and his female friend over an apparently trivial issue. Police have registered a case against a youth as he took on the driver ostensibly to impress his girlfriend who had arrived on the same long-distance bus.
The brawl was reported from outside the KSRTC bus stand in Thrissur around 11.30 a.m on Sunday. The spat ensued after an incident on the super-fast Thottilpalam to Kottayam bus.
Reportedly, the bus driver, TP Ratheesh had earlier asked a woman passenger sitting in the seat just behind him to remove the legs placed on his chair. She had placed her legs on the driver's seat when the bus reached Valancherry in Malappuram district. Irritated by this act, Ratheesh asked her to remove the legs from the seat as it caused discomfort.
The woman, who felt offended, informed her boyfriend. Following this, the boyfriend, who arrived, blocked the bus by parking his car in front of it as it was about to enter the Thrissur bus depot. 
He started to manhandle the driver and asked him to apologise to the woman. The seats, steering, door and key of the bus were damaged in the ruckus. As the youth tried to pull out the key from the bus, it broke into two pieces. As a result, the doors got jammed. Meanwhile,  the attempt of the youth to escape from the scene along with his girlfriend turned futile. Travellers waiting at the bus stand blocked both of them and called the police.
The police have registered a case against the youth for manhandling the driver. A case has been also registered against Ratheesh, a resident of Parancherry in Balusserri, for harassing the woman.
Ratheesh is attached to the KSRTC depot at Thottilpalam in Kozhikode district.