Soubin Shahir is one Malayalam actor who reaped it rich last year. Malayalis took his characters to heart, whether it's the P.T. teacher in Premam or the thief in Charlie. The star with the Midas touch shares his hopes for the New Year with Onmanorama.
How was the year 2015 in Soubin's career?
It was a good year, cinema and otherwise. But that does not mean that the years before that were worse.
The P.T. master of Premam was one of the most notable roles of last year. Nobody would have expected to see Soubin in a comedy role prior to it.
Even I didn't have such expectations. I just went ahead and did the role when it came my way. In fact, I was not originally cast as the P.T. master. I had the part of a different teacher. I was supposed to take classes. I was also given a textbook to teach. This had me in a bit of a dilemma as I had to study all over again, with a book in hand. Still I painstakingly learned the dialogues.
As I was wondering if the part would blend well in the movie, Alphonse called me two days before the shooting and asked if it would be a better idea to replace the teacher with a PT master. I said I had already mastered the dialogues. Alphonse cut the phone saying no big deal, we will go for the PT teacher. This cheered me up. In fact I had wanted to tell him that there was room for a PT teacher too. And coincidentally the role landed on my lap. I am elated that the audiences accepted it wholeheartedly.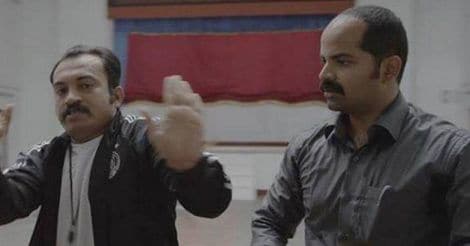 A still from 'Premam'
Did you create the PT master's dance step in your own style?
That step is done as if turning when trapped in the glass. In reality it is a marvelous step. It was deliberately done awkwardly just to evince laughter in the audience. Alphonse and all of us worked together as a team there. We had the space to speak up for anything. It is true that all sets have such a space. Still we can muster even more courage to make suggestions when we all are friends, as in this case.
In Charlie, what is striking is Soubin's natural acting. That 'chechi' address itself has got a soothing effect..
If it is so, the credit goes to Martin Prakkat and team. I did as Martin told me to. The thief here is no big criminal. In fact he is one who decks up in garishly colored dresses that can be spotted even in the dark. He steals to kill time. This thief converses with everyone. He just addresses the lady as 'chechi' to suit that particular situation.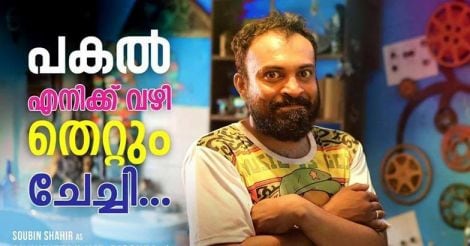 For 'Charlie', the credit goes to Martin Prakkat and team, says Soubin
Can we see you in a director's role? Has the apprenticeship helped in the acting department?
I am considering direction. Planning is on. But I cannot precisely say when it will be. Working as an associate helped me learn a lot of things. When a director instructs an artist in the act of acting to make him perform right, we understand what the director is striving for. I have worked as full-time associate under Fazil, Amal Neerad, Siddique and Rafi Mecartin. This has been highly rewarding.
The audience applauded Soubin's comedy more than Dileep's in Chandrettan Evideya...
That could be the result of counters. I know Dileep from the time I was working as an associate. Many comedies originate on the spot. Comedies take birth while talking to Dileep. Thanks to our acquaintance, I crack a few counters too.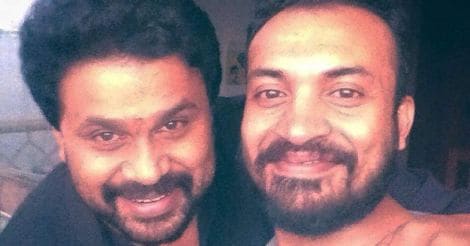 Dileep and Soubin
You acted along with Mohanlal in Loham as well…
Working with Lalettan was a great experience. I never thought I could don a role in front of the camera along with Lalettan. While doing a scene he provides inputs for bettering it. I was able to imbibe some invaluable lessons in acting and gain some nice experiences.
A photo of your generating artificial rain in an Anwar set is circulating in social media…
That was from my days as assistant director. It was a scene showing rain and it was really thrilling to do such activities.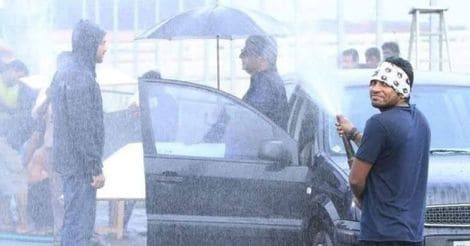 The photo of Soubin generating artificial rain in an Anwar set
All of Soubin's movies are hits. How do you choose your characters?
All are not hit movies. There are flops too. As far as I am concerned, those movies are also dear to me. It is not that I choose characters. I just do the parts given to me. I can only accept what they give me and not insist on only certain roles. Whether while making Premam or Charlie or Chandrettan Evideya, they call me seeing the character that I eventually did, in their minds. I do roles that I feel I can.
Soubin is there in Maheshinte Prathikaram too…
Yes. The character is called Crispin. I play the boy working in Baby Arts, an institution adjoining Mahesh's Bhavana studio. It is a full-length character.
On your friendship with Ashiq Abu
We are good friends. We know each other since a long time and we meet everyday.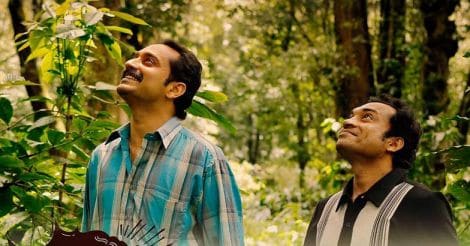 A still from 'Maheshtinte Prethikaram'
How was it entering the film field following in father's footsteps?
My father was a Production Controller. This desire crept into my mind while I was doing first year degree. When I told my folks they thought anyway he is not studying well, let him at least do what he wishes. My first association was with Siddique sir in Chronic Bachelor. The first acting was in Annayum Rasoolum.
How did you graduate from assistant to actor?
Rajeev Ravi was a friend and like a brother to me. Fahad Fassil is also a friend, so is Shine Tom Chacko. When that role came up in Annayum Rasoolum, Rajeev insisted that no one but me should be considered for it. Shine and I were asked to talk like we do normally. We did as told.
Will you work as assistant again?
I am only happy to work with the people I like.
New movies…
Maheshinte Prathikaram, Anuraga Karikkinvellam, Darwinte Parinamam, Mudhugavu, Hello Namaste and Kali.