Malare... – one of those rare songs from the year that went by which still refuses to leave the lips of young men everywhere. The song crooned by an infatuated lover to his alluringly smiling beloved on a rainbow-lit dawn, found echoes in umpteen male hearts.
The evergreen number was brought to life by Vijay Yesudas to the refrain of violin notes that surged forth like a river coursing down rock crevices. 2015 was a year which showed how well aligned is the name Vijay Yesudas with the musical charm of melody.
Vijay Yesudas opens out, to lips that never tire of humming Malare and hearts that keep murmuring Hemanthamen Kaikkumbilil.
Malayalam is not yet done with listening to and singing Malare. Can we say that 2015 was the year of Vijay Yesudas?
Please do not say that 2015 was the year of Vijay. This is merely a continuation. It is true that some of the melodies I sang this year struck a chord with the audience. Even more satisfying is the thought that seven years of struggle in my career is now fetching me the reward. It was never a smooth journey. These good songs of 2015 are a reflection of those harrowing experiences I had been through. I am elated on hearing reviews on the radio in these past few days about the best five or best ten songs of last year. It is certainly a heady feeling to see more than one of my songs finding spots in these lists. Is it not a recognition that any singer would yearn for? That is all. As far as I am concerned it is absolutely true that the past year was a good one.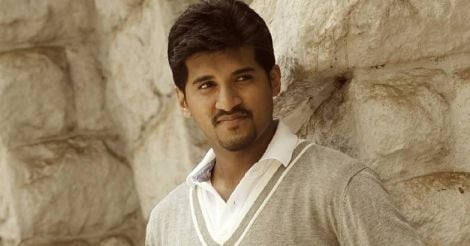 The good songs of 2015 are a reflection of those harrowing experiences I had been through, says Vijay
How do you feel about Malare and Hemanthamen - two lovely songs that were embraced by the music lovers of Malayalam?
Malare was the first time I sang for Nivin. But please do not attribute the success of this song solely to the success of Vijay Yesudas the singer. One should not say that either. The song could capture audiences' minds so effectively only when its tune, lyrics, the movie's story and those who acted in it all became equally excellent. It is the same with the Hemanthamen song. Rahul Raj took the song to impossible heights.
I was able to render many nice melodies last year. It is the onus of a playback singer to imbibe the spirit of the movie situation and effectively execute the song in the music imparted to him by the composer. The biggest recognition comes when the audience judges that he has done it right. Malare and Hemanthamen are two songs that lent me immense self-satisfaction of being able to fulfill my responsibility as a singer fully well. Both are songs I tremendously enjoyed singing. I never thought they would become such hits while singing. The memories of recording these are still fresh in the mind.
How much has being Yesudas's son influenced your music life? Is it stressful?
Never. I have considered it only as a bonus. Also nobody has given me a song just because I am Yesudas's son. It cannot work out that way, can it? I believe that whatever our talent merits will come seeking us. I have reached here through constant struggles. It will be evident to anyone looking into my career.
What do you have to say about your life in music?
I do not have excessive ambitions or plans in my life. I am someone who practises very little. I do learn music. But I do not compartmentalise time by saying 'I will learn/practise for so and so hours at such and such time'. I believe that we have to move ahead in life by savouring every moment of it. That is what I practise in life too. I do not rack my brains over anything. Same goes for my music life. But when I enter the zone of my studio I unknowingly transform to another level. I am seldom bored, no matter how much time I spent in it. That is how much I love it. That is all I have to say about my life in music. I have not set any goals in my career even for the New Year.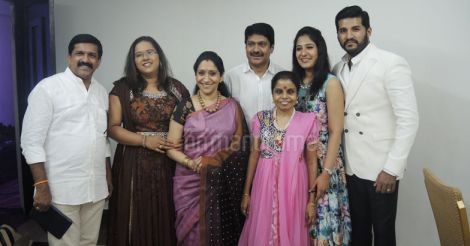 Vijay(R) with singers Shweta, Vaikom Vijaylakshmi, Venugopal, Sujatha, Rajalakshmy and Sreeram. Photo: Litty Simon
Can we say that your success stems from choosing good songs?
I do not understand how songs are chosen. Recently, I had a long talk with a taxi driver while on the way to the airport. He told me that I had chosen good songs and it is a good thing. It is just a misconception that people have. It is impossible to choose a good song for the simple reason that every song is a new experience for the singer. We cannot assess a song as successful or not when called to sing or even after the singing is over. All that we can do is hope for the best.
You are probably the only singer who could fearlessly seek an opinion about a song from the legendary Yesudas. How was appa's reaction?
Appa or amma are not the sort of people who are expected to say 'Wow you rocked, it was superb' in a dramatic fashion. They do not openly say how well I have sung a song. Appa tells me, 'You did well, work hard to learn something for the song'. He also reiterates the need for being committed to music. Not only appa, but amma and my brothers too tell me that. Vishal and Vinod who are in the US call me when a new song is released. They convey their appreciation with 'You have sung well, we enjoyed it' etc.
Have you been told that your voice is beginning to resemble that of Yesudas?
Certainly. Many people tell me that my voice has acquired a bit more maturity and sounds like appa's voice. Such talk has been there for some years. It is just that the number of people voicing this opinion keeps increasing by the year. Our voices are bound to undergo a change with the passage of time.
Several newcomers are entering the music field. Are not the challenges rising?
New voices and new composers of music should step in. Novelty is always for the better. You cannot call it a challenge. As far as I am concerned I have never felt the need to sing better than someone else. I do not believe that such thinking would result in better singing. Our songs can reach the masses only if we display quality. Opportunities have a way of seeking out the talented. All that is required is to sing the songs that come to us to the best of our abilities. Competition should not be allowed to corrupt the mind and opportunities should be used to the full.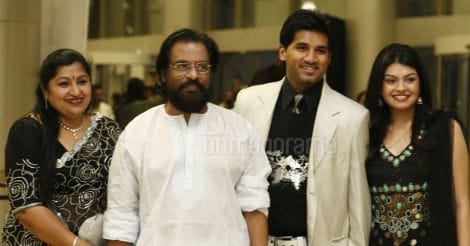 Vijay with family. Photo: Manorama
You have acted in two movies. Can we expect more?
Surely. There will be a new movie. I am very fond of acting. The villain character of Maari was well received by the Tamil audience. Whenever they meet me they enquire about my new movie in the same way that they ask about my song. Hence I am doing a new film.