Kochi: To Indo-Canadian model-turned-actor and activist Lisa Ray, the Kochi-Muziris Biennale (KMB) is a fount of inspiration.
Ray said she had 'goose bumps' from taking part in the thought provoking, immersive works on display at the ongoing third edition of India's only Biennale.
On a tour of Biennale venues in Fort Kochi and Mattancherry areas, The Water (2005) star said, "Every single moment is totally immersive. I feel like I am coming out after a wonderful bath. It's like I am emerging from an ocean right now and I feel that all this art is just washing over me and it would take some time to absorb it completely."
Lauding the 'incredible tactile, sensory and experiential experiences' at KMB 2016, Ray said she was particularly moved by Slovenian artist Ale teger's 'The Pyramid of Exiled Poets'.
"It is such a haunting experience with such a loud and sensual statement. It is something all visitors should experience," said Ray, who is a fixture on 'most beautiful' lists in Canada.
The photographic series 'Defile' by Russian art collective AES+F was another work that stayed with her, she said.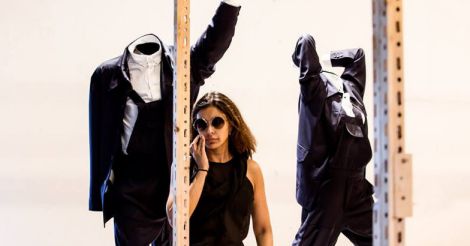 Model-turned-actor Lisa Ray at Hungarian artist István Csákány's installation 'Ghost Keeping' in Aspinwall House. Credit: KBF
Ray, a cancer survivor, noted that the series which presents four dead bodies dressed up in high couture was perhaps a statement on "the futility of fashion in the grand scheme of things."
"You have to strengthen yourself to experience some of the works here. There are subjects we don't talk about everyday and so it is up to art to bring it into discussion. 'Defile' is one such work. It was really disturbing at first, but it brings important questions to mind," Ray said.
An aspiring writer, Ray welcomed the integration of literature-based works, especially the poetry installation of Ral Zurita, into the art space.
"The literature-based installations at the ongoing edition gave me goose bumps. Writing will probably be my next creative avatar. Being a Bengali, I am naturally inclined to words and poems," she added.
"The Biennale has been an inspiration to me at a juncture where I had been looking to get into creative arts. I am only just gaining the confidence to pursue it, but I think it is possibly the best time in India to do so," Ray said.