Kochi: Perhaps, these young entrepreneurs at Startup Village, Kochi, were getting a glimpse of their own future when they welcomed icons of the internet industry to their den of innovation.
The Startup Village in Kalamasseri, a technology business incubator that supports more than 650 startups, hosted senior executives from Google Inc, Facebook Inc, Microsoft Corporation and LinkedIn Corporation on Friday. The IT leaders went through the works of many startups and discussed with the young brains.
The incubator, based in Kinfra High Tech Park near Kochi, mentors wannabe Larry Pages and Mark Zuckerbergs, and facilitates industry networking and helps attract funding
Google India managing director Rajan Anandan said this model should be replicated in all other states. He offered more support for the initiative. The internet giant is already offering services to the tune of $25,000 (Rs 15 lakh) to each startup in the village.
Anandan lauded the talent, ambition and confidence of the young entrepreneurs. Almost half of the entrepreneurs in the facility are students.
The incubator, inaugurated in 2012, plans to launch "1,000 tech startups over the next decade" and begin the "hunt for the next billion-dollar Indian company". The facility benefits from the mentoring of Kris Gopalakrishnan, the billionaire co-founder of India's bellwether IT firm Infosys.
His former colleague Shibulal, who stepped down as Infosys CEO this year, is also actively supporting the spirit of innovation in his home state.
Internet and Mobile Association of India president Subho Roy, who was part of Friday's delegation, also promised all help for the young entrepreneurs. The association has already held talks with the Startup Village authorities. At least 15 startups have been invited to present their products and services.
The delegation included Facebook country head Kirthiga Reddy, LinkedIn country head Nishant Rao, Microsoft consumer channel group head G Chakrapani and Manorama Online COO Mariam Mammen Mathew.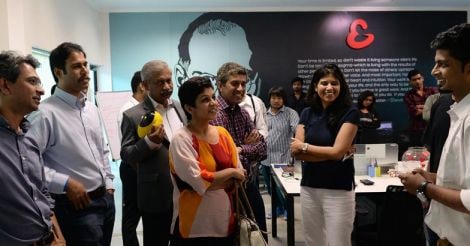 Startup Village CEO Pranav Kumar Suresh, Google India Managing Director Rajan Anandan, LinkedIn India head Nishant K Rao, IMAIndia President Subho Ray, Facebook India head Kirthiga Reddy, Microsoft Consumer Channels Group head G.Chakrapani and Manorama Online Chief Operating Officer Mariam Mammen Mathew with representatives of startup firms. Photo: Manorama
Startup Village CEO Pranav Kumar Suresh explained the facility's functioning to the industry leaders.
Kerala's startup ecosystem has been gradually gaining traction with a slew of initiatives from government as well as other agencies.
The state government has chipped in with a Student Entrepreneurship Policy, to foster the spirit of innovation.
Nearly 250 of the 650 firms incubated in Kochi's Startup Village are promoted by students, Sanjay Vijayakumar, Chairman of Startup Village and co-founder and CEO of MobME Wireless, a mobile internet company, had told Manorama Online earlier this year.
Startup Village is promoted by the Department of Science and Technology, Technopark, Thiruvananthapuram and MobME Wireless.