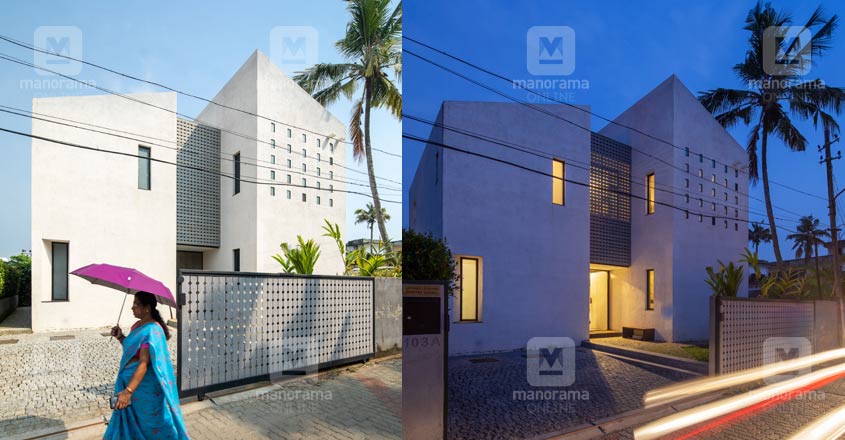 Panampilly Nagar in Kochi is often referred to as the celebrity housing colony as several silver screen stars settled here after Malayalam cinema relocated to Kochi from Chennai. The real estate value of this area suddenly soared, with a cent of land costing a bomb. However, space constraint is the major problem faced by most of the residents here. This had posed a challenge to architect Krishnan Varma as well when he decided to design his office-cum-house in a 4 cents plot in Panampilly Nagar. His house has been designed as a unique structure that develops vertically. With its stunning design and unusual features, the house is truly a head turner.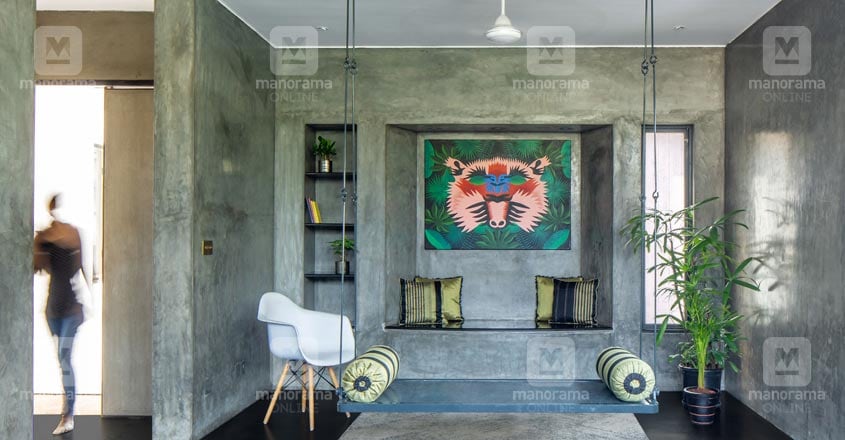 Though it may arouse one's curiosity, the structure is pretty simple. Two blocks in different heights are connected to create a geometrically appealing structure. The taller block has been designed to act as a sunshade for the lower block. This helps lower the heat inside the house and ensures amazing cross ventilation. Besides, heat insulation too has been done on the roof to make the interiors cool and pleasant. As the house has amazing natural ventilation, there is no need to switch on the fan or the air conditioner often.
The double-heighted roof and the open interiors make the spaces vaster and space efficient. This beautiful house, designed in 1700 sq ft, has formal and family living areas, dining area, and kitchen with an adjacent work area, three bedrooms and an office space.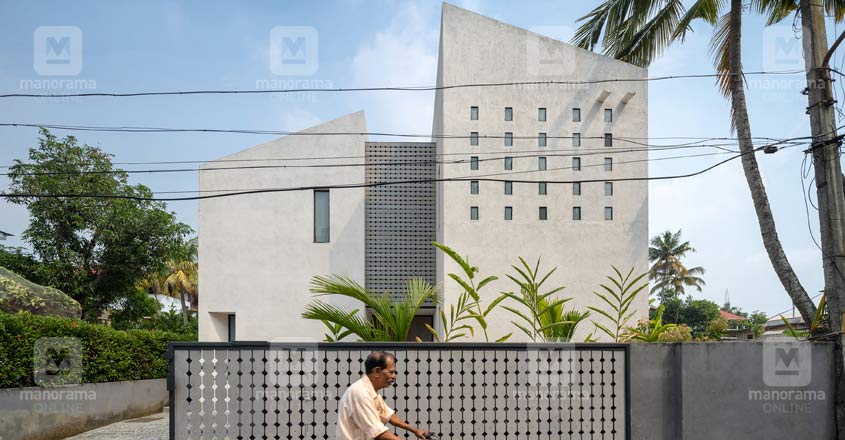 Unlike the usual houses, this house doesn't have a verandah, windows or ornamental doors in the façade. The living and the dining areas and the bedrooms are in the shorter block. Meanwhile, the staircase, upper living area and the open terrace are all part of the taller block.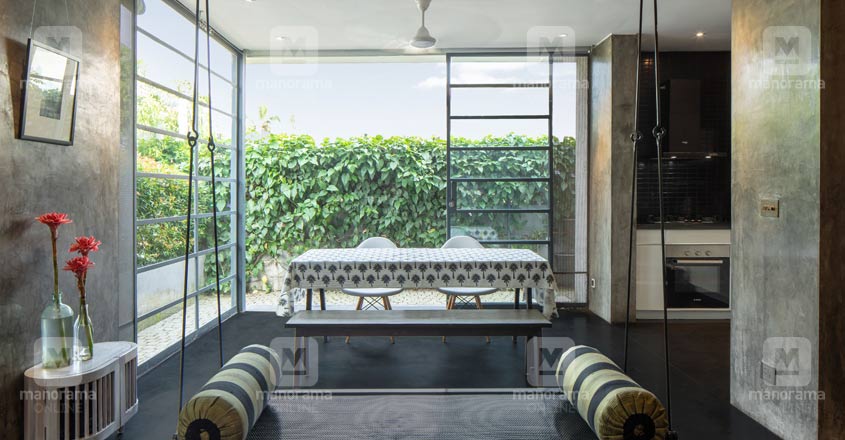 The interiors do not don harsh colours or feature elaborate decor. The walls, meanwhile, exude the rustic charm of cement finish. Instead of tiles or marbles, flooring has been done using black oxide. The impeccable aesthetic skills of the architect could be seen in the custom made furniture and other curios that adorn the house.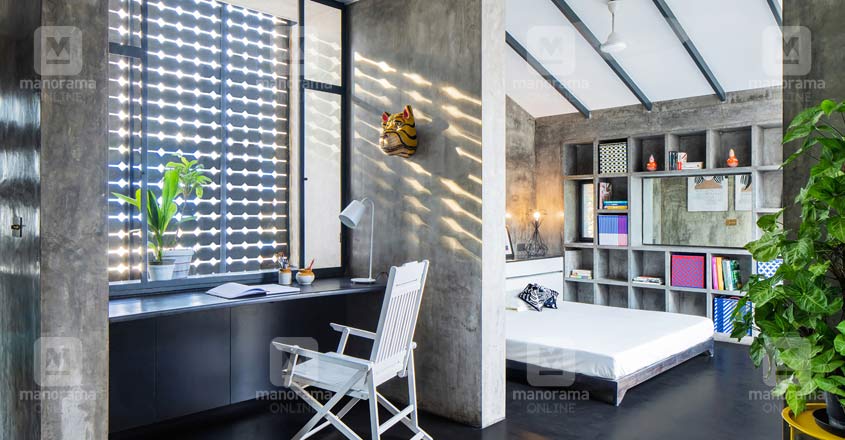 The open terrace is just beside the master bedroom in the upper storey. This area is decorated using indoor plants that add a hue of greenery against the grey walls. The open terrace is a multipurpose area which can be used as a party space as well. The dining and the kitchen are done in the open style.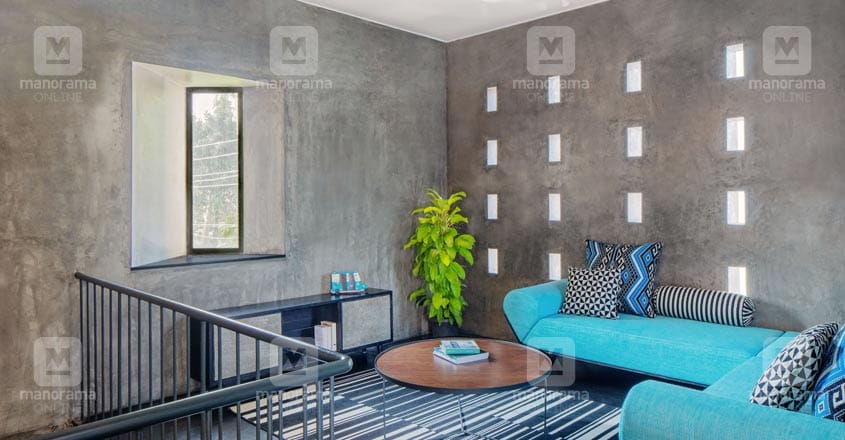 Instead of arranging an office space separately, it has been arranged as part of the guest bedroom on the ground floor.
Smart distribution of the spaces and unique designing without actually compromising on the facilities are the highlights of this spectacular house. This is a perfect urban dwelling, built on a small plot, yet without any space constraints.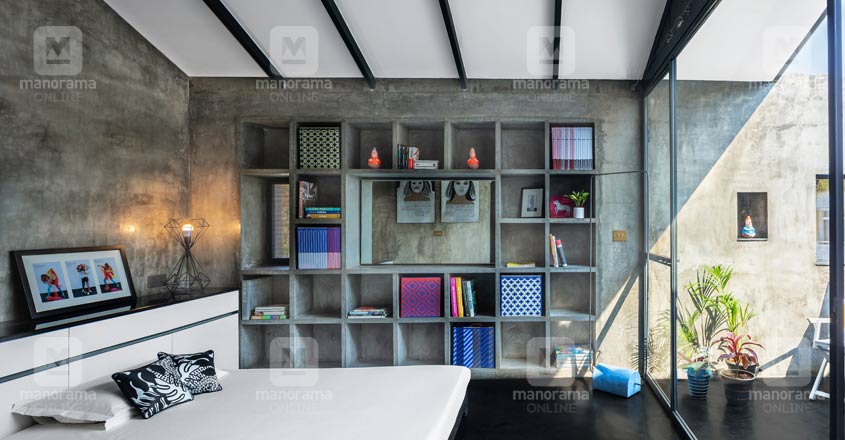 Project Facts
Location – Panampilly Nagar, Kochi
Area – 1700 SFT
Plot – 4 cents
Owner and architect – Krishna Varma, Meistvarma Architects, kochi
Mob – 9495452500
Year of completion - 2018