Thrissur: Some of the readers may recognise two of the three athletes in this black and white photograph. The one standing on the podium wearing a bronze medal around his neck is none other than the legendary Milkha Singh, the Flying Sikh as he is more popularly known for his tearing speed that set the track ablaze. The silver medal winner is Makhan Singh, one of the country's best athletes in middle-distance running in the 50s. Then the obvious question is who is the athlete standing on the centre of the podium with the gold medal?
It is O K Antony, who passed away in near anonymity — just a two-line obituary in local dailies - the other day. It might have been the way he wanted it, but that quiet exit does not do justice to his athletic prowess and achievements.
Antony, who retired as an honorary captain from the Indian Army, remains a largely forgotten figure of Indian sport, despite beating the likes of Milkha Singh and Makhan Singh in his heyday.
Just before his death, Antony handed a photo album to Valsan, one of his soulmates, and told him: "Keep it with you. You should digitise these photos and preserve them after my death. I want at least some people to remember my athletic career."
That album contained the aforementioned photograph in which Antony appears flanked by Milkha Singh and Makhan Singh.
That photo was taken during the prize distribution ceremony of an Army Station Meet during the 1952-56 period when Antony was a jawan with the Army Ordnance Corps. He joined the Indian Army after undergoing training in the Boys' Regiment. Milkha Singh was an officer with the Corps of Electronics and Mechanical Engineers (EME). In the Station Meets, Antony, whose favourite events were 100m, 200m, and 400m hurdles, had beaten Milkha several times.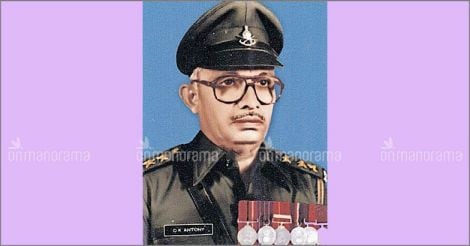 The fact that for about three years, Milkha could never win against Antony testifies to his dominance which alone should have given him bragging rights for a lifetime.
"Milkha says that I run like a rabbit," Antony used to tell this in interviews when he was in his prime.
However, a chronic respiratory condition cut short a brilliant sports career when Antony was at the top of his game, excelling in middle-distance events. Eventually, he saw his dreams of making it to national-level championships go up in smoke. Milkha Singh, who kept improving his timings after Antony bid goodbye to the track, went on to become a legendary figure in Indian athletics.
Antony retired from service soon after he was conferred the honorary rank of captain. After retirement, Antony and his wife shifted to Bethanygram, a home for the aged run by the Amala Institute of Medical Sciences, and donated all his earnings to support marriage of girls from impoverished families. He sold his ancestral home and used that money to fund the education of nursing students from financially backward families. The couple gave away their entire wealth in charity and lived a simple, peaceful, and content life.
Antony had only one wish in life; his wife should leave for heavenly abode before him. As they had no children, he did not want her to struggle without proper care at the dusk of life. Antony had his wish granted as his wife died four years ago. In his will, he had expressed his wish to be buried alongside his wife in the same grave. He had also prepared a sketch containing instructions for his tombstone.
Around 7.30 pm on Monday, Antony complained of dizziness and within minutes breathed his last. He was 89.
O K Antony never became a household name like Milkha Singh or P T Usha, although who knows where his career might have gone if he had not been struck down by illness.
Read: Latest Kerala News