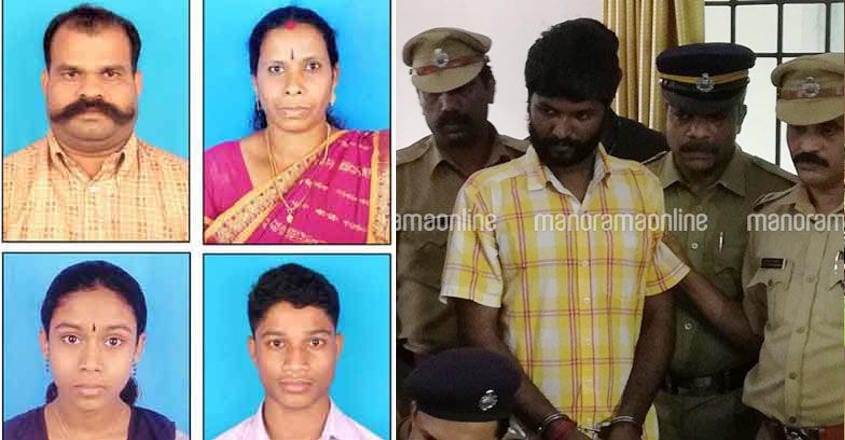 Thodupuzha: The Kerala police team investigating the brutal deaths of sorcerer Krishnan and his family at Mundanmudi in Thodupuzha say the culprits had masterminded the killing in the belief that they would get the 'evil powers' of Krishnan if he was done away with.
Two accused, Libeesh and Aneesh, wanted to acquire his powers of black magic, palm leaf manuscripts and take possession of his gold and cash. It has been found that Krishnan's close aide in sorcery, Aneesh from Adimali, carried out the crime with the support of Libeesh Babu, 28, of Thodupuzha. Libeesh was arrested on Monday.
Krishnan, 60, his wife Suseela, son Arjun and daughter Arsha were murdered on July 29 and their bodies dumped in a pit in their property.
The accused robbed the family of Rs 3,500 and gold worth 20 sovereigns. These have not been recovered.
The police have also found that the murders took place on Sunday night and the victims were buried in the pit a day later.
Buried alive?
Krishnan and the others were attacked on their heads with a shock absorber pipe. The accused arrived the next night again and found that Krishnan and his son were not dead yet. They then assaulted them with a hammer, knife and shovel. Libeesh has told the police that Krishnan and Arjun were still breathing as they were thrown into the pit and that Aneesh hit them on their heads with the shovel again.
Idukki district police chief K B Venugopal said Aneesh and Libeesh were accused in several criminal cases. Libeesh runs a bike repair shop near his house.
Read more: Latest Kerala news