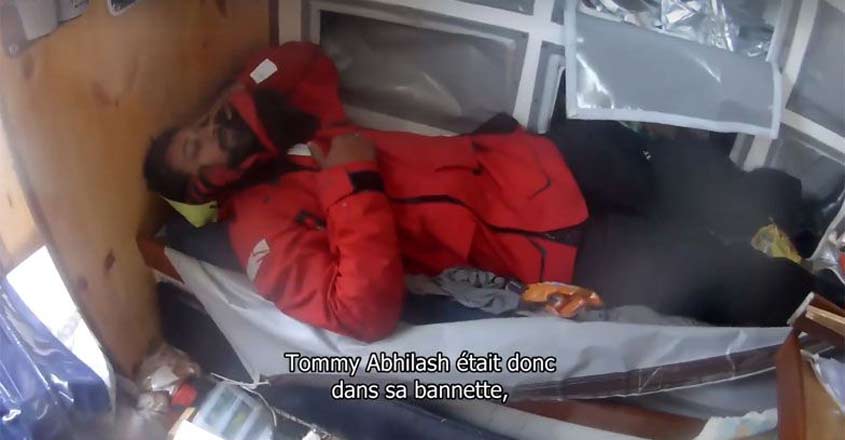 "You are an angel." This is what Commander Abhilash Tomy told his rescuers when they got on his boat to save him, hoping that they would realise the depth of meaning and gratitude in those four words.
The 39-year-old sailor, who was hit by a storm that left him badly injured with his boat drifting at sea for more than two days in the southern Indian Ocean, knew that those were not enough words to express how grateful he was to the entire crew of the French vessel 'Osiris'.
The rescue of Abhilash, who was stuck in inclement weather while participating in the Golden Globe Race 2018, was indeed a triumph of bravery, expertise and camaraderie.
A video in French published by seafood firm SAPMER, which commissioned the 'Osiris' fishing patrol vessel that reached him, and shared by Abhilash on his Facebook and Twitter pages contains footage of the final leg of the rescue mission.
In the video, 'Osiris' captains Armelle Denoize and Ronan Coic and second captain Lucas Jocou reconstruct some of the most vital moments of their dramatic rescue act.
Shortest route
The French sailors were on their way to conduct a sonar-based study on cetaceans when they received information at 8.40 pm on September 21 regarding an accident during a yacht race. Though it was not their intended route, they opted for the easiest route to reach the accident site at the earliest braving choppy waters and high tides.
"We knew the person was injured, but we had no sense of urgency of the situation. We were not sure whether he was conscious or alive. Since the boat had capsized over three times, there were things scattered everywhere, and the deck was blown away. I stepped in first, to check whether he was, for one, conscious. Abhilash had been lying down for four days in his bunk. When I got in there he looked at me and said: "You are an angel." It was really a moving experience. We had to put him on a stretcher and then pull him out. I'm pleased to have succeeded in this task," Jocou, who personally attended to Abhilash, says in the video.
Humble heroes
However, they believe they did nothing extraordinary and refuse to take credit for their heroic efforts. "I'm no hero, I'm simply a sailor, who does all sailors would do: it's to help another sailor," says captain Ronan Coic.
Abhilash, the first Indian to circumnavigate the globe solo in 2013, was third in the race before his yacht was damaged in the storm.