Thiruvananthapuram: Revised fuel prices came into effect in Kerala from Friday. The running rates at the fuel pumps in Kerala were Rs 81.44 per litre for petrol and Rs 74.05 per litre for diesel on June 1.
The Kerala government on Wednesday had announced a reduction of Re 1 per litre in the price of petrol and diesel giving relief from the spiralling petroleum prices that gripped the country after a 19-day hiatus during the run-up to the Karnataka elections.
When the revised prices came into effect in Kerala, the actual drop was Re 1.10 for petrol, as prices had come down by Re 0.07 at the national level. Similarly the price of diesel has come down by Rs 1.08.
Chief minister Pinarayi Vijayan, making the announcement on the slash in the state cess, had said that the decision would create a loss of Rs 509 crore to the exchequer in a year.
"We wish to send a message to the centre that despite pleas from several quarters, it been insensitive to the plight of the people..
The decision made the consumer state the first to make a price intervention because it is heavily dependent on imports and has been reeling under the steep rise in prices.
As of November 2017, Kerala was charging 24.52 per cent tax on diesel and 31.8 per cent on petrol. The state has also imposed a 1 per cent additional cess.
Petroleum prices, taxed outside the purview of the national taxation system of Goods and Services Tax, is a major source of revenue for the states.
The state government earned Rs 7,795 crore from fuel taxes in the 2017-18 financial year.
In several states including Kerala, the tax on petroleum products is almost one fourth of the full cost of the pump price of the product and is charged as the state Value Added Tax (VAT).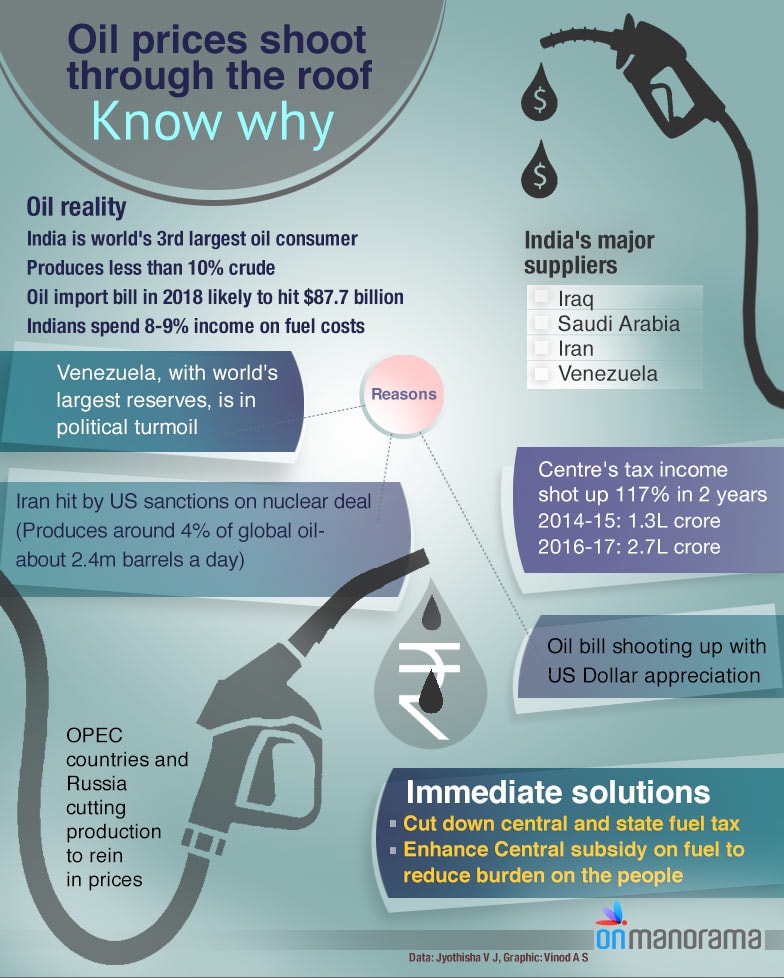 Petroleum is the third largest grosser for the state's coffers after the central handout of the GST share and revenue from alcohol sales.
The centre charges excise duty on petroleum products and also subsidises the fuel.
Kerala is among the states that impose the highest tax rates on petrol and diesel. Maharashtra is the highest grosser followed by Punjab.
Maharashtra charges 39.78% on petrol and 24.84% on diesel. Punjab charges 35.35% on petrol and 16.88% on diesel and Kerala 32.02% on petrol and 25.58% on diesel.