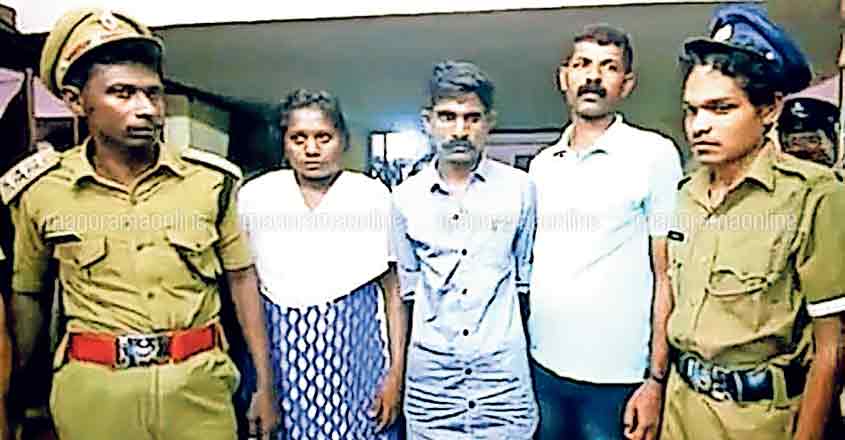 Kayamkulam: Five people, including a woman, who were running a fake recruitment centre by promising jobs in the police, have been nabbed from Cheravally near Kayamkulam in Alappuzha district. The accused were dressed up as police personnel and holding interviews of candidates when they were taken into custody.
The arrested were Shymon P Paul (40) of Kollad in Kottayam, Bijoy Mathew (35) of Olassa in Kottayam, Manu (25) of Kalavoor in Alappuzha, Manu Francis (27) of Ponnarimangalam in Ernakulam, and Sony Thomas (24) of Pathanamthitta.
The gang was collecting Rs 4,500 for registration and Rs 30,000 to 50,000 for the posts of SI and ASI. Upon information that they were running the recruitment centre from a building at Aroodath Junction at Cheravally, Kayamkulam, a police team led by CI P K Sabu and SI Sharon arrested the culprits.
Items seized from the gang, include fake police badges, uniforms, letter pads, seals, and police clearance certificates. According to the police, the culprits had earlier been apprehended from Kaduvakulam, near Kottayam town, for running a similar scam before being released on bail.
It was Thamarakulam native Sanju who first complained to the police about the racket. With the gang now in custody, several people have come forward with complaints. According to CI P K Sabu, the police will seek the custody of the accused who have been remanded by the court.
Fake cops unperturbed
The gang members in DySP and constable uniforms confronted the police team unperturbed, and even started arguing with the cops. The police had to use force to arrest the gang, even as candidates waited outside for interview.
A board that read 'Office of the traffic-trained police force' was put up by the accused. It was written that the head office was in Thiruvananthapuram and the division office at Cheravally in Kayamkulam.
Even highly-qualified people had turned up at the centre that functioned on the lines of a police station.
Kottayam scam
The modus operandi of the gang during the earlier scam in Kottayam was to spread fake news of recruitment of home guards to traffic police via WhatsApp. They had conducted fake training and examinations at Kaduvakulam. A youth named Sanju had been duped of Rs 30,000 by the gang after promising a job as the in-charge of Kayamkulam traffic station.