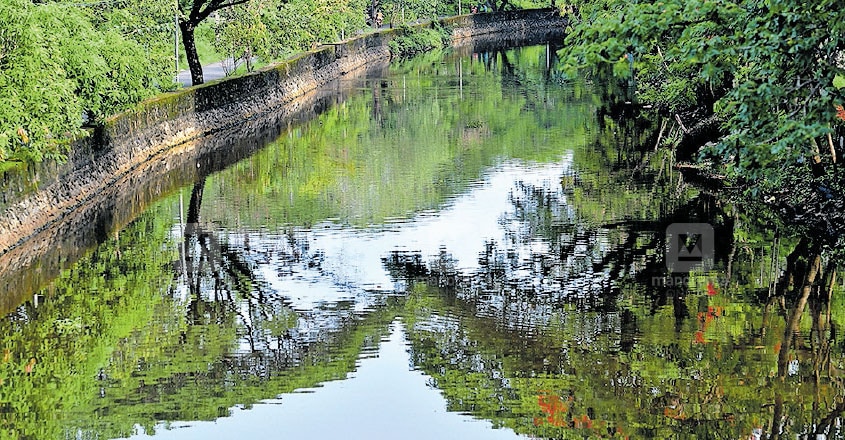 Kozhikode: Much water has flown in the Canoli canal in Kozhikode since the COVID-19 lockdown that was announced on March 24. And most if it has been dirty water.
The lockdown that lasted for over two months has breathed freshness into the canal, a study by the Centre for Water Resources Development and Management (CWRDM), an institute under the Kerala State Council for Science, Technology and Environment, has found.
The canal is now crystal clear as there was a big reduction in the level of contaminated water and sewage flowing through the canal during the lockdown that was eased to quite a large extent on June 1.
The study found that the pH value of the canal and its oxygen level have improved. Also, the amount of coliform bacteria present in the water has decreased due to the fall in drainage and faecal waste being released.
The study also found that the decomposition of waste deposited in the canal now requires lesser amount of oxygen than before.
The water quality department of the CWRDM collected samples from 10 centres - between Kallai bridge and the place where the canal meets the Akala river - in the last week of May for the study.
The CWRDM found the quality of the samples to be much better than those it had studied in February.
The pH value of the water, which was 7.4 in February, improved to 8.6 in May. Similarly, the amount of dissolved oxygen, which ranged from 1.67 milligrams per litre (mg/l) to 4.22 mg/l increased to 5.33 mg/l. Dissolved oxygen refers to the oxygen that living organisms under water can breathe.
The amount of oxygen needed to decompose waste accumulated in the water (biochemical oxygen demand) decreased from 41 mg/litre in February to 8.2 mg/litre. According to the Central Pollution Control Board guidelines, the permissible limit of biochemical oxygen demand is 30 mg/litre.
In February, the concentration of coliform bacteria in samples from all the centres except one was way above the permissible 500 MPN (most probable number). In May, however, the concentration in all the samples was below 500 MPN, the study found.