When hitmaker Priyadarshan hung up the phone of Telugu superstar Nagarjuna, memories came rolling down in his mind, one after another. Once again, Nagarjuna is there in person at another crucial juncture of his life. The Telugu superstar had called to invite Kalyani, the daughter of Priyadarshan and yesteryear Mollywood heartthrob Lissy, to Tollywood.
26 years back, the same Nagarjuna rang up the landline number at Priyan's house in Thiruvananthapuram. That was the time when the ace director was almost in a self-forced exile from filmdom and had run away from Chennai as his films bombed one after another. Priyan said resolutely, not again to the film world! But Nag was steadfast. He insisted him to meet him in Hyderabad as soon as possible and put the phone down.
Also read: Priyadarshan-Lissy daughter Kalyani to make her acting debut

Soon, he directed Telugu movie Nirnayam, at the insistence of the Telugu superstar. Back home, the same year, he met up on the golden chance to direct another film in Malayalam. It literally metamorphosed Priyan's life forever. The film was Kilukkam, an all-time super hit in Malayalam film history.
Now, Nagarjuna has called Priyan once again. This time, for his daughter, Kalyani. In the Telugu movie, which will be directed by Vikram Kumar, Kalyani is cast as the heroine of Nagarjuna's son and Tollywood's young superstar Akhil Akkineni.
Kalyani opens up on how she decided to take up acting.
Two role models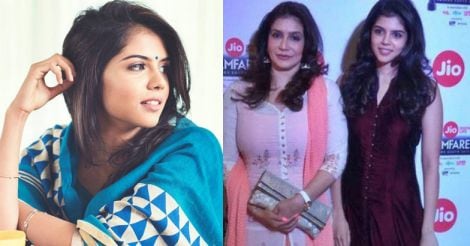 I have seen how my father commits himself to his work. But still, he kept a regular contact with family back home. In the case of my mother, she is out of bed regularly at four in the morning. After her routine yoga time, she will recite Lalita Sahasra Nama. She leads a life of order and discipline. These two role models must have made me and my brother Chandu.
When I said I would rather choose film acting as my career, my father asked me to discuss it with my mother. And when I did it, she advised me to have a talk with father. Now I feel that they must have realized it earlier itself that I am going to be an actor.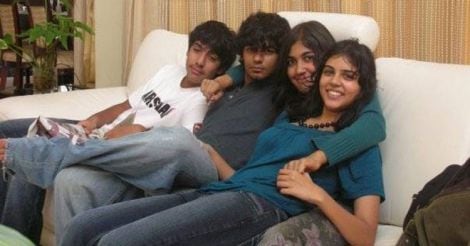 A file photo of Kalyani with Mohanlal's daughter Vismaya and son Pranav and Kalyani's brother Siddharth
Also check: Priyadarshan-Lissy's daughter was darling of Filmfare Awards 2017

But within my heart, I always wanted to begin with a Malayalam movie. But how could I say no when a person like Nagarjuna asks me to do a film. Nonetheless, we enjoy such a close relationship with that family.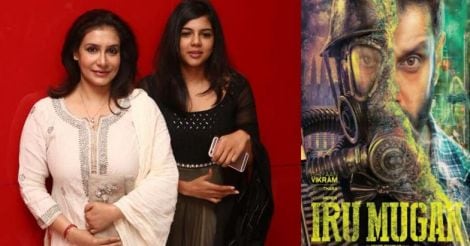 Life, movie
Even as a child, I wanted to be an actor. But like any other parents, my father and mother discouraged me from it. Thus, I ended up joining an architecture course. But, from there, I came back to work with Sabu Cyril. I was there as an assistant with Sabu uncle in the movie Krish.
At that time, film direction was my dream. But later on, I realized that acting is my forte. While I was a student in America, I have worked with several drama troupes.