A strange menacing mood. Scared people. Something lurking in the dark. These are the only plot details that can be gathered from the mysterious trailer of Prithviraj's upcoming horror movie Ezra.
Without giving much information, the one-minute-32-second trailer provided heavy dollops of dread as it slowly crept the camera down the tomb of Abraham Ezra and then to a few frightened faces, as the music hums danger and the dialogues set a desperate scene.
A first of its kind in Malayalam, the trailer employed brilliant visuals that piqued the interest of the audience so much so that movie buffs were impatiently waiting for the movie to hit theaters. And, the wait is finally over.
Also read: Ezra movie review

The movie is all set for a grand release Friday. Popular actress Priya Anand essays the female lead opposite Prithvi, making her Malayalam debut.
Talking to Onmanorama, director Jaykrishnan said, "Ezra will not scare you away. There are many other elements attached to it. It will narrate a story of two different centuries."
The movie also has Tovino Thomas, Babu Antony, Pratap Pothen and Sujith Shankar in crucial roles. Ezra will be released in over 130 screens across Kerala, making it Prithviraj's best release ever when it comes to the number of screens.
Ezra is produced by Mukesh R. Mehta, A.V. Anoop and C.V. Sarathi under the banner of E4 Entertainment and AVA Productions.
Plot: Ezra tells the story of a married couple who comes to stay in an old Jewish bungalow, and the incidents they come across.
Here we bring you a time-line live from theater: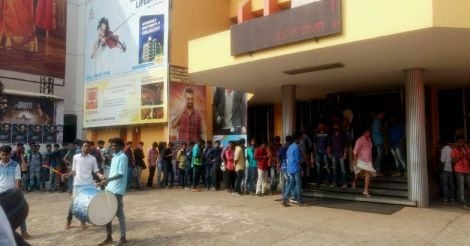 Long queue for the FDFS at Anupama theater, Kottayam. Photo: Gopika KP
» Fans gather at theaters for celebration
» The show for fans, which was slated to begin at 8.30 am, was canceled due to a technical issue with regard to license
» Advance booking in full swing
» Movie begins
» Characters are introduced at a fast pace. Alencier on screen.
» There is romance, suspense and fear with ample amount of thrilling moments
» The movie is based on Jewish concept – dybbuk. According to belief, dybbuk box posses spirit which shouldn't be opened and if opened the spirit will enter into the living body of who opened it.
» After Ranjan (Prithviraj) realizes that his wife Priya (Priya Anand) has opened such a box he seeks the help of a Jew priest (Babu Antony).
» Meanwhile, Tovino as ACP Shafeer Ahammed, comes to investigate a murder case.
» An interesting twist at interval and we get to know that Priya does not posses the spirit.
Check what audience got to say about Ezra: