Kochi: The Startup Village, which is a thousand days old, has offered opportunities for entrepreneurs to enter the world of high-tech innovations. When the initiative turns three years old in April, it would have created lot of hopes, aspirations and 533 companies.
The village has offered jobs for 2,889 youngsters who chose to be entrepreneurs rather than running around searching for jobs. The objective of the Startup Village is to offer facilities, infrastructure and tech support to those who need it. When these small firms mature into firms that can stand on their own, they can move on to greener pastures. This tech village creates new entrepreneurs who can provide jobs to others.
This is the nation's first technology-business incubation centre and it was started by the National Science and Technology Entrepreneur Development Board, the ministry of Science and Technology, Thiruvananthapuram Techno Park and MobMe Wireless.
So far, the initiative has supported 960 ideas. About 226 companies have won investor support from the village itself.
Now, the village is planning to come up with Angel Funding for entrepreneurs. A village outside Kerala has been set up in Andhra Pradesh.
Here is what the who's who have to say:
Sanjay Vijayakumar, President, Startup Village: We have a big dream; to create a global, digital-technology platform where Startup apps, mentors and investors can collaborate!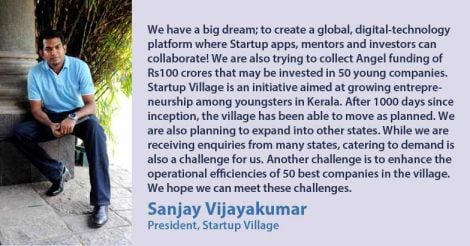 Pranav Kumar Suresh, CEO, Startup Village: Startup Village offers the wherewithal to bravely face odds and promote entrepreneurship.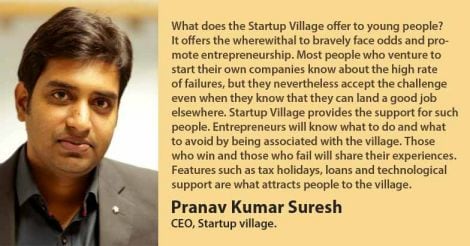 Sijo Kuruvilla, former CEO, Startup Village: It is a huge change in attitude that people try to start their own companies than try for jobs.