Kerala finally came to the land which lent her the name. The eight-year-old girl from Los Angeles is proud to have learnt how to pronounce her name correctly during her experimental stint in the Alphonsa Residential School at Bharananganam.
The little girl is a symbol of cultural affinities that transcend national borders and linguistic barriers. Her parents were so enamored by the culture and nature of Kerala that they named their firstborn after it. 
Television producer Charles Kramer and wife Brenna Moore were on a world tour in 2004 when they reached the southern tip of India. They were bowled over by the woodlands of Wayanad and the backwaters of Alappuzha.
The place stuck with them. Five years later in Los Angeles, they were to name their daughter Kerala.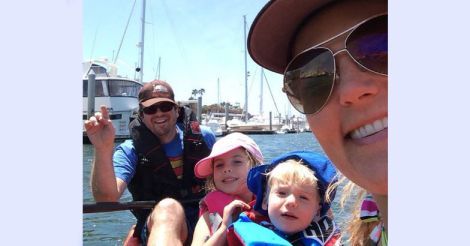 Nine years down the line, Kramer and Moore were ready for another world tour. This time, they had a mission: to document the education systems in 20 countries spread over six continents. India was not on the original list though.
The project, titled Worldschool 101, would take the family to each of the selected countries. The plan was to stay for up to four weeks in each country and document the local education system.
The itinerary changed in France, where they had a chance encounter with Mishel, a local guide who happened to be another Indophile. Their conversations naturally veered towards Kerala. Mishel suggested that Kramer should add Kerala to his list of destinations.
She said she had a foster son in Kerala and offered to arrange accommodation for Kramer and family in the house of the boy's sister.
Kramer and Moore jumped on the offer. They wanted to show their daughter the land she shared her name with.
In their host's house at Cherpunkal near Kottayam, the family tweaked their plans. They sent Kerala to the school at Bharananganam along with their host's daughter. Kerala became Dia's classmates. Kerala's younger brother went to a playschool.
Kerala was excited to go to school in a uniform. She attended the third standard for three months. She even learned a bit of Malayalam and could write her name in Malayalam by the time she left.
The family has left for Indonesia in pursuit of the video project. Dia was a bit sad about having to part with her dear friend.
Kerala was a bright student and was eager to participate in all programs like the regular students, principal Ansel Maria said.