What's common to soap, cinema and business? Ranjini Krishnan, the entrepreneur. The cinema part comes in with her association with the critically acclaimed Kanyaka Talkies of which she was one of the scriptwriters. And soap? She's into organic soap making and marketing with her business concern 'Body Tree', making inroads into the cosmetic industry.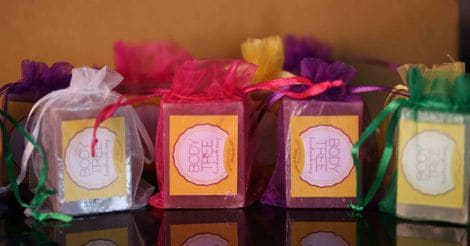 Cinema is familiar terrain for Ranjini as Kanyaka Talkies was her husband K.R.Manoj's directorial debut. In an informal chat with Onmanorama Women, she opens up about her social and political convictions and how the two mediums, soap and cinema, can influence life and the environment.

How was Body Tree born?

"I used to be a member of several parenting groups where we enjoyed an informal exchange of ideas. Soap as a topic came up when we had a discussion on the baby bath. The question asked was whether moms had any idea of the chemicals that went into the making of beautifully wrapped soaps. As I was pregnant, I latched on to the topic. I pored over a lot of material related to soaps in general and baby soaps in particular. It was within the group that the concept of 'it is easy to make a home-made soap' took shape.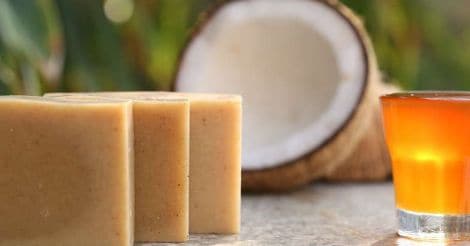 "Soap cannot be made without caustic soda. While pregnant, I was hesitant in using such soaps. So I decided to make my own. My first batch appeared just six months after my son was born. The initial lessons were through YouTube and the soap as you can guess was a disaster. However, I refused to give up till I had almost perfected the art. Our efforts bear fruit only when the ingredients are accurately measured and mixed. There's no room for the word "approximately" in production. Everything, including oil and water, has to be weighed and measured to perfection. One misstep and it robs the soap of moisture, lather and other vital properties. I did a few courses related to my hobby. I enjoyed it thoroughly and soon the house was covered in soap. There was soap everywhere, in the bedrooms, drawing rooms and even in cupboards.

What are the products?

"The main one, of course, is soap. I have branched out to body scrub, lip balm and hair cleanser. Only natural ingredients go into them.

How different is Body Tree?

"They are free of chemicals and rich in natural elements. I don't use synthetic colors, perfumes, detergent or artificial fillers.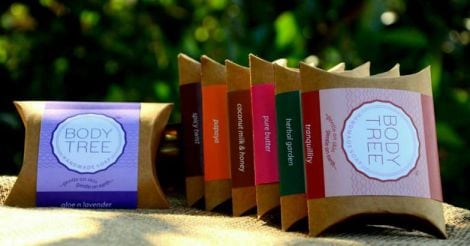 "The main consumer fetish is color. I beg to differ. I avoid colors and am seriously thinking of popularizing a 'Proud to be unattractive' campaign. My neem soaps are naturally light green, like the neem leaf, the coconut milk-honey, brown like honey and spicy flavor, a rich coffee brown in color. All the colors are made with natural ingredients.

"The soaps are not transparent either. It's glycerin that gives transparency. A 'hot process' gives the transparency element. But we are into the 'cold process', which retains all the nourishing properties. A lot of oil evaporates in the hot oil process.

"We use Punnakka oil in our scrubs. Punnakka or ball nut seeds are rich in oil. The thick oil has medicinal properties. Punnakka oil is much sought after in the US. It has wonderful skin regenerating properties. It's the best balm for chappy and torn heels. I was totally ignorant of its wonderful natural properties. I chanced upon Tamanu oil while doing a Google search and later learned that the tropical seed they were referring to was indeed Punnakka. But as we have wantonly cut down Punna trees, the seeds have become a rarity.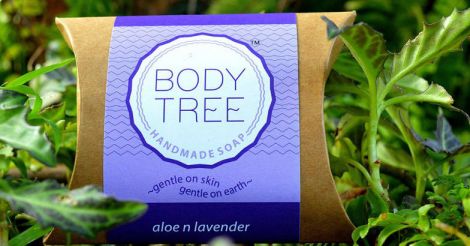 "Going by the names of those places which carried "Punna" as a prefix like Punnamada, Punnamood, Punnakkal to name just a few, the tree must have grown so wildly there. But there's not one standing today.

"Bleached butter too is 'no-no' for me. Instead, I use mango butter, which comes from the kernel of the mango seed."

Do you have a manufacturing unit?

"No, I don't. I began in a small way. Plans are afoot for an expansion. I'm trying for a license. I'm not rushing things. I make the soap on my own. I have help in cleaning and packing. My products are sold by word of mouth and through Facebook. No other promotions are on now. I run an online store. But if I happen to get huge orders, I'm sure to panic as I lack the wherewithal to cater to bulk orders.

"I will not compromise on quality. Anybody can run a business. But to make it succeed you need total commitment and a deep passion for what you are doing. I do a lot of research on my products."

How different are the products?

"The scrub is full of pure organic honey. I source honey straight from the forests through Vanashree. What we get here is honey collected from rubber estates. Even the color is different. While the locally available stuff has a golden hue, what comes from the forest is dark brown in color. Organic brown sugar too is mixed in the scrub.

"It's extremely difficult to cut down on production costs. When you pay Rs 40 and buy a bar of Pears you are happy. No questions are asked. If the product is 100 percent pure, you just cannot afford to compromise on cost. You need to pay Rs 198 for a kg of coconut oil. I'm lucky in that I get my oil from the coconuts I have in my native place. But even when that's not sufficient I turn to Kera. The richness of the oil content is what defines quality soap. In effect, there's got to be an oil content of 70 percent. Now it's anybody's guess as to how much a genuine bar of soap can cost. It can in no way be priced below Rs 160. Check out the price of a bar next time. The price will tell you whether the soap is fake or not.

The thought behind soap-making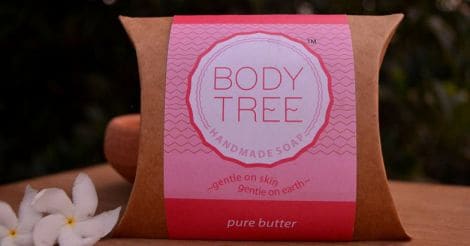 "I'm engaged in a post-graduate fellowship now. Cinema too is very much there on the sidelines. There are defining moments in life which make you think a lot. My moment came after my son was born. I was worried about the chemicals used in baby bath soaps. So I went for green gram powder to bathe him with. It was fine. But the bathroom would be a big mess. Then I switched over to soap sourced from Aurobindo Ashram in Pondicherry. They use only natural products. This led to my search for such soaps here in Kerala. I found none. That's how Body Tree was born.

"The water that runs out of our bath too is heavily polluted with chemicals that can damage the texture of the soil. I envision a time when I can recycle bath water and use it to for my plants. All our products should please the Earth and the Mind. That's my conviction.

How about cinema and script-writing?

"Till date, Manoj and I have been together in everything. I first worked with him on a documentary titled: A Pestering Journey. The film, based on the Endosulfan scourge, won a national award. It was meant for those who critically view the Green Revolution. Our initial plan was to shoot the film in Endosulfan-hit Kasargod. But then we realized that there are many such places in India.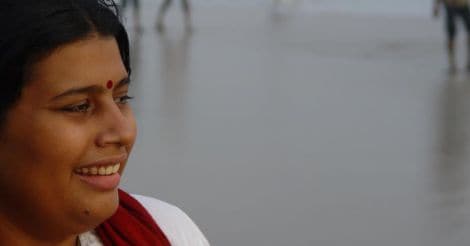 "It was quite shocking to learn about the 'cancer train'. which runs from Bhandar in Punjab to Bikaner in Rajasthan. Almost 60 percent of the passengers are cancer patients. We tweaked the angle from the much-discussed pesticide scourge to a 'who is the pest?' kind of question. After all, man himself falls dead like a pest or like a worm. We are after all used to a culture of violence which involves annihilating all that we hate. This was the issue I raised in 'Who is the Pest?' That's how I got in as a researcher and scriptwriter.

What was Kanyaka Talkies all about?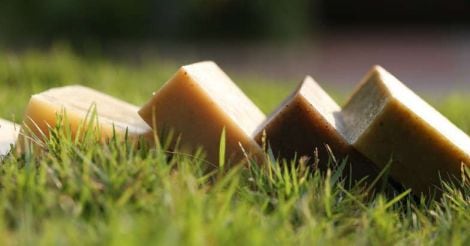 "We called Shajikumar the minute we read his story. The three of us decided to work on the project. A few changes were made to suit the screen. We worked as a family and I was happy to be a part of the script. The movie went on to be a huge success. I still find time to write. I've already planned a documentary."