Got a bit of spunk or the will to wander round? Age is no bar, but gender apparently is. It's all for women and women for all! So fly high like appooppanthadi (milkweed) to where the wind will carry you.
Dial "S" for Sajna and there you are! Pack your bags and be on your way to wherever Sajna will have you go … from the lowlands to the highlands, from the beaches to Charlie's (Dulquer Salmaan's) lofty Meesapulimala. All you need is to just dream to dare.
A women-only gang of wanderers sounds quite an improbability. But it's not the stereotyped travel group which goes up to a beach to gaze at the sunset, or perhaps a bunch of seniors who'd love to gape at the sights and sounds of a swanky shopping mall. Herein lies the difference between Sajna's women travel groups and others of their kind. It was about two years ago that the young lady gave wings to her travel ideas.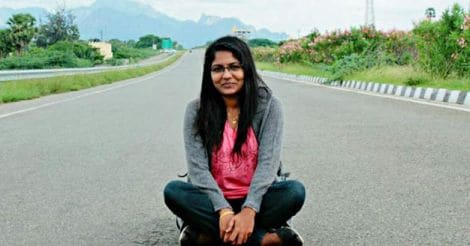 It was her job that took the Kozhikode-based software engineer Sajna to Thiruvananthapuram. But somewhere behind her screen and mouse work lurked a deep passion for travel, to go for sights unseen and feel the thrill of her wanderlust's pull. This intense longing for travel was planted by her father, a lorry driver. He used to take her on short trips and the young girl began enjoying the feel of the wind across her face at a very young age. But the name Appooppanthadi and the concept behind it came up quite by chance.
It all began when one day, a group of her friends decided to go to Ramakkalmedu to chill out. They initially decided on forming groups of 20 each. But much before the D-day itself, all the members had chickened out. But not Sajna. She had already decided to give it a go and off she went all by herself. The result was electrifying. She enjoyed every bit of her solo trip. Ramakkalmedu with its hills and dales, chill winds and cold weather was an experience. That was apparently the beginning. She was no more afraid to go all by herself. So off she went to Orissa, Bihar, Tawang, Meghalaya and Uttarakhand.
For Sajna, it was a few hours of rich insights into life as she regaled Onmanorama with the experiences her travels had put her through.
Of all the places she has seen, it's Bihar that seems to have captivated her the most. Just before setting out to Laluland, she was warned of the dangers galore that lurked in Bihar's badlands. But her experience of the place and the people there was totally different from the horrendous tales about the place she had listened to. They were all warm and friendly … from the bus driver down to the rickshaw-puller. She walked along the gullies of Bihar just as she would the streets of Kozhikode. She stayed connected with her friends throughout, apprising them of her every move.
Appooppanthadi
Each trip done, her friends would crowd around her asking her to take them also on her next. The demand slowly grew louder and bolder. The first all-women trip had eight members heading for the Thenmala eco-tourism centre. The trip was so enjoyable that the women found themselves asking for more. That's how the travel concept kicked off. The next was to find a catchy name. It finally got symbolically settled on "Appooppanthadi", the lighter-than-feather milkweed which flits everywhere and goes where the wind carries it to. To all who cast doubts on how easy a name it would be to pronounce, especially with foreigners, the travel guru had this to say: "When we try to pronounce some of their jaw-breaking names, let them try some of ours."
All was not rosy when the travel team decided to take off. A volley of opposition mounted from all quarters with a lot of old-timers questioning the credibility of a lone woman traveling for fun. But Sajna easily surmounted all questions of should and why. When folks around saw how firm she was, all opposition started fizzling out. Her parents who had their doubts initially, were happy to let her go. They put forth just one condition: she has to be in constant touch with them and whenever they called, she was to be on line.
Sajna dismisses all doubts about the problems women can encounter on the way. She never takes her team to places she's unsure of. It's to safe lands and pleasant weather they usually go. To date, she has taken more than 600 women on various tours. And Appooppanthadi has organized more than 60 happy trips where the members shared such positive vibes.
Appooppanthadi has eight buddies now and it's they who organize things when Sajna's commitments hold her back. The members are determined to see the forum going great guns.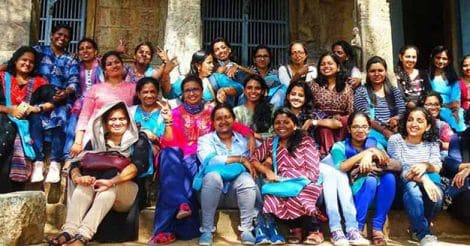 When the call of her new venture became more demanding, Sajna had to bid bye to her tech career. Today, she's totally into her travel job. She's not sacred of untoward incidents crippling her women travelers. She refuses to be cowed down by fear. The go-getter that she is, she offers the same spunk to her friends. Go for it. There's a world out there to be explored and a life to be well lived.
Read: On a Roll | How a Himachal health worker rode her way to the WHO calendar