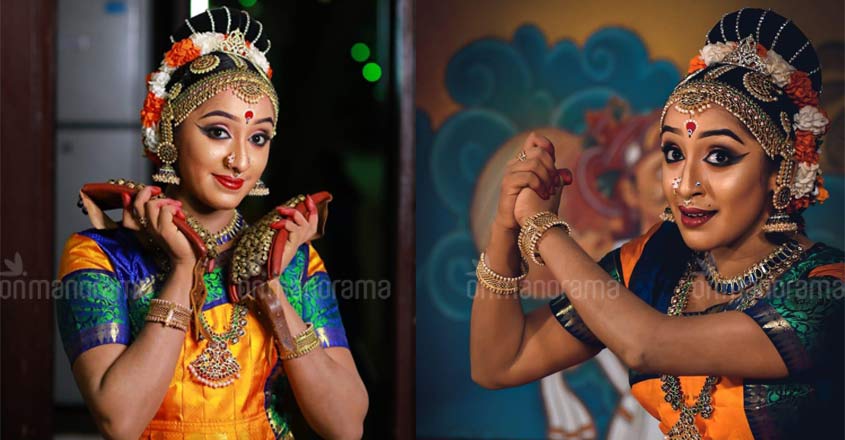 When Mar Ivanios College retained the Kerala University Youth Festival, it was Krishna Ajith, who was adjudged the best female artist (Kalathilakam). She had followed a gruelling training schedule before she could attain a title that is coveted by female artistes studying in colleges in Kerala. The talented performance artist terms the achievement as an outcome of hard work and dogged pursual of a childhood dream. The self-driven artist was initiated into dance when she was only four years old when she first wore anklet (chilanka) at a temple functon at Kayamkulam. In a short span subsequently she mastered several performance arts including the classical dances as well as Nangiarkoothu and Keralanadanam and is aiming for more laurels.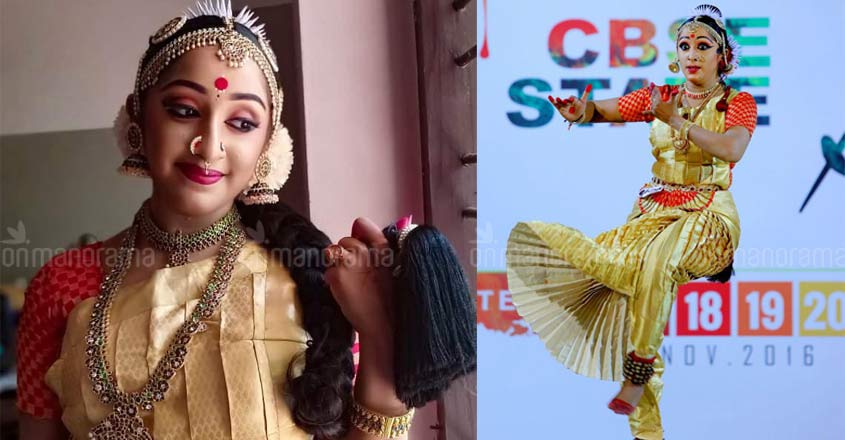 "I went abroad while a child. learned under Manoj Maanikooth in the 'Kalakshetra style' and he made me a dancer. There I secured the second prize at the 'DALA Youth Festival', a big event where participants from the seven Emirates compete. I was in the first grade then. It made me so happy. My friend was adjudged the best artiste and that is the first time the title got into my mind. During the 8th grade I grabbed the 2nd prize in Bharatanatyam at the 'CBSE Kalotsav Sahodaya', and I qualified for the state-level contests in 2013," Krishna said tracing her growth as an artiste.
Krishna was hooked on to competitive contests by then and the very next year she came first in Mohaniyatam at the Kalolsavam conducted at the Mar Ivanios College, Thiruvananthapuram.
"It has been a ride of constant trial and errors so far, but stages and performances kept me prepared. Then the journey to Kalathilakam began. It was difficult but an experience," she noted. "I started my practice from August, training both in the morning from 7 to 8 and then after college again from 4 :30 pm to 6 30 pm. Most days I also had to attend other classes also, hence returned home by 12 or 1 midnight. I stuck to this rigorous schedule for whole 6 months."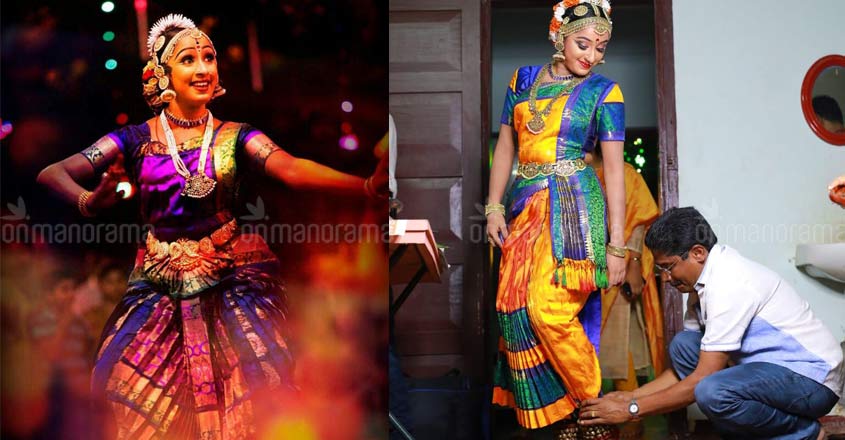 Krishna gives the credit to the teachers who taught her and reverentially suffices their names with 'Sir' or "Teacher" whenever she uttters her name. "Bharatanatyam and Kuchipudi training were with teachers Sanil sir and Jisha teacher respectively. I owe them the Kalathilakam title. They supported and motivated me as I was about to drop out at a point."
Artiste Vinayachandran taught her the nuances of Keralanadanam and she briefly attended the famed Kerala Kalamandalam.
"He was very patient. Folk dance was perfected by Soorej Nair. He came to my home all the way from Ernakulum. I visited Palakkad to learn Ottamthullal under Mohanakrishnankal at the Kalamandalam. It was a team work and we only had four classes," Krishna listed out her skills in multiple performance arts.
She is fascinated by Nangiarkoothu which was taught to her by Margi Usha. "This art form has everything hidden in the eyes as message must be conveyed through the gaze. It is very traditional. It is practised in temples. The entire learning process was interesting," Krishna narrated her experience while honing her skills in the old Sanskrit drama form.
She credits Aylam Unnikrishnan for passing on the tips of Kadhaprasangam, a popular lyrical story telling in Kerala. "He gave full support and it was my first time on stage and the only competition I din't get a prize. I will make make amends next time," Krishna rues missing out on the top three spots.
At the Kalolsavam, Krishna had participated in the maximum allowed, 7, and won all but one. She is so driven that she could do so with ease though she had her priorities.
"When you are on stage there is no one to support you. When you get exhausted in between, only one person could help you out and that is only you; that energy and motivation should come from inside. Bharatanatyam and Kuchipudi are my favourites. Even for Kalolsavam I was giving it an extra focus through continues practice for 6- 7 months. They are my pillars, other categories are my supporters," she explained.
Krishna wants to pursue academics along with art, and she is good at studies. When asked about the secret of scoring good grades on both fronts she said, "My friends support me in all ways, especially my best friends Nayana and Navami. They sent me audio notes in a capsule form only having what exactly to study. That is how I write my exams, and I am happy for scoring well. I wish to graduate and do something with dance at the same time. My teachers are proud. I can directly approach Sherly Stewart mam, my greatest support," the smart student opened up on her school life.
Krishna cherishes the rousing reception at her class after she arrived after the Kalathilakam laurel.
"After being the Kalathilakam, I went to class, the entire students clapped and said "Arppo," that was my most proud moment. My mother was crying with happiness, and father had goosebumps," she recalled that day.
Family is her biggest support, words fails when Krishna talks about them. "Amamma is my super hero. She accompanies me to classes," she paid tributes to her mother.
When asked about her plans Krishna smiled and remarked: "To get Kalathilakam again off course. My preparations are going on well."