In what seems to be a hitch to a 50-year-old pattern of emigration from Kerala, a tangible slide in the number of people leaving the state has been recorded. The trend is implicating a range of aspects, mainly, the economy in the region in terms of foreign currency earnings.
While in 2014, over 2.4 million people migrated abroad for work, the number dropped to less than 2.3 million in 2016. The survey conducted by the Centre for Development Studies (CDS), Thiruvananthapuram, in 2016 thus showed a drop of over 12,000.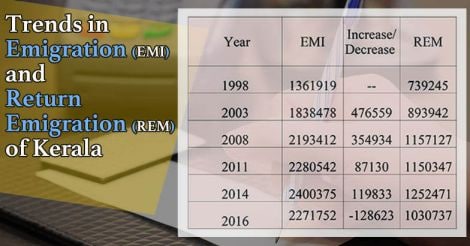 Data provided by CDS
The CDS started conducting the migration survey in 1998 and it is the first time that such a downward trend showed on a massive scale. Keralites abroad, mainly in oil-rich gulf countries, have been sending home thousands of crores of rupees and the drop in the remittance is definitely a matter of concern.
The study pointed out that foreign remittances in Kerala in 2014 was estimated to be Rs. 71,142 crores. It dropped to Rs.63,289 in 2016.
Irudaya Rajan, professor with the CDS, said the trouble in the oil market, drop in wages, decline in job security, among other things were the reasons for the decrease in the number of Keralites going abroad. Besides, there was a drop in people going abroad for blue collar jobs since more and more people were getting educated.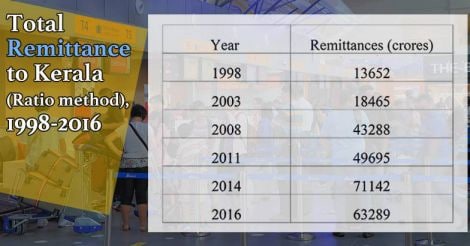 Data provided by CDS
The study showed over 89% of the emigrants made Gulf countries their destination in 2016 with UAE leading with over 40 % of expats followed by Saudi Arabia (23.9%) and Qatar (8.9) in the second and the third spots respectively.
According to the survey, the highest number of emigrants are from Malappuram (3,97,103) followed by Kannur (2,89,973) and Thiruvananthapuram (2,64,419). While Idukki has the least number of immigrants (4,085).
CDS is an autonomous institution in Thiruvananthapuram, Kerala, engaged in research in applied economics, socio-economic development and pedagogy.