This is the second part of a series. Read the first part: 500 more Madhus waiting to happen in Attappadi?
Attappadi: The famished figure of Madhu never displayed any supernatural powers during his 30 years of existence. But a dead Madhu is a never-ending source of spooky stories — some of them myths-in-the-making — for the tribals at Chindakki Ooru in Attappadi, the hamlet in Kerala's Palakkad district where Madhu, son of Malli and Mallan, was branded a thief and brutally lynched by a mob on February 22, 2018.
The tales continue to reverberate through the hamlets and the depths of Attappadi forests. The tales encompass the entire physical and mental geographies that Madhu and other tribals straddle.
Madhu's life and death remain a mystery as deep as the forests. The police arrested 16 people in connection with the murder but many stories are doing the rounds in the tribal belt.
"They say Madhu used to steal a lot of rice and other articles. But you heard about the autopsy report? It said he had eaten only a banana that day. In fact, he had developed the capability to survive with just air," Rameshan Vaidyar, a tribal promoter and a relative of Madhu, said.
Another person in the hamlet told us the wild animals used to fear him. "He used to stay in caves frequented by animals, including tigers. But on seeing him, the animals moved away. They never attacked him," he said.
"One night some youths from the hamlet were fishing here," Rameshan Vaidyar said. "They saw an elephant on the other side of the river. Madhu somehow came behind them and shouted to the elephant, 'Thinno Bhagavane thinno' (Have it lord, please have it)." Did Madhu treat the pachyderm and other animals as gods? Yes, probably.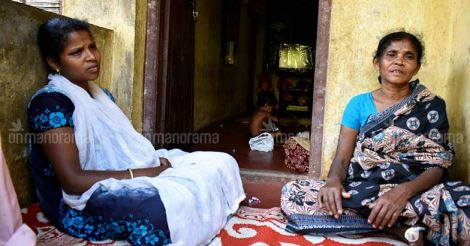 Madhu's sister Sarasu and mother Malli at their house at Chindakki hamlet of Attappadi.
Madhu's mother believes that her son had the blessings of the deity of Malleswara temple. A poet, who visited Mukkali ahead of us, told us that Madhu was 'martyred like Jesus Christ'. There are some who think that Madhu was an enlightened man who realized the follies of the world much earlier and sought relief in the lap of Mother Nature.
Well, all those could be academic fantasy. But for Chindakki hamlet, the mythical Madhu could be as real a man who lived around them, visibly and invisibly.
"We, Adivasis here believe in afterlife. We believe that the departed souls live in another world which we call 'Lokam' (the world). They come to meet our little ones," Rameshan Vaidyar added. Then, he reveals the most 'astonishing secret' the hamlet knows of Madhu. "He had once told his mother that he would come back to their house with a lot of money. See how much money has come to their house after his death," he said.
Team Onmanorama found that the lynching had created a sharp dual narrative — one that pits the tribals against the others. While Madhu's family and kin firmly believe that he was absolutely innocent and thus a victim of non-tribal pride, the other narrative tries to establish the youth as a thief.
Innocent, says mom
"My son can never be a thief. He was innocent. The shop owners and drivers of Mukkali beat him to death," a weeping Malli told Onmanorama at her house at Chindakki, one of the 192 tribal hamlets of Attappadi.
As Malli showered curses on Madhu's murderers, Sarasu, his elder sister, recollects Madhu as a young boy who said he would make a doctor and a bank manager of his two sisters. Madhu belonged to a generation of tribals whose dreams were formed of stuff outside the forests. Yet, he became what many, even his tribesmen, could not have imagined — a reclusive caveman.
Life in the jungle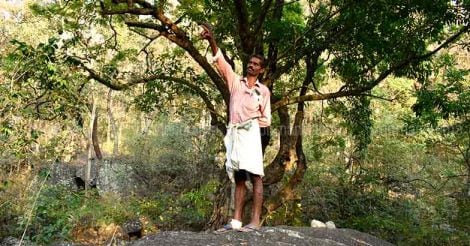 Rameshan Vaidyar stopped at a particular point, not very far from Madhu's house, and pointed to a cluster of trees. "That is where Madhu's father hanged himself," he said.
Rameshan Vaidyar took us to the forest and showed us a couple of caves which Madhu had used. On the way, we crossed the river and the spot where Madhu used to take bath. Rameshan Vaidyar stopped at a particular point, not very far from Madhu's house, and pointed to a cluster of trees. "That is where Madhu's father hanged himself," he said.
"And his mother tried to jump into the river on hearing the news of her husband's suicide. I had rescued her then," he said, recollecting the fateful day when Madhu was just a toddler. "That day Madhu's father stepped out of his house with a noose around his neck and came all the way here to end his life," Rameshan said. Madhu, apparently, had the seeds of an unhealthy mind in his genes that made him live an unusual life.
Childhood
Madhu was an ordinary tribal kid, says his mother, neighbours and a schoolmate. "He used to play and run around," says Murugesh, his schoolmate from another hamlet. "He used to spend a lot of time in the river nearby during his childhood," says Rameshan Vaidyar, a tribal promoter and a relative of Madhu.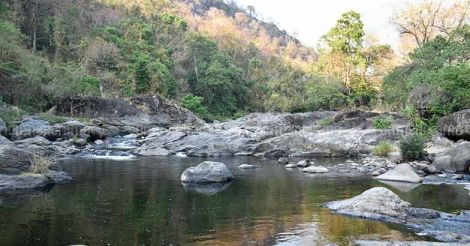 Madhu used to spend a lot of time in the river nearby during his childhood.
Madhu, like many of his age, dropped out of school when he was in class 6, approximately at the age of 11. He spent a few years in his hamlet as a teenager and went to Palakkad to get some vocational training in a government institution. His family says he showed symptoms of mental illness first at the institute which he quit soon. He left the institute after an incident there but nobody knows what exactly happened. A source in Mukkali said there was girl in the story but it remains one of the several half-baked tales surrounding the ill-fated soul.
Madhu came back to his hamlet and stayed with his family. His family said he was taken to the mental health institution at Kuthiravattom in Kozhikode where he underwent treatment. He had to be brought back since there was nobody to stay with him at the hospital. This is an issue faced by several families of Attappadi which has 500-odd mentally ill patients.
Leaving home
Madhu walked out of his house when he was 16 following an altercation with his mother. People said he made a cave his home, away from family, for several years. But that was not the case. He had come back to his family on several occasions over the years, but never stayed back. "Over the years, he developed the habit of keeping himself away from people. Many from the hamlets have spotted him inside the forests on several occasions, but he changed his dwelling place once found. People who found him used to tell us about it," Malli says. It seems the family was often aware of where Madhu was.
Madhu was visible yet invisible. His younger sister once chance-met him on a bus bound to Mannarkad. Happy, she went up and asked why he was not visiting them at home. "He got angry at her. However, he asked her some money for a snack."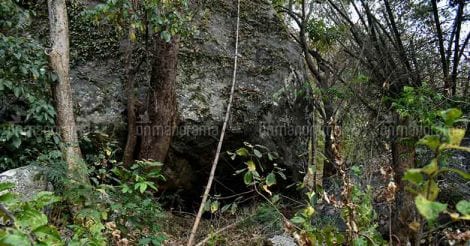 One of the caves where Madhu used to stay.
"Madhu used to collect forest resources like honey and sell it to a cooperative store through some others and buy necessary articles from stores in Mukkali," says his sister. M Sukumaran, a political activist, attests to this.
Madhu's family used to buy clothes for him during Sivaratri. Madhu used to attend the Sivaratri celebrations at Malleeswara temple where the family would meet him. "We used to take him home and hand over the new clothes to him. But he refused to stay back even then," she said.
Theft tales
Not many remember seeing him at Mukkali or surrounding areas. However, almost all the shop owners doubted whether Madhu had taken to stealing essential items in the past two years.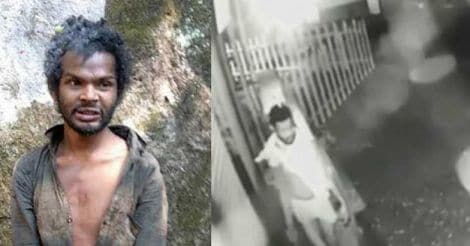 (Left) Madhu in custody of the people. (Right) A clipping of the CCTV footage showing a man believed to be Madhu.
They also produced some CCTV visuals as evidence. The visuals, showing a man with close resemblance to Madhu taking away food articles from some shops. One of the visuals was captured on September 16, 2017.
"I cannot say for sure that the man in the footage is Madhu. But if that is Madhu, then I believe he was responsible for all the thefts that took place in this area in the recent past," Soman (name changed), a native of Mukkali, told us.
Complaints galore
A shop owner at Mukkali said Madhu had stolen from his shop after breaking the lock. Asked if he had complained to the police, he said he informed the police over phone but did not register a written complaint. "Many people have been complaining, but nothing happened. I did not want to incur more losses going after a police case," the youth said.
Onmanorama heard such stories and tried to cross-check with the police as well. The natives, migrants indeed, of Mukkali and surrounding areas said there were over 20 complaints filed against Madhu. The police rubbished it. "There weren't so many complaints. But we had registered a case against him," deputy superintendent of police (DySP), Agali, M G Subramanian asid.
The police also trashed people's claim that Madhu was captured by them during a theft bid some four months ago. In their words, he was 'fast as a hare' and escaped before the cops reached the spot. But the police said there was no such incident at all.
Madhu, many news reports say, was 27. The police FIR says he was 30. And, for his sisters, he was past 30. The anomaly is quite natural for a group of people for whom numbers and years matter little. We could not get any certificates or documents of Madhu from his house.
The allegations against Madhu do not stop at theft alone. The charges, raised by the people of Mukkali, range from sexual offences to colluding with anti-national forces. Some of them say Madhu used to enter houses of others at night and lie alongside women who were asleep. However, the police said there were no such complaints against Madhu.
"Nobody wanted to complain because of the social stigma. People didn't want to invite embarrassment to their family," said Soman. However, we also met people who rubbish such hearsays. "What? Was he some celestial being and the women could not sense his presence?" one of them asked.
Maoist links?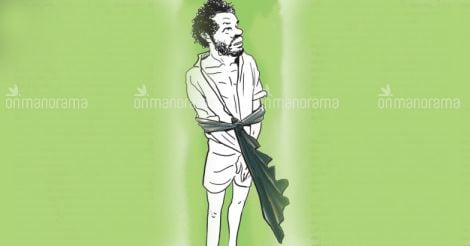 Madhu's life and death remain a mystery as deep as the forests.
This is the mother of all allegations against the Adivasi youth. The people of Mukkali suspected Madhu carried rice and other articles to someone else. But to whom? "The Maoists," they say. "Madhu used to steal from the shops every four days. Look at that CCTV footage. You can see him lifting a sack weighing at least 30 kg. Does a person like him need so much rice for four days," a man asked on condition of anonymity.
"There was somebody behind him, probably the Maoists," he said. The ultra Leftists' presence was reported from the hamlet several times. He also sought to know where the man in the CCTV footage (believed to be Madhu) get the latest model of torch that he holds. The police have not commented on this.
Burnt shop
Locals went on to allege that Madhu set afire a shop at Thavalam, a few km from Mukkali. The hearsay is that Madhu's action set off an explosion after a gas cylinder caught fire. However, the police did not validate the theories linking Madhu with the incident.
It is not known whether these stories originated after Madhu's lynching on February 22. However, the sequence of events that led to Madhu's tragic end indicates that the 'hunting down' and mob lynching was perhaps planned. The hunt for Madhu could have been in the pipeline for quite sometime.
Smoke was billowing from a nearby forest as we left Chindakki Ooru, indicating that a forest fire had started. We walked out of the smoking forest, anticipating that the fire could spread, like the stories.
Next: Read the first part : Madhu: Decoding the telltale signs of a manhunt