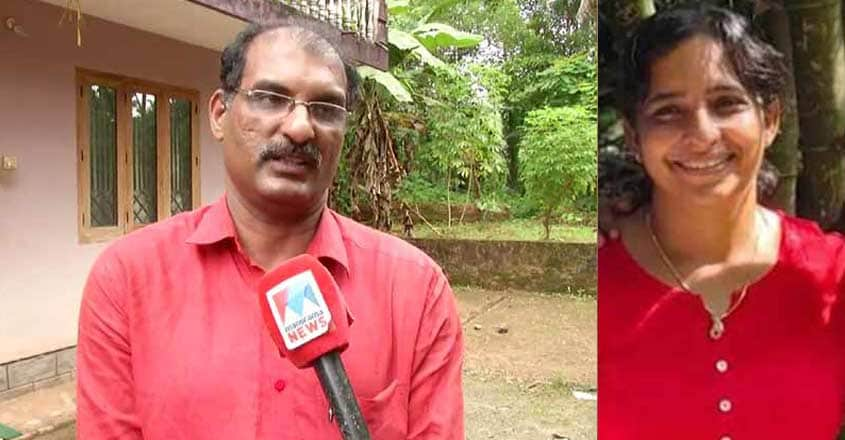 Kozhikode: Shaju Skaria, husband of a woman accused of multiple murders at Koodathayi, was let off after hours of police interrogation on Monday. He was released on the basis of strict travel restrictions, police officers informed.
Media had earlier reported that Skaria confessed to the police that he had assisted Jolly Joseph to kill his first wife Sily and two-year-old daughter Alphine. However, Skaria has denied this entirely and added that he was brought in only to give further details on the events.
Though Skaria had repeatedly insisted that he had no idea about the murders in the family, police began probe into his involvement after Romo, Jolly's son with first husband Roy, expressed doubt about his mother doing these heinous crimes alone.
Romo said that Shaju Sakharia never mourned the death of his first wife and their two-year-old daughter. Romo also said his mother was heard consoling Shaju Sakharia that his wife's death was for good.
Jolly Joseph had confessed to poisoning her husband, his parents, an uncle as well as Shaju's first wife and his child with her. She was arrested on Saturday. Two others were also arrested in the case for supplying her with cyanide.
Ghastly series
The deaths in the Ponnamthottam family at Koodathayi started on August 22, 2002 when Jolly Joseph's mother-in-law, Annamma, collapsed after she was served mutton soup. Annamma's husband Tom Thomas died in a similar circumstance on August 26, 2008.
Jolly Joseph's husband Roy Thomas died on September 30, 2011. Though a post-mortem examination found traces of cyanide in his body, the case was closed as suicide. Roy Thomas's uncle, M M Mathew, died in 2014. It was Jolly Joseph who alerted the others about the death of the old man who was alone at home at that time.
Jolly Joseph, in a possible move to marry Sakharia, Roy's cousin, poisoned his two-year-old daughter and wife in 2014 and 2016. In 2017, she proposed to Sakharia and they married. The couple has a son. Jolly Joseph has two older sons from her first marriage.
The police have exhumed all five bodies and sent the remains for forensic tests.
The police revealed the shocking murder series when they acted on a complaint by Roy Thomas's brother Rojo in July. He lives in the United States. Jolly Joseph's attempts to claim a larger share of family property using a forged will forced the family to connect the dots.
Probe widens
The probe has been extended to several suspects, including a retired police officer who closed Roy's death as suicide in 2011. Ramanunni, who investigated the mysterious death as a sub inspector at Kodenchery, has been served a summons to appear before the crime branch. He did not bother to trace the origin of the cyanide found in Roy Thomas's remains.
Ramanunni said that he received no directions from his superiors when he was probing the case. There were no complaints from the family or the local people to compel him to go ahead with the probe, he said. He said that he had nothing to suspect Jolly Joseph back then.
The police are also looking at any support Jolly Joseph received in carrying out the murders. She received cyanide from a goldsmith through a relative. Both of them are in custody along with her. The investigators are also looking at the role of some influential people in the crimes, including government officers and local political leaders. The team is waiting to interrogate the arrested persons on Wednesday before making any more arrests.