A friend of mine, who is also an avid cricket aficionado, sent me an interesting report from a newspaper in Australia, where he is currently on a tour. The report stated that the family of Vinoo Mankad had informed Cricket Australia that they did not approve the proposal for removal of the term "Mankading" from cricket vocabulary. As followers of the game know very well, "Mankading" is the term used to denote a bowler running out the non-striker, on account of the latter backing up too far and trying to steal a run. Though this form of dismissal has the backing of Laws of Cricket, there have always existed disputes as to whether this action is within the spirit of the game.
The term "Mankading" came into existence on account of Vinoo Mankad, the legendary Indian all-rounder dismissing Australian batsman Bill Brown on two occasions during India's first ever tour Down Under in 1947. Though Bill Brown was not amused at being made to return to the pavilion in this manner twice and Australian media spewed venom on Mankad, Don Bradman, then leading Australia, supported the Indian bowler, saying that the non-striker should have been more careful. This method of dismissal happens occasionally in all versions of the game at all levels and is always criticised by those who are at the receiving end. Little thought is spared for the fact that not only is the bowler acting within the laws of the game but the wrong doing is primarily on account of the non-striker trying to steal a run by leaving the crease even before the ball is delivered, which constitutes an unfair act.

The news report under discussion stated that officials of Cricket Australia and Cricket New Zealand decided to detach the name of Mankad from this mode of dismissal thinking that this pictured the great all-rounder in a poor light. But Harsh Mankad, grand son of Vinoo, surprised them by responding to reports in the media. He said that his family wanted the name to stay as they considered it a matter of great honour to be associated with a cricketing term. Harsh also informed that the use of this term helped to keep alive the memories and legacy of a great cricketer.

Mulwantrai Himmatlal Mankad (popularly known as Vinoo Mankad) stands out as one of the greatest all- rounders in the history of Indian cricket. A left-hander, he could bat at any position in the batting order and possessed the ability to bowl slow orthodox spin for hours at a stretch. He held the record for reaching the all- rounders' double (1,000 runs and 100 wickets) in shortest span by attaining this landmark in 23 Tests and it took none less than the genius of Ian Botham, who achieved this in 21 matches, to break it. He has to his credit two double centuries in Test cricket and jointly held the record for highest opening partnership, with Pankaj Roy, (413 runs against New Zealand in 1956), which could be broken only after more than five decades since. As a bowler, he led the Indian attack during most part of 1940s and 50s and was the hero of India's first ever Test match win (against England in 1952) taking 12 wickets for 108 runs. His astounding all-round performance in the second Test of the series against England at Lord's in 1952 (72 and 184 with the bat and 5 /231 runs off 97 overs with the ball) led to this game being christened as "Mankad's Test". His son Ashok played 15 Tests for India and was also the manager of the national side for a brief span. Ashok married Nirupama Vasanth, former national women's tennis champion and Harsh, their son, is a professional tennis coach in USA.
There is a reason behind Cricket Australia and Cricket New Zealand coming up with the proposal for dropping the term "Mankading" from cricketing parlance at this juncture even though this phrase has been in use for more than 75 years. The term "Chinaman" has been used to denote left-arm unorthodox bowling for many decades in cricket. Usually left-am spin bowlers turn the ball from the leg stump of the righ-handed batsman towards off stump. But there are certain left-arm slow bowlers who turn the ball in the opposite direction, i.e., from off stump towards leg. The first such instance of dismissal on account of a delivery sent down by a left-arm spin bowler  took place in a Test match between England and the West Indies at Manchester in 1932. The batsman so dismissed was Walter Robins of England and the bowler who delivered this ball was Ellis Achong, a player of Chinese descent playing for the West Indies. Robins was not amused at having his stumps in disarray on account of a ball that turned in a different direction from what he expected and stomped off the ground saying, "fancy being done in by a bloody chinaman!" This expression soon caught on and this mode of bowling gained popularity as "Chinaman". Gary Sobers, Paul Adams, Brad Hogg and Kuldeep Yadav are some of the few bowlers who played at the highest level, who specialised in bowling this type of delivery.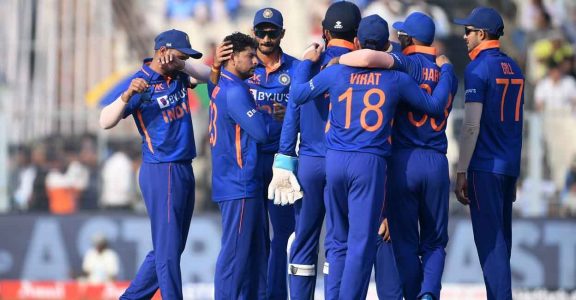 In 2018, Andrew Yu, an Australian journalist of Chinese origin, objected to the use of the term "Chinaman" in cricket stating that this was "racially offensive". Wu's argument was that the word "chinaman" was "historically used in a contemptuous manner" to indicate people hailing from China. This made Wisden reconsider the use of this term and finally they decided to replace it with "unorthodox left-arm spin bowling". Major publications in cricket followed suit and today the word "Chinaman" has almost completely vanished from cricket writing and commentary.

At first glance, it might appear unfair that the name of a cricketer with such brilliant credentials as Vinoo Mankad should remain associated with a controversial mode of dismissal and be remembered by posterity on this score. Hence the action initiated by cricket bodies of Australia and New Zealand to remove this term from cricketing lexicon may sound to be fair and reasonable. But as Harsh Mankad pointed out, there is some element of pride and prestige in being part of a popularly used cricketing term. Besides, there also exists some interesting history behind the origin of such terms which render an element of allure and romance to the game. One needs to view these aspects from the larger perspective of the sport and its history, particularly with regard to the manner in which various practices evolved, and not be guided by small mindedness and bigotry, which tend to distort facts and spoil the beauty of the game. The action of Harsh Mankad in not lending support to the proposal for removal of the term "Mankading" is required to be seen from this angle and emerges as one that merits applause and praise.
(The author is a former international cricket umpire and a senior bureaucrat)