Until the launch of the Honda Navi, there was no genuine vehicle in the Indian market which combined the best elements of the scooter and the motorcycle.
Is it a bike or a scooter? Even Honda does not have a clear-cut answer to this question! Of course, there is the iconic Rajdoot GTS which popularized the mini-bike concept in India. But Navi does not belong to that category.
Honda's latest offering is basically a cross between a motorcycle and a scooter. Look-wise it is a bike, but at the same time, it is a non-geared scooter. So it would be wise to call Navi a 'scooter-bike'.
Great looks
At first glance, Navi resembles Grom 125, the mini bike from the Honda stable, in terms of design. It looks spunky and cute. Headlamps and fairings stand out. There are no gimmicky panels on the small and elegantly-designed fuel tank. The single-color Honda logo carrying the brand name looks stylish. The tail-lamp appears similar to that of the Honda CBF Stunner.
Riot of color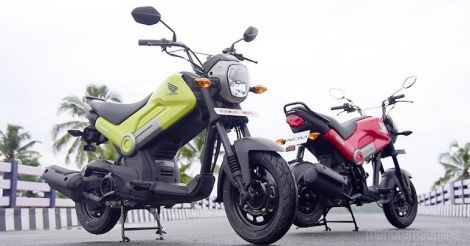 Honda Navi
Navi comes in a host vibrant colors such as green, red, orange and white. The bright colors certainly add to the appeal of the vehicle. There also a number of customization options to make Navi more attractive.
Light weighted
Navi draws its power from the 110 cc single-cylinder engine based on the HET (Honda Eco Technology). The four-stroke SI Engine is tuned to generate 5.84Kw at 7000rpm and 8.96Nm at 5500rpm. Navi is pretty light too, weighing in at 101kg. It offers a fuel tank capacity of 3.8 liters.
Nimble handling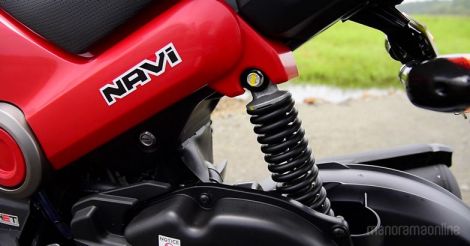 Honda Navi
What makes Navi different is its nimble handling. It is easy to handle and maneuver comfortably through city traffic. Regular bike users may tend to fumble searching for the gear or the brake foot lever while riding Navi for the first time. The sound and the power produced by the engine remain the same as the Activa.
Not ideal for taller riders
Taller people may find Navi a bit uncomfortable to ride. If you are above the average height, look for other options! Considering its compact size, Navi is ideal for teenagers. It is also an affordable gift to youngsters who pester their parents for a 'bike'. Most importantly, parents need not worry about their children over-speeding.
Female-friendly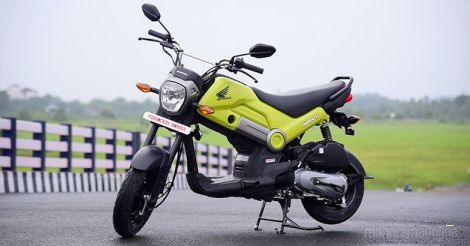 Honda Navi
Despite its bike-ish characteristics, Navi can be easily handled by women as well. If you do not know how to shift gears, but want to ride a bike, go for Navi! Women who have been using Activa can switch to Navi for a change.
Competitive pricing
Compared to the other two-wheelers with similar features, Navi is definitely cheaper. There are not many two-wheelers in the local market that are priced around Rs 45,000. Great mileage and attractive looks add to Navi's charm.