Volkswagen Ameo carries the same diesel engine and technical perfection as Vento but the compact sedan is cheaper by more than Rs 1 lakh. Ameo shares the 1.5 liter diesel engine with all mid-size Volkswagen cars including Skoda.
People's car
Ameo justifies Volkswagen's name. The diesel sedan is a bargain at Rs 6.19 lakh. Not even a hatchback comes for this price these days. Ameo has decent boot space and all the facilities the premium cars boast of. And all this comes with the support of German engineering.
German richness
Ameo owes a lot to Vento and Polo. The unmistakably German richness is reflected in the black and faded beige finishing. The gauges, meters, controls and the chromium lining on air conditioner vents and gear knobs give the car a visual appeal. Air conditioner controls are done through rotary switches. Headlamp switches are tucked behind the steering wheel on the dashboard in characteristic German way.
The seats are large and well-supported. There is enough leg room. You will find all storage spaces large enough. Bottle holders can hold containers of one liter. Liter-bottles can even be fitted in glass holders.
Best in segment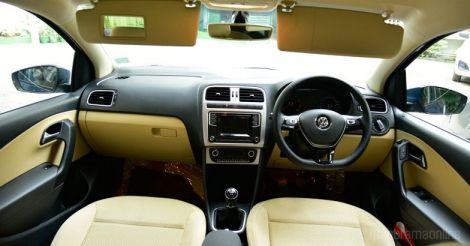 Ameo can claim of facilities that are missing in even the big cars. It comes with a reverse camera, rain-sensing wipers, rear air conditioner vent, cruise control, stereo controls on the steering, ABS and airbags.
Power is here
The old 1.6 common rail four-cylinder engine has been tightened into 1.5 liters. Still the power and performance are intact at 110 BHP and 25 kgm torque. It does not take long for the engine to leave an impression. It does not have any turbo lag and it is raring to go like any petrol engine. You can expect up to 22 kilometer/liter mileage on highways.
Pamper alert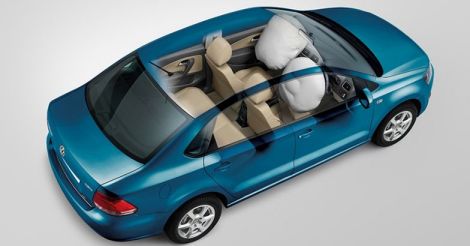 You will feel comfortable behind the wheels in an Ameo. It surprisingly lacks the rigidity of European steering wheels. The steel rings around air conditioner vents add to the luxurious look. Stereos are of good quality.
Difficult tasks such as parking feel easier with Ameo because of its dynamics and stability. The car's suspension glides over gutters. Passengers seldom realize that the car is at a high speed. The road handling capabilities are excellent.
Price tag
The ex-showroom price starts at Rs 6.19 lakh. Call EMV Motors for a test drive. Phone +91 9895764023.