Kakkanad: Most of the young actors in Mollywood are famous for their craze for automobiles. The lead among them is none other than our Prithviraj. And that's why he decided to pay a whopping Rs 7 lakh to secure his favourite number for the new imported luxury car worth more than Rs 3 crore.
According to reports, the actor bought the number 'KL 07 CN 1' in an auction held at Ernakulam RT Office on Monday. Five people participated in the auction, which started at Rs 10,000.
The Lamborghini Huracan is the latest addition to the star's amazing fleet of super cool cars. The actor who is known for his love of wheels had booked the luxury sports car almost a month ago but received the keys only recently.
Huracan is the most successful model of the Italian car makers. This suave automobile is powered by the 5.2 litres naturally aspired V10 engine. The Huracan Performante has been tuned to produce 640 bhp power and 600 N.m torque, and in Huracan LP 610-4 the power will be 602 bhp. The Huracan LP 580-2, also owned by Prithviraj, will zoom with 572 bhp power.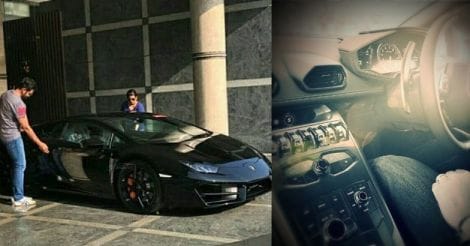 The gear box in all the models has seven speed double clutch and automatic transmission. The Lamborghini Huracan takes only 3.4 seconds to accelerate from 0 to 100 km/h and could speed at a maximum of 320 km/h.
Apart from the CN 1, several other fancy numbers were auctioned on Monday.
According to official sources, the Motor Vehicle Department received Rs 30 lakh through auctions held on Monday.