South Indian expatriates in Bur Dubai were incredulous. Was that really him? Or just a lookalike who has left home in search of livelihood?
Vijay Sethupathi was at home though. He walked the streets of Bur Dubai like he had done many evenings before he was catapulted to stardom through the horror thriller Pizza. The day he left the city to be with his sweetheart is still fresh in his memory.
"I can never forget this city. This city gave wings to my dreams. I am still in contact with the friends I made here," said Sethupathi, who was in Dubai for the promotion of his latest flick, K V Anand's Kavan.
Sethupathi's first visit to Dubai was more than 16 years ago. Nobody recognized him and he lost himself amid the crowd scrambling about their daily grind. The wannabe actor from Rajapalayam had ended up as an accountant.
Sethupathi shared a small room with a group of people from Tamil Nadu in a building near the Baroda Bank, the actor revealed the little-known chapter in his life story in a chat with Onmanorama.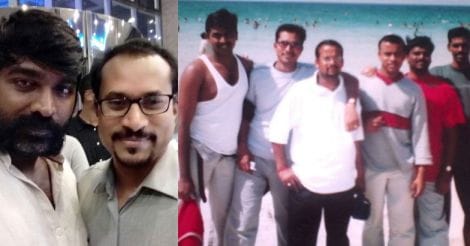 Vijay Sethupathi with his old friend Murali (L) and an old pic of Vijay during the days in Dubai
The young man was in love with the movies. He would never miss a movie on television. He could manage an occasional Tamil or Malayalam movie in the neighborhood theater. He had always wanted to see his face on silver screen but he knew his parents and younger siblings relied on him. Movies could wait.
He kept alive his dream in the daily struggle for survival. He talked cinema to his roomies and colleagues, walked about the streets and parks and went swimming off the Jumaira beach. "I have never seen someone who was so much in love with movies," Murali described his former roomie. Sethupathi stole some moments to catch up with Murali, who runs his own business in Dubai, and other friends.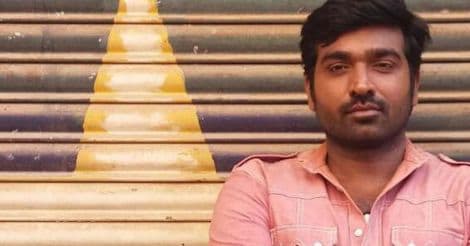 "I came to Dubai on November 6, 2000. I was here until October 3, 2003," Sethupathi said. Cinema was not the only love that drew him back home. He had fallen in love with a girl from Kollam. Sethupathi and Jessie had met online. He returned home with his modest savings and set up a home with Jessie.
Life changed but Sethupathi was still an accountant. He offered to manage the books at Chennai-based theater group Koothupattarai but kept trying his luck with the movies. His did some forgettable roles in several hit movies.
He was getting noticed though. Director Balu Mahendra even told him that his face was photogenic. Sethupathi was convinced about his destiny. His break came in 2010. He was chosen to play the lead role in Seenu Ramasamy's Thenmerku Paruvakaatru. Karthik Subbaraj's 2012 thriller Pizza cemented his position in the industry

A string of hits followed, including Orange Mittai, Sethupathi, Dharmadurai and Andavan Kattalai.
He had flown to Dubai to receive an award for the best actor but he was too held up to visit his friends. This time, he made sure that he went to the district that was his home for three years. Sethupathi's friends and roomies had come to see him to the hotel he stayed.
"If you try hard, you can achieve anything. That is my experience," he said as he posed for selfies with anyone who asked. Sethupathi the accountant and Sethupathi the actor are not very far apart after all.