Adoor Gopalakrishan is the address of Malayalam cinema in international film circuits. The singular force behind the heralding of a new film culture in Malayalam in the 70s and 80s, Adoor never tolerates compromises. "Compromise is not my way. Nor do I respect those who go for it," states the master in unequivocal terms. Adoor talks to Manorama on films, controversies, actors' association, social media, among other things.
Q: The challenges faced by women and the resistances they pose are the focus of any serious debate in the social and cultural life of Kerala nowadays. As a filmmaker, who dealt extensively with the intriguing aspects of mental and social realms of women in your films, how do you view these debates and developments?
Manhandling and molestation of women exist in the society as a whole. It is not anything invented by the film industry alone. But owing its glamour, naturally, the incidents in film sector invite more attention. To cater to the insatiable thirst of the mass, media publish stories galore over them. But we have no clue to its veracity. And people who feed on these stories may be having a kind of cathartic pleasure- 'all those who are really bad. 'We are much better', they feel after reading them.
Recently, when I went to Malayalam University at Tirur for an interaction with students there, the media persons surrounded me after the session and posted this question: "Isn't AMMA (Association of Malayalam Movie Artists) a failure?" How can I say whether it's a failure or not? I am not its member, I said. There comes the next salvo: Why are you not a member?
What to say, they don't even know what AMMA is! It is an organization of actors and actresses of Malayalam film. There is no reason for the public to bother about it so much. It is a private organization that never accepts donation from public or grant from the government. One of its objectives is to help the actors who need assistance. It is also doing much more than the government could do for the artists in distress. How can I answer a question on the efficacy of the association? If I had told them that it was a success, they would have reported just the opposite. So I kept mum.
Was it right to attack the actress, shot another journalist. Will anybody with a sound conscience say that was right? It was wrong, no doubt. It should not have happened at all. No women should undergo such an experience.
Now, we know the person who did it. But we don't know anything for sure about the involvement of others in this case. Perhaps, all the other things we hear about this today can just be stories.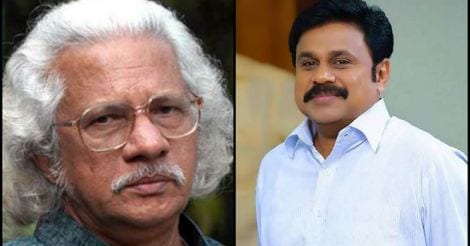 The main accused in the case knew it well that the actor, now accused in the case, and the victim of the attack were not in good terms. It is alleged that the actor never favored giving roles to the actress in his films. So, the main culprit could have purposely dragged in the name of the actor into the case, after considering all these back ground stories. I have strong doubts about it. Nobody is speaking about it, anyway.
They all want to prove that the actor masterminded the crime. Newspapers are writing about the actor as if he were an underworld don.
I told the same to the media at Tirur. In that afternoon, a report came out quoting me as saying, "Whoever did this, however high-flying he may be, should be given the severest of punishments: Adoor." I never even thought about it. Who am I to say that one should be punished or not? We have well defined systems in place for all these tasks.
Last week, I was attending a concert in Kochi after a public function. A reporter came up and asked, 'What do you have to say about this particular person?' He mentioned the person's name also. I lost my patience. I told him, "He's neither an underworld kingpin nor a criminal or a person with the nerve to commit a crime. Why are you all targeting him? What power do you have to do that in your capacity as journalists? You antagonized the whole public against him. People are booing him wherever he was taken. What do the people know, in fact? They have been prompted to do so. This may even influence the court's decisions. It's totally wrong. Every citizen has the right to justice, hasn't he? Who are we to deny him that? What we are witnessing now is a mob trial. It is absolutely wrong."
Q: You invited severe criticism on social media for this stand...
I learned I am drawing flak on social media for this. I am not following the social media. I don't even care about it. To say the truth, I never watch television. I prefer to sit calm and think about something else. I can write or read...that's what I love to do. I've nothing to gain from watching all these. They are engaged in outright character assassination. It's really bad.
Q: Social media is rife with film reviews. There are widespread complaints that most of these reviews are substandard and written with an intention to ensure the box office failure of some films.
As I have already said, these people virtually know nothing at all. They cook up the reviews. When the premiere of my film was still half way through, the social media started to flood with comments on my film that the film is not good and it's more of a stage play than a film, so on and so forth. Even some filmmakers posted such comments.
I didn't start making films on a fine morning. You can't compare oranges with apples. I make a film with a well thought out plan. I know for sure what I have done. I don't need anybody's advice on it. I've my own convictions.
I'm not a half-boiled filmmaker to doubt the quality of my own creation simply because somebody else cast doubts on it. It's their ignorance that speaks. If you don't understand my movies at the fist go, you have to try again. My films are not that easy. People who are spoiled by substandard films will never have the aesthetic sense to appreciate my films. They don't have the training for it. If they couldn't follow my films, it's their problem. How can such people act as critics? Everybody who watches a film has his own opinion about it. But it cannot be passed for a film review.
The filmmakers, who criticize my film, prove it beyond doubt that they haven't made a good movie so far and are not likely to do one in their life either.
Q: You hit hard at Baahubali also...
Yes. Virtually, Baahubali was piling up money from Kerala. Pulimurugan was another such film. What a title for a movie! I won't even sit through a scene of a movie with that title, no matter who acted in it. The name itself speaks volumes about the movie. Families, including old men and children, were seen standing in queues to watch such movies. But these people will never bother to watch a good film. The meaning is very clear: we don't have a taste of our own.
We talk a lot about our great culture. We boast of many aspects, our decency, literacy, prudence and so forth. But these claims are hollow. It is just like some people around us, whom we call 'educated ignoramus.' In fact, we are all like that.
Q: There is a new trend to go back to realism in Malayalam film. For example, films like 'Maheshinte Prathikaram', Thondimuthalum Driksakshiyum...
I didn't watch either of these films. But I have heard that they are pretty good ones. Some good movies are there of course. But people are not interested. What could we do?
Q: Can you name promising directors in the new generation?
Vipin Vijayan, Sanal Kumar Sasidharan and Sudevan... These people make films without compromising much. I told this earlier also. That's why I like them. The works they have done so far are good. The people you mentioned earlier as good film makers are compromising pretty lot. Even though I never watched their films, but I have an intuition. Their films fit nowhere.
Q: Film is after all an industry. There is a question of survival too, isn't it?
If survival has to be ensured through compromises, I don't respect it. Because, I personally don't do that. Then why you should respect another person who makes compromises.
Q: As a respected figure in the industry you might be enjoying a control over the actors and in choosing them. That may not be the case with the newcomers.
I'm not born like that. I attained that respect through my work. Even in my first film, there were established actors.
Q: Your films are steeped in the past. Even the latest one, Pinneyum is not an exception.
Pinneyum is not about the past. It is about the present. The film travels back 15 years from the present and then returns to the present again. Many of my films are like that. I made Swayamvaram in 1972. It is a story of that time, taking place in a town like Thiruvananthapuram. The shooting of Kodiyettam began in 1975 and completed in 1977. It was about the characters and incidents which can happen in our villages of that time. But Mathilukal deals with a story of 1942. We can't change that time in the film.
Q: There are complaints about the dominance of stars in Malayalam film industry.
What's the point in complaining about it? Have any of these stars compelled you to make a film? Actually, you people are going after them, asking for their date. And you are even willing to script stories to suit their whims and fancies. Then what's the point in wailing about star dominance on Malayalam films.
Q: A panel headed by you had put forward some recommendations to improve the film industry.
Yes, it is learned that the government has accepted the recommendations. But, promises won't do. There should be a clear government order on that, followed by concrete steps to implement them.
Q: Opinion differs when it comes to the need of organizations in the film industry. At the same time, there are unfair practices like banning people from films by the organizations. What is the significance of such organizations in the film industry?
There are umpteen organizations in the film industry. And there are differences of opinion among them. That is why we suggest a film authority to address such a situation. The authority will be a body comprising of representatives from the industry, professionals, and government. In case of any dispute, the authority will look into it. As it is a legally constituted body, its decisions would be binding. It is not meant to control the industry, but to help it. It should be made mandatory that the theaters should exhibit a certain number of Malayalam films. When the authority comes into existence, it can check all these.
Q: You tried a lot to nurture a new film sensibility in Kerala through film societies. What's your take on the future of Malayalam films?
Who can predict future? Did anyone imagine that Malayalam film would go digital one day? Digitalisation has its own conveniences. For the first time in my life, one of my films – Pinneyum - was released in 125 theaters simultaneously. It was released in Delhi, Mumbai, Kolkata, Chennai and even in Pune, besides Kerala. It was not possible earlier. A single print used to cost around Rs.1lakh. How could I bear the cost of 100 prints then? Now it's not an issue.
Wide releasing of my films was one of my long pending wishes. But there were some problems too. The initial plan was to release Pinneyum in small theaters. But at the time of its release, small theaters were not available. But big theaters were available at that time and we went for it. Nowadays, people prefer small theaters.
Even if one third or one fourth of the total seats of a big theater is occupied, the film would incur loss. Besides, the vacant seats in a huge theater would give the audience an impression that the movie has no takers. So releasing in big theater posed some risks.

Read more interviews