The bang-bang of Angamaly Diaries is still booming somewhere and Lijo Jose Pellissery is at it again. This time, with a wacky and weird title – Ee. Ma. Ou. The director refuses to divulge more. Watch it on screen, he says.
Pellissery has the uncanny knack of finding the unusual in the usual and the mundane. One cannot straitjacket his movies into a genre… they are different. From Nayakan to Angamaly Diaries, the theme and narrative are freshly told. Once again, in Ee.Ma.Ou, the man is taking the road less trodden.
The title itself is fascinating… full of the unknown. How different is it?
Ee. Ma. Ou. is the Malayalam version of Rest in Peace (RIP). It's short for Eeshow Mariam Ouseph. You can see these three letters on tombstones and funeral cards. I've taken a coastal village, the quirkiness of its folks, their idiosyncrasies, to bring forth a social satire. Filming will be in the coastal villages of Chellanam and Kannamaly.
The movie's first look shows a mammoth coffin washed up on a coastal shore. What have you masked behind this symbolism?
I wanted to arouse viewers' curiosity. I cannot say whether there's a secret hidden behind the coffin that's washed up on a coastal shore. The movie is based on a mammoth problem, which is likely to affect the lives of the villagers.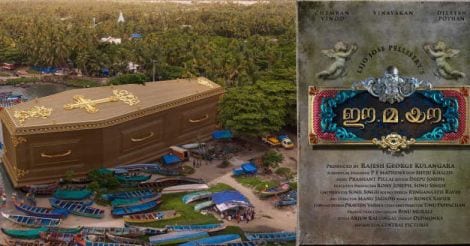 It appears there's not much of a gap between the new movie and Angamay Diaries.
You need a long break only if you are planning a film, which needs a great deal of homework. But Ee.Ma.Ou will not need preparation on a massive scale. Hence, I was able to set out on my next outing without much of a delay. I'd been toying with the theme and the story for a long time. It suddenly dawned on me that the movie could be taken up in a few months time. I plan to release it by the end of the year.
Any new faces?
I cannot stuff it with new faces just for the sake of it. Dileesh Pothan, Chemban Vinod, and Vinayakan are the main actors. They suit the characters to perfection. I have only a limited familiar faces playing for me. All the other characters have been sourced from the locations. The script is by P.F. Mathews and camera by Shyju Khalid.