'Come, be a part of history', says the tagline of the much discussed multilingual movie Mahanati and rightly, it does transport one back to the early 80s. Making a biopic is never an easy job as it needs to balance facts with fiction. But Mahanati is the perfect ode to a legendary actress named Savitri.
For those, who barely know Savitri, this movie will not just let them travel back in time but will also inspire them to know how Savitri, a simple and high-spirited lady went on to become a legend.
Savitri got selected in a movie at the age of 12 but got rejected because she was too young. She bagged a female lead role but was replaced. She was asked to dance but she was too nervous for that. Yet she overcame all those odds and mastered whatever she did by sheer determination.
This is even evident during her last days for she is determined not to seek anyone's help and ended her life at the age of 45. At times, Savitri behaves like a kid. She just wants to enjoy life with little things. She is careless yet bold in her attitude. Portraying such a complex character is not easy as it reads. But director Nag Ashwin has made Keerthy Suresh look, feel and emote the real Savitri.
Mahanati begins with the character Madhuravani played by Samantha and it's through her narration that the movie progresses. Madhuravani is a journalist who is given an assignment on Savitri's life. Although hesitant initially, Madhuravani and her photographer Anthony (Vijay Deverakonda) goes ahead to find out more about the artist, who has been in coma for a year. The different anecdotes of hers by various people form the crux of the movie.
But what makes Mahanati stand out is it's pattern of presentation. How Savitri's misery made her a strong woman and how her relationship with Gemini Ganeshan (played by Dulquer Salmaan) made her stronger still is what is focused upon. Even the minutest details about the legend is shown in a very simple manner, for which director Nag Ashwin deserves a big applause.
There's a scene in which Savitri had to give an emotional shot but during the shoot the glycerine bottle gets broken. Determined as always, Savitri perfects the scene by asking the director as to how many drops of tears he would need.
There's another scene where Savitri questions Gemini Ganesan about cheating on her and in turn he asks her why she married him even after knowing about his many affairs. To that she replies, earlier she was just Savitri and now she is Savitri Ganesan.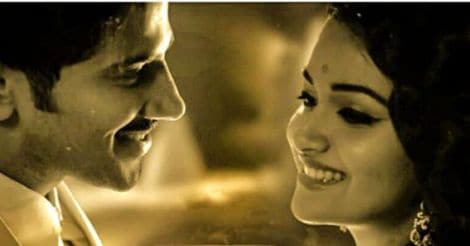 The biggest asset for the movie is it's ensemble cast. This is undoubtedly Keerthy's most challenging yet the best role in her career so far. After seeing her in girl-next-door roles, one is left to wonder how she pulled off the character of Savitri so perfectly. Keerthy Suresh looks the best option to be Savithri in all aspects.
Dulquer Salmaan too needs a special mention for portraying the role of Kadal Mannan with grey shades very easily. Apart from Samantha and Vijay, there is a long array of artists who have justified their roles.
The music and art department of the movie should be applauded for keeping up the feel. On top of all, if you are watching the dubbed version of the Telugu movie, you might feel the film going flat at places. The graphics used at a few places gave an artificiality feel as well. But overall the performance negates all the drawbacks.
Mahanati is the journey of the actor Savitri from her childhood to stardom to her final downfall. As a movie, Mahanati manages to take us back in time keeping the spirit of Savitri alive. The way the name Savitri is related to the sun, so will the film Mahanati shine for ever like a star.
Rating: 3.5/5