Kochi: For actress Nithya Menen, anybody who is compelled to create – be they chefs, actors, sculptors or directors – can be labeled an artist. On her first visit to the Kochi-Muziris Biennale (KMB) Thursday evening, the OK Kanmani actress said the Biennale was a "different" space.
"A work of art is human expression and the Biennale is an alternative space for the expression of creative instincts. The artists here are incredible because they are showing me dimensions of things that I would never have come up with," Menen said.
The Bengaluru-based actress noted that the Biennale is an ideal venue for people to take time out from their lives and "lose themselves" in the artworks and installations. Menen indulged her instinct to create by drawing with crayons at Aspinwall House.
"I have always been child-like and I enjoy being so, scribbling with crayons at home in my coloring books. These are things I have always done, but it is nice to see that the Biennale is helping people return to a child-like form," she said.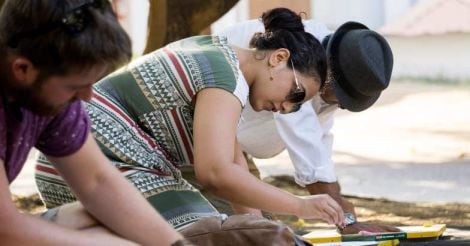 Actress Nithya Menen drawing at the Art By Children program in Aspinwall House, Fort Kochi. Credit: KBF
Menen added that the installations at the Biennale were a platform for self-realization, being especially moved by Slovenian artist Aleš Šteger's 'The Pyramid of Exiled Poets'.
"I remember a temple in Japan that had something similar to the pyramid here. They had us walk through the tunnel, which was completely dark and I realized there that I had no fear because I just walked. It was a sort of self realizing experience and it was very similar this one, which I really enjoyed," she said.
"Art helps to instill a sense of beauty and aesthetics in this concrete world," Menen added.