Some of the best stories of innovation are of those who chose to challenge the system. The most creative minds are not always the most academically sound. The most satisfied souls are not always those who top the class and earn heavy pay packages at renowned MNCs. Sometimes, it takes a tinge of stupidity and a sheer love for adventure to undertake the impossible.
As I geared up for another informative yet exciting session at the StartUp Village in Kochi, I was introduced to a group of innovators whose tales were not only entertaining, but had personified the terms determination and perseverance.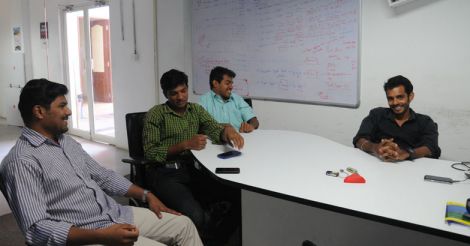 Team of RabiTech Technologies Pvt Limited (left to right) - Jomon, Rahul, Vindesh and Salin. Photo: Gitanjali Diwakar
Meet the team behind RabiTech Technologies – Salin, Rahul, Windeesh and Jomon. This team of technology crazy youngsters are a month away from the launch of their product Nearals.
The 'wander' years
Salin Sunny was pursuing his diploma in computer science alongwith with Windeesh. For reasons unknown, Sanil, had soon developed a certain degree of dislike towards the subject. Since then, Sanil was faced with several tough moments and had eventually been suspended from college. "It was then that I had begun to think about life," said Salin. Salin walked from pillar to post and had ventured into several areas including a business that dealt with the manufacturing of tracking devices. "I hadn't finished the task on time. By the time I had quit, all I had with me was the basic layout of the tracking device," said Salin.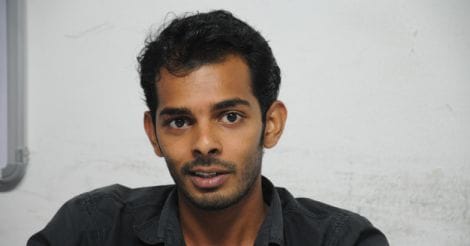 Salin Sunny, CEO, RabiTech Technologies Pvt Ltd. Photo: Gitanjali Diwakar
As time went by, Salin, alongwith Windeesh decided to work towards establishing their own enterprise. It was not long before they ran into Rahul, who had completed his B.Tech from the College of Engineering at Perumon, Kollam. Rahul, had also worked in a few business enterprises and was keen on running his own company. Rahul introduced Jomon to the team through a common friend. Jomon had completed his MCA from St. Kits College in Kottayam. Thus, the tale had indeed witnessed a most fascinating twist.
Nearals and RabiTech Technologies Pvt Ltd
Unlike many teams, this team chose to tap the strengths of its members and assign roles according to their area of interest. "Rahul is good at marketing. I can co-ordinate. Jomon is good at the technical aspects while Windeesh is good at maintaining documents," said Salin. Thus, RabiTech Technologies Pvt Ltd came into existence. Upon the formation of the company, Salin and his team decided to complete what he had once started – the tracking device. Together they had begun brainstorming so as to come up with a product unlike another in the market.
So what is this product?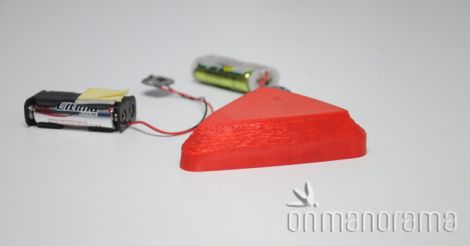 Nearals - the product produced by RabiTech Technologies Pvt Ltd. Photo: Gitanjali Diwakar
Nearals is a product that could enhance indoor navigation. It is useful to locate office spaces and stories within a building or a complex. A beacon, containing a tracking device, will be installed in various corners of the building and would be linked to a mobile app that would help locate the space you wish to explore. The manufacturing of the device takes place in China as the costs are cheaper. The product is likely to make its debut in Singapore next month and would soon be followed by its launch in India.
The Singapore debut
A demo video of Nearals. The chips or device is linked to an app which will help to provide information regarding the location of a person. Based on the information received, the user will be given information regarding other products that could be purchased within the vicinity.
When asked as to why the product will be launched in Singapore first, Rahul said, "Our mentor, Varun Chandran, is based in Singapore and he has been guiding us all the way. He has studied the market and has done everything for the product launch. Such technology seems to be booming in Singapore. There are several malls in Singapore and there is intense competition for the product as well. By introducing Nearals in this nation, we would be able to do a thorough analysis of the product and would be able to determine its level of practical application."
What does the family have to say?
"My parents weren't very pleased with the idea at first. But now things are different and my opinions are being taken seriously," said Salin. While Rahul and Salin hail from families with a business background, Windeesh and Jomon are first generation entrepreneurs. While many methods were used to collect funds in the initial stages, the StartUp Village has been instrumental in assuring the firm of some financial assistance.
Debts, hardships, failures and finally on track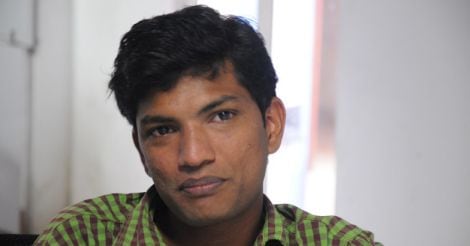 "I have no regrets. I enjoy doing what I do and it is this team work that has brought us so far," said Rahul, Co-Founder RabiTech Techologies Pvt Ltd. Photo: Gitanjali Diwakar
"We had debts and had been through several hard times. But that has changed us a lot. Running a company is a different game and it has taught me a lot," said Salin who is currently the CEO of the firm. "I have no regrets. I enjoy what I do and it is this team work that has brought us so far. We would like to do more," said Rahul.
While the team would agree of having faced rough times, they admit that each incident was an experience in itself and had given the confidence to do all that they have to.
Would they recommend a fresher to run his/her own company?
The team believes that confidence, passion and perseverance are the key elements to running a firm. "We would encourage them to do so provided they know what they are doing," the team agreed in unison.