Kochi: It was a day to remember for the tech-savvy as the first-ever Manorama Online media hackathon took place here on Saturday.
Three teams have made it to the final round and assured themselves of prizes which will be declared at Techspectations, Manorama Online's digital summit in Kochi next Saturday (November 19). It will be the first national-level digital summit in India.
The finalists are: Abdul Muhaymin Arif, Sabeer Sulaiman, Athul Dilip, Nazal TK, Abhishek from the first team; Ajo John Mathai, Aravind KP, Arun Vargese Mathew, Joel Varghese Sunny from the second team and Aravind Ajith, Athul Jayson, Eldhose Shibu, Kiran Balakrishnan, Kiran Jose from the third team.
A total of 28 teams were in the fray. The three finalists would have a chance to present their ideas at Techspectations.
The winners would receive Rs 2 lakh, Rs 1.5 lakh and Rs 1 lakh respectively.
The hackathon was held at Hotel Avenue Centre at Panampilly Nagar.
In a surprise move, Ishan Tripathi of Mobile10X announced that ideas generated at the hackathon could get a chance to be presented in New Delhi at the 'Hack for India' event. Twenty ideas selected from Hackathon events held in 14 cities would be presented at the Hack for India final events. Tripathi added that all the participants stood equal chance to win Rs 5 lakh.
Sourav Naik, senior manager at VMAX, who was present at the venue, also shared some tips and suggestions.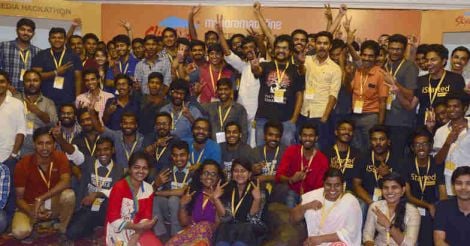 Teams participating at the hackathon event organized by Manorama Online. Photo: Sreekumar E.V.
Venkatesh Devale, founder of Weloft Labs, also participated in the event.
Fify Cleetus from Iris technologies, Kakkanad, a first-timer at hackathon, said: "It was a good exposure. After engaging with the people present here, I am eager to participate in more such events."
Atul Dileep, a student of MES engineering college Kozhikode, and a regular at hackathon events, had this to say: "The Manorama Online media hackathon is well organized than other events I have attended so far."
The digital summit will be an annual feature and is being held as part of Manorama Online's 20th anniversary celebration.
Akamai, AWS Activate, Mobile 10 and YouTube are partners of Techspectations. HiFX IT and Media Services are the scientific partners of the program and Skyline is the main sponsor of the event.
Top executives of reputed firms, entrepreneurs and tech gurus are expected to take part in Techspectations. For further details log on to: www.techspectations.com