Nasreen has a way with dry flowers and is going places with them.
Just tell her the color of your wedding saree or frock. Nasreen is ready with the right bouquet for the right bridal attire. Bright and beautiful, this is not the usual floral bouquet which wilts the day after the wedding. Here's something for keeps, something which can be proudly preserved for generations down the line and about which perhaps, a few yarns can be spun. The secret lies in Nasreen's dry flower bouquets which never lose their sheen or color.
Hold on! The lady is not just into bouquets alone. She has a line-up of wedding stuff all made to order… the bridal veil, bridesmaids bouquets, the Bible stand, beautiful floral baskets in which the "manthrakodi" is folded and taken to church, ring trays and accessories for baptism and first holy communion… all expressed with tastefully and colorfully crafted flowers.
Nasreen is in her element when she works with her flowers. It gives her immense joy to mix colors and work them to perfection. However, she's very particular about the originality of each piece. No designs are repeated. Each piece is unique. This is why her hand-held "Just Married" pieces and the ones on the cars, floral umbrellas and placards are such hits. Her efforts are never in vain, going by the neat income she makes out of her floral passion.
Handmade flowers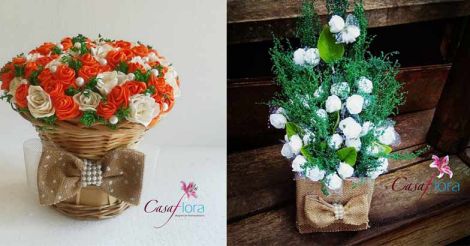 Nasreen never buys flowers from shops for her bouquets. She makes them. Whatever looks good, be it certain varieties of vegetables, or areca nut or anything else for that matter, are dried and preserved. Almost all her flowers are handmade from a paper called solar wood. It's only when the orders spill over that Nasreen seeks help. There are lean days too when orders dry up. But this does not upset her. She clears off her household chores and sits down to work making flowers and keeping them safe for use when orders pour in. This works to her advantage, for when orders come in quite unexpectedly or at short notice, she is never pressed for time or effort. Once the order is placed, Nasreen needs just an hour to come up with a beautiful bouquet. She relies on her aesthetic sense and imagination while choosing colors and making them match.
She once experimented with a head flower and a dry flower frock belt for her daughter. The design which made a splash on Facebook, caught the attention of actor Beena Antony, who immediately contacted Nasreen. The actor wanted a head wear and a head band, quite like the one Nasreen had made for her daughter, but different in theme and color. Actor Dimple Rose too placed floral orders for her wedding. And the bride got a special one made for her. Nasreen matched bamboo with flowers to go with Dimple's wine-red wedding sari. So the bride had her flowers arranged in a bamboo base.
It's Casa Flora Kerala
While in school, Nasreen, like a lot of her friends tried her hand at making flowers from organdy fabric. She was thrilled to see her craft blossoming, for her flowers looked good. But the euphoria and creative urge were short lived.
She decided to complete her formal education. A BBA and a course in interior designing followed. She got married seven years ago while completing a course in airport management.
Marriage over, Nasreen thought she would look out for job openings in Qatar where her husband was working. One fine day, while surfing the channels, she chanced upon a show which was into a demo on making bouquets with dry flowers. Though she had no formal training whatsoever, Nasreen gave it a shot. She tried making flowers as shown on TV. But they just refused to bloom. Her efforts bore no fruit. She tried many a time, but grandly failed at each attempt. Her efforts continued even after she left Qatar and headed home. But Nasreen was determined to go on. She scanned the net, looked up Google and watched live demos on YouTube. With enlightenment came fresh ideas and bright flowers. She worked hard on a few centerpieces for drawing room tables. The pieces were fresh and eye-catching. She clicked a few pictures and posted them on Facebook. Inquiries started pouring in asking for the price. Nasreen's husband then opened a Facebook page for his wife titled Casa Flora Kerala.
Nasreen soon found herself being flooded with orders. Shoppers liked what they saw. The flowers were original, designer stuff and covered with color. Within a year, she got wedding orders. Soon event management companies and wedding planners sought her out for her special items. Nasreen has not looked back since. Gone too are thoughts of conventional jobs.
Designs from the heart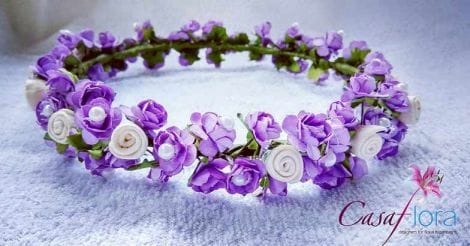 The designer loves to make colorful bouquets and give them as surprise gifts to her husband on their wedding anniversary and his birthday. Growing up happily along with her business are her two darlings, six-year-old Fatima Raihana and one-and-a-half-year-old Mohammed Aamir. It's her deep-rooted love for her job that keeps Nasreen going. And there's no greater thrill than getting an income from a work that you truly love and value.
Casa Flora Kerala has had more than 10,000 likes by now. Nasreen is quite aware of people's love for change, newer concepts and fresher ideas. Though she sources the net for basic ideas, she's very particular in giving each piece a unique identity. One has to be sensitive to a buyer's inner needs and desires and each piece should reflect these calls, says the designer. The newness in design begins right from the time the floral colors are chosen. She seldom goes for the much-used and commonly used acrylic colors.
One of Nasreen's special items is the wedding umbrella. These cut-work umbrellas are sourced from China. The dry flowers are then designed and arranged on these special umbrellas. These umbrellas are the latest craze for weddings these days and are pretty expensive too, with the cost touching more than Rs 25,000 per piece. As for the floral bouquets, they take off from Rs 1000, a piece.
Why do the bouquets and baskets look as fresh as ever even after months and years? That's a trade secret never to be told, says Nasreen. Looking back, it's a happy woman who says she's never rued the day she decided to say no to a formal job. She's a happy mom too. And her income is the happiest thing that could ever have happened to her. For a woman, her greatest achievement is what she earns, says Nasreen.
Nasreen is happy to work from home. She has her reservations about opening a shop, for orders for dry flowers are seldom steady. A shop is the least of her concerns. What matters more to her is the Casa Flora brand, the dry flowers which come under the brand and the name people associate with it. She would love to open a boutique sometime late to cater to the wedding needs of "everything under an umbrella."
Points to ponder
Think of such a business only after you feel you are an expert at making dry flowers. If not, you will end up losing your money and goodwill. Don't expect to strike it rich when you start off. The first year may yield practically nothing. Expect stability only after two or three years.
Open pages on Facebook. Stay in touch with event management firms from where you could get orders.
The longevity and freshness of the dry flowers lie in the way you work with them on to the bouquets. The colors and designs need to be unique and spectacular. Never ever compromise on quality.
Read: Women Business News | Goa's 'pad women' make eco-friendly sanitary napkins that decompose in 8 days