Not many would have heard about terrarium business, but Kochi resident Lakshmi earns a decent Rs 40,000 a month from it. But what does this entrepreneur do? She makes terrarium, i.e., a glass container, often sealed, for growing and displaying small plants.

Today, there are many customers for Lakshmi's cute terrarium pieces. What started as a hobby for Lakshmi has now become a fulltime business. Her early forays into the venture commenced in 2009 after she had relocated to Ernakulam from the Netherlands. Things happened quite suddenly when one day, Lakshmi bumped into Ganga, a kindred soul. The chance meeting turned out to a turning point in the lives of both women. Both got along well and had common talking points as their mothers belonged to Idukki. More importantly, both loved plants and that's how the terrarium business idea came up.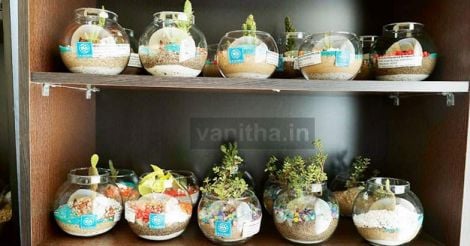 As an experiment, Lakshmi made a terrarium in a big glass and gifted it to a friend's mother who was celebrating her 60th birthday. Surprisingly, the gift turned out to be an eye-catcher with a lot of people appreciating the concept. But she was least prepared for what came next. She was asked whether she could perfect the process by growing plants in better or more exotic glass pots and pieces so that they could be put up for sale.

The idea looked appealing, recalls Lakshmi. But Ganga went all for it. From day one itself she put to good use her degree in agriculture engineering. The indoor plant cryptanthus was used in their first product.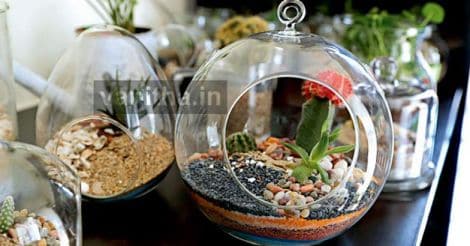 Soon, the young women plunged headlong into their business. They did a lot of research into the terrarium techniques and learnt how to go about the art step by step.

Everything is laid in layers inside glass a pot, the first being pebbles. This is followed by charcoal, soil mix and finally, the plant. This is topped up by a final layer of pebbles. "We followed all these rules and set up a terrarium,'' says Lakshmi. But then things did not go as planned when they started experimenting and expanding the business with new plant varieties. The first to play spoilsport was the weather. A lot of plants meant for terrarium was found unsuitable for Kerala's humid climate. The search was then diversified for plants which would survive the hot and humid weather. They found out that cactus, succulents, cryptanthus and ferns are the most terrarium-friendly plants for Kerala.

The next hurdle was the process of laying pebbles. It had to be done with utmost care. Chances were high that a clumsy move could crack the glass bowl. Besides, the place where the bowl was to be placed also needed careful scrutiny. Sandy dust particles could eventually lead to cracks on the glass which in turn would spoil the plants inside. In effect, the experiment was a learning experience for both the women.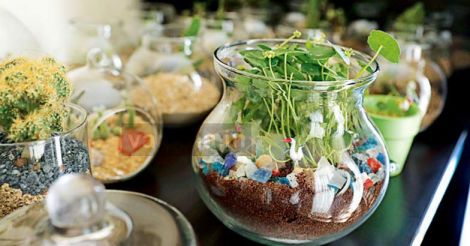 Soon, they readied glass bowls in various shapes so that they suited the shape of each plant. The duo branched out to custom-made designs too. Terrariums modelled after cycles and bikes were a hit.

A critical stage in the business came when Ganga went to Germany. Though Ganga was always giving her tips from afar, the business largely became a one-woman show. Luckily, Lakshmi's husband Vikas Babu, a marine surveyor, and kids Aryan and Aaliya chipped in and helped her out.

Narrating an interesting challenge, Lakshmi said: "One day, a young man popped in with a small homoeo bottle. He wanted a terrarium in it as a gift for his girlfriend. Though stumped for a moment, I agreed to do one for him. I brushed up and brought out all the microbiology I'd learnt. I spent hours on the single small bottle. I did it finally. I was so happy. To this day I have not forgotten the grin on the boy's face when he saw that tiny terrarium. The smaller the terrarium, the greater the effort to fit everything in."

Terrariums come in two styles – open and close. The close types don't require to be watered. But the open terrariums need to be hydrated regularly, lest they wilt. During the course of her business pursuits, Lakshmi also got to learn the art of raising plants without pots. That's how they started the Japanese technique of "potless string garden". While living in flats, it's vital that terrariums are exposed to maximum sunlight. Terrariums, like all other plants, slowly start dying if denied sunlight.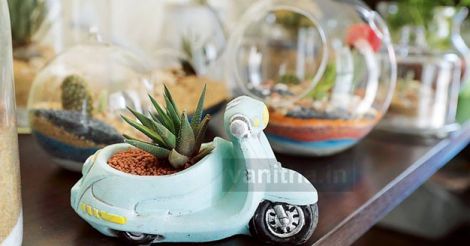 What draw folks to terrariums are their beauty quotient and a genuine love for plants. As youngsters seem to be more interested in setting up terrariums, Lakshmi now conducts classes for college students on the technique. The popular demand is for cactus and succulents.
Today, Lakshmi is gratified as her business has instilled in people an awareness and love for terrariums. They not only brighten up rooms, but minds too.

Bear in mind

» Use garden tools while laying the pebbles. This is to prevent the glass from cracking.
» While using coloured sand, see that it does not go deep down to touch the plant. Coloured sand is used just as an embellishment.
» Avoid sprayers while hydrating the plants; use syringes instead. This helps in measured watering.
Read: Women Business News | Bindhya overcomes self-doubt, cynicism to set up popular tissue culture lab