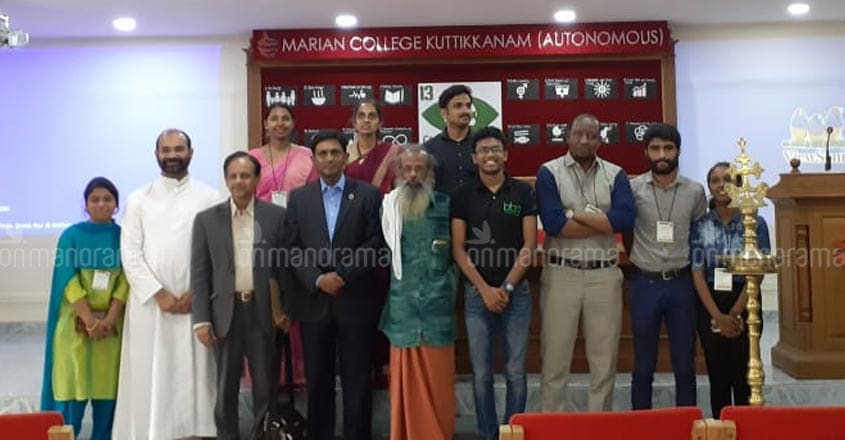 At a two-day national symposium on Climate Change, held at the Marian College, Kuttikanam, youth were called to bring about meaningful changes in their lifestyle to avoid the perils caused by climate change.
"It is the urgent duty of the present generation especially the youth to get information, practical knowledge, and realise the wisdom about the protection of environment while promoting development, which is considered as the crux of sustainable development," said Albin K Antony, a member of the organising committee of the symposium christened Agenda 2.0.
Agenda 2.0 was organised as the signature programme of United Nations Academic Impact Action by Students to Promote Innovation and Reform through Education (UNAI ASPIRE) in association with the Sustainable Research Centre of the Marian College.
In all 100 student representatives from different colleges in Kerala attended.
The speakers at the symposium were: Prof. Dr Joe Thomas (Associate Dean, Faculty of Social Innovations, Partnership and Co – Orientation, SIPC), Gopala Krishnan (Founder of Sarang School, Attappady) and Vishnu P R (CEO, Change Can Change Climate Change C5 foundation).
"Climate change is a leadership challenge for the young generation. The youth must be ready to take up this challenge," Dr Joe Thomas said.
While talking about education and climate change, Gopala Krishnan wished Mother Nature was given due importance in the education system.
Vishnu, another notable speaker, elaborated on 'how we can change climate change with a change in our lives'. He proposed the green initiatives such as complete avoidance of single-use nonbiodegradable materials as well as promotion of of sackcloth for the making of banners and use of biodegradable seed pens, reusable cardboard files etc. He also didn't forget to appreciate the students in taking up climate change as a topic for discussion.
Several cultural programs were staged as part of the symposium.
It came to an end by a nature walk to the nearby Sahyadri Museum which helped the participants in understanding the green heritage of Idukki.
"The Agenda 2.0 was a necessity as climate emergency is one of our biggest concerns. The symposium was effective in raising awareness not only through the sessions but also in the manner in which it was held. It is easy to preach something but when it comes to practising it, it takes a lot of effort. We went to lengths to make sure that this event was conducted according to the green protocol, with minimum wastage," Tiya Mary Andrews of the UNAI's Marian College chapter, told Onmanorama.