The name Gopalakrishnan Padmanabhan Pillai may not mean a thing to Keralites. Many, even in the film field, may not recognize this name. Even the man himself had said in some interviews that he sometimes forgot his real name. But the name bears the story of a man who rose from nothing to conquer the Rs 675-crore Mollywood.
Maybe, glory and power got the better of Dileep - a humble Gopalakrishnan - who always dreamt of entertaining people around him. Once a people's hero, Dileep, fondly called 'Janapriya Nayakan' by his fans, has finally turned villain with his arrest in the February 17 actress attack case. Here's how the life of Dileep turned out to be more racy and thrilling than a potboiler.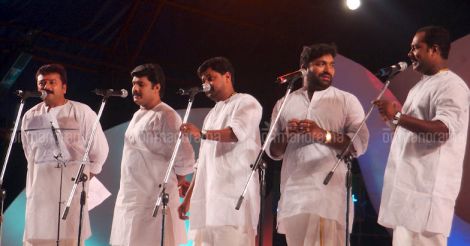 Dileep (center) performs mimicry with Jayaram, Kalabhavan Nawaz, Kottayam Nazir and Kalabhavan Mani during a stage-show. File photo
Rise of an actor
Gopalakrishnan, who started his film career as an assistant director, had first caught the attention of Keralites through mimicry during his days at Kalabhavan. In his early days, the actor assisted director Kamal in hits like Ulladakkam, Vishnulokam, Ghazal and Champakulam Thachan. During the period, he did small roles in films with help of Kamal and others, who saw a 'flexible actor' in him.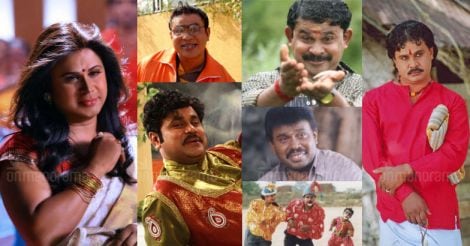 With slapstick comedy and love stories, the actor turned women and children his biggest admirers.
He was set rolling through the 1994 hit movie, Manathe Kottaram, directed by Sunil. In the movie, the actor played the lead role named 'Dileep,' who is an aspiring actor, along with Nadhirshah, Indrans, Harisree Ashokan and Kushboo.
In 1996, his first break came through Ee Puzhayum Kadannu, directed by Kamal, and Sallapam, directed by Sundar Das. With the box office success of these films, the actor had anchored his place in the Malayalam film industry. In 1998, Dileep married his colleague Manju Warrier, who was then at the peak of her career.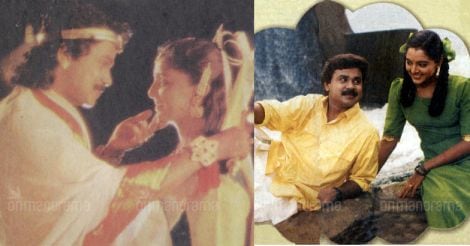 Snaps from Dileep-Manju Warrier starer Sallapam (left) and Ee Puzhayum Kadannu (right). File photo
The birth of the new millennium saw hits like Mister Butler and Darling Darling. The following years saw a series of box offices, like Ee Parakkum Thalika (2001), Ishtam (2001), Mazhathullikkilukkam (2002), Kunjikkoonan (2002), Meesa Madhavan (2002) and Thilakkam (2003).
A family entertainer
Soon, his films become the biggest family entertainers of the time. With slapstick comedy and love stories, the actor turned women and children his biggest admirers. In festival seasons, a middle-class family's entertainment budget had always included a Dileep-movie. Instantly, he became the hero with the face of a youth who could be any one's neighbor and got to be called 'Janapriya Nayakan' (The People's Hero).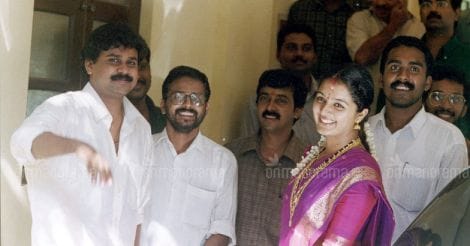 Dileep married co-artist Manju Warrier, who was then at the peak of her career. File photo
Taking risk a habit
Dileep, unlike most of the actors in Malayalam cinema, never hesitated to take risks. Just like the move to marry Manju Warrier, his decisions and the adaptability to new situations surprised public and industry people alike. Perhaps, it will be difficult to find someone like Dileep in any industry, who was always willing to take any risks for those depended on him. His first production Johny Antony's CID Moosa, a project many feared would fail, had a dream run in the box office.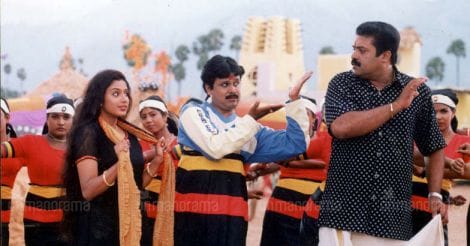 Dileep never hesitated to work with senior actors. A still from 'Thenkasipattanam'.
At the peak of his career, he did roles like in Thenkasipattanam and Twenty-Twenty, which had won people's appreciation and industry's respect alike. He took calculated risks and came to be known as the daredevil, producing and acting in films which no one dared to touch. He turned savior of actors' body, the Association of Malayalam Movie Artists (AMMA), when the organization was in severe financial crisis. He produced the multi-starer Twenty-Twenty, directed by Joshi.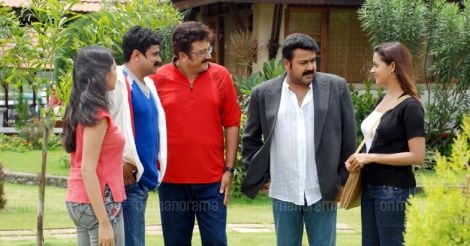 Rising as a savior of AMMA, when the actors' body was in severe financial crisis, Dileep produced the multi-starer film Twenty-Twenty. (From right) Bhavana, Mohanlal, Jayaram and Dileep. File photo
Rise of the empire
The empire that Dileep built spread rapidly. He became an influential member of Kerala Film Producers' Association (KFPA), Kerala Film Exhibitors Association (KFEA) and Film Employees Federation of Kerala (FEFKA).
He even created a new exhibitors association, Film Exhibitors United Organization of Kerala (FEUOK), over a dispute with some exhibitors in KFEA. He was the founding chairman of the group of 64 theater owners. He turned his eyes to real estate and hotel business in early 2000. As an investor, he never hesitated to take the leap of faith. He was an ambitious artist and never liked failures.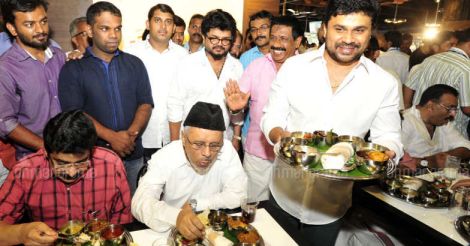 Dileep turned his eyes to real estate and hotel business in early 2000. Dileep serving food at his restaurant 'Dhe Puttu' in Kozhikode.
Fall of the man
Even after the attack on actress sent shockwaves across the state, the actor was never shaken. He soon came out in support of the actress saying that the film fraternity including himself shared the pain of the victim. Even while he was talking about women safety at the solidarity meet of AMMA, which was held in Kochi, he was clam and composed.
May be it's this never-say-attitude of Dileep that fooled even his close friends like Salim Kumar, Nadhirshah, Aju Varghese and AMMA president Innocent. They never suspected Dileep, until the news of his arrest broke on Monday evening. Most of them were in shock.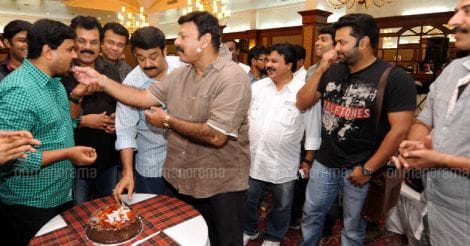 The king-maker Dileep always kept close relations with big names of Malayalam cinema. File photo
Those who fiercely supported him in the AMMA meeting suddenly fell silent. Actors Mukesh, Ganesh Kumar, Devan and Siddique faced the media with trembling voices. The fall of the man, once known to them as king-maker, had by then shattered their trust. Like director Vinayan's comments, the scar Dileep marked on the heart of Malayalam film industry may not heal anytime soon.