Nedumbassery: His Holiness Ignatius Mar Aprem II, the Patriarch of the Syrian Orthodox Church, arrived here Tuesday on a visit which he said was aimed at bringing about permanent reconciliation and peace in the Malankara church.
The Patriarch said all people have the right to worship as per their faith. "I am optimistic about the discussions that I will hold with the leaders running this country," he said.
Mar Aprem flew into Cochin International Airport at 09.00 on Tuesday morning on his second holy visit to Kerala. A huge welcome was accorded to the Patriarch by Catholicos Mar Baselios Thomas I, the head of the Syriac Orthodox Church in India, and bishops of the church, apart from political and social leaders.
The Patriarch, who has checked into a hotel in Kochi, will travel to the Patriachal Centre in Puthencruz on Tuesday afternoon to attend meetings of committees of the church. He will proceed to Thiruvananthapuram at night where a meeting is scheduled with chief minister Pinarayi Vijayan at the Cliff House at 8 am on Wednesday.
The Patriarch will then travel to the Mar Ignatius Dayro at Manjanikkara, near Pathanamthitta, a major pilgrimage centre of the church. Later at 6 pm, he will conduct the Holy Mass at the Patriarchal Cathedral in Puthencruz after which he will visit the Malekurishu Dayro nearby.
He has meetings scheduled with the president and the prime minister in Delhi on May 24. If the meeting gets postponed by a day, Mar Aprem will stay on in Kerala on the 24th also, Bishop Kuriakose Mar Theophilos, who is in charge of the media relations, said.
The Patriarch will fly back to Lebanon on May 26 morning.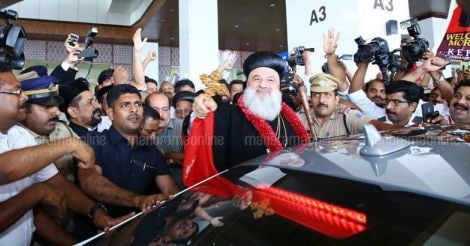 The visit comes at a time when peace efforts in the church have reached a crucial stage. The Patriarch had earlier written to Baselios Mar Thoma Paulose, Catholicos and Supreme Head of the Indian Orthodox Church.
Read: Latest Kerala News | It's bitter pill twice for Nipah victim's wife